John Hamlin
Sociology 2311
Department of Sociology and Anthropology
UMD

Earnest Hooton

E.A. HOOTON,
HARVARD ANTHROPOLOGIST, 1939
THE AMERICAN CRIMINAL: ANT ANTHROPOLOGICAL STUDY



14,000 CRIMINAL AND ABOUT 3000 NON CRIMINALS

GENERAL FINDINGS

IN 19 OUT OF 33 MEASUREMENTS THERE WAS A SIGNIFICANT DIFFERENCE BETWEEN CRIMINALS AND CIVILIANS
CRIMINALS ARE INFERIOR TO CIVILIANS IN NEARLY ALL THEIR BODILY MEASUREMENTS
LOW FOREHEADS, HIGH PINCHED NASAL ROOTS, NASAL BRIDGES AND TIPS VARYING TO BOTH EXTREMES OF BREADTH AND NARROWNESS, EXCESS OF NASAL DEFLECTIONS, COMPRESSED FACES AND NARROW JAWS, FIT WELL INTO THE PICTURE OF GENERAL CONSTITUTIONAL INFERIORITY.
PHYSICAL INFERIORITY IS SIGNIFICANT PRINCIPALLY BECAUSE IT IS ASSOCIATED WITH MENTAL INFERIORITY.
THE BASIC CAUSE OF THE INFERIORITY (PROBABLY) IS DUE TO HEREDITY AND NOT TO SITUATION OR CIRCUMSTANCE.
DARK EYES AND BLUE EYES ARE DEFICIENT IN CRIMINALS, AND BLUE-GRAY AND MIXED EYES ARE IN EXCESS;...EYEBROWS THAT ARE THIN TO VERY THIN OCCUR MORE FREQUENTLY.
TATTOOING IS MORE COMMON AMONG CRIMINALS THAN AMONG CIVILIAN CONTROLS.
THIN LIPS AND COMPRESSED JAW ANGLES OCCUR MORE FREQUENTLY; MARKED OVERBITE LESS FREQUENTLY AMONG CRIMINALS THAN CIVILIANS.
THE EAR OF THE CRIMINAL TENDS TO A SLIGHTLY ROLLED HELIX, AND MORE PERCEPTIBLE DARWIN'S POINT THAN THAT OF THE CIVILIAN; ALSO MORE EXTREME VARIATIONS OF EAR PROTRUSION, AND THE CRIMINAL EAR TENDS TO BE SMALL.
LOW AND SLOPING FOREHEADS, LONG, THIN NECKS, AND SLOPING SHOULDERS, ARE SIMILARLY IN EXCESS AMONG CRIMINALS IN COMPARISONS WITH CIVILIANS.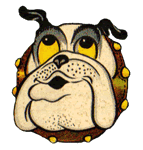 The University of Minnesota is an equal opportunity educator and employer.

Copyright: &copy 2001, John Hamlin
Last Modified: Monday, 19-Jan-2004 10:00:55 CST
Page URL: http://www.d.umn.edu/cla/faculty/jhamlin/2311/hooton.html
Page Coordinator:John Hamlin