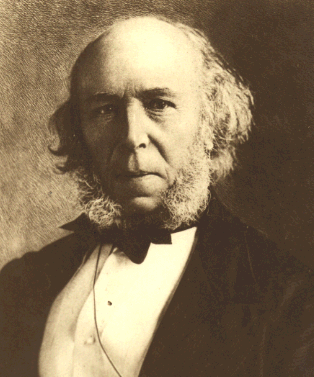 Herbert Spencer
Sociological Theory
Department of Sociology and Anthropology
UMD
Life and Times (1820-1903)
I. THE PERSON

A. BORN APRIL 27, 1820


DURING THE HEART OF BRITISH INDUSTRIALISM
EDUCATED AT HOME - SICKLY
(ALL 8 BROS & SISTERS DIED)
TRAINED MOSTLY IN MATH AND NATURAL SCIENCE; A LITTLE IN HISTORY, ENGLISH, LANGUAGES ETC.
WENT TO WORK ON RAILROAD AS ENGINEER




B. PUBLISHED EARLIER ARTICLES IN RADICAL PRESS - MOSTLY CONCERNING THE LIMITED ROLE OF GOV'T, E.G. NO POOR LAWS, NO NATIONAL EDUCATION, NO ESTABLISHED CHURCH, NO RESTRICTIONS ON COMMERCE, NO FACTORY LEGISLATION

He remained what some would call a conservative anarchist most of his life


C. SUB-EDITOR OF ECONOMIST

MET A LOT OF FAMOUS PEOPLE, THOMAS HUXLEY, GEORGE ELIOT (MARY ANN EVANS)
WROTE "THE DEVELOPMENTAL HYPOTHESIS" 1852, 7 YEARS BEFORE DARWIN'S ORIGIN OF SPECIES

Although he coined the phrase, "survival of the fittest" after reading Darwin. A position he never quite agreed with. Use and non use of characteristics result in their continued development, not so directly connected to environment.

THIS WAS A THEORY OF EVOLUTION, STRESSING INHERITANCE OF ACQUIRED CHARACTERISTICS




D. LOOKED AS IF HE WOULD MARRY GEORGE ELIOT, BUT DIDN'T

PUBLISHED SOCIAL STATICS IN 1851, WELL RECEIVED

PUBLISHED THE PRINCIPLES OF PSYCHOLOGY 1854, NOT WELL RECEIVED

SUFFERED NERVOUS ILLNESS

WONDERED ABOUT LONDON, NEVER COMPLETELY RECOVERED

COULD ONLY WORK A FEW HOURS A DAY

SUFFERED FROM INSOMNIA - USED FAIRLY HEAVY DOSE OF OPIUM

HIS BOOKS SOLD WELL DURING HIS LIFE, 500,000 - 1,000,000 COPIES

His writings on the web

EVOLUTION - OR SOCIAL DARWINISM
DISCOVER OR UNCOVER LAWS WHICH ALLOW US TO UNDERSTAND, PREDICT, AND CONTROL HUMAN SOCIETY

HIS PERCEPTION OF SOCIAL SCIENCE DEPENDS ON THIS VIEW
THREE BASIC LAWS OF EVOLUTION (SOME SOCIAL FORMS ARE BETTER ADAPTED TO THEIR ENVIRONMENT OR ARE USED MORE FREQUENTLY AND THUS ARE MORE LIKELY TO SURVIVE OVER TIME

THE LAW OF THE INDESTRUCTIBILITY OF MATTER

MATTER IS SEEN MORE IN TERMS OF POPULATION (E.G. AGGREGATING FORMING MORE COMPLEX STRUCTURES)


THE LAW OF THE PERSISTENCE OF FORCE; POPULATION GROWTH AND IMMIGRATION

MOVEMENT IN GIVEN DIRECTIONS,

THE LAW OF THE CONTINUITY OF MOTION,

WHICH MEANS THAT ENERGY PASSES FROM ONE FORM TO ANOTHER BUT ALWAYS PERSISTS. FORCE CAUSING MOTION WILL CONTINUE UNLESS IT MEETS RESISTANCE, FRICTION, EQUAL FORCE ETC.
SECONDARY PROPOSITIONS:
THE TENDENCY OF EVERYTHING TO MOVE

ALONG THE LINES OF LEAST RESISTANCE AND GREATEST ATTRACTION


THE PRINCIPLE OF THE ALTERATION OR RHYTHM OF MOTION, CYCLES, EPOCHS, GYRATIONS
In contrast to Comte (he did not like Comte all that much although he accepted certain of Comte's notions) he maintained that there was only one basic law - EVOLUTION (AND DISSOLUTION)
"EVOLUTION IS AN INTEGRATION OF MATTER AND CONCOMITANT DISSIPATION OF MOTION; DURING WHICH MATTER PASSES FROM AN INDEFINITE, INCOHERENT HOMOGENEITY TO A DEFINITE, COHERENT HETEROGENEITY; AND DURING WHICH THE RETAINED MOTION UNDERGOES A PARALLEL TRANSFORMATION."

EVOLUTION IS AN OUTCOME OF THESE DYNAMICS
HOMOGENEOUS IS INHERENTLY UNSTABLE

MULTIPLICATION - INSTABILITY GIVES RISE TO DIFFERENTIATION AND HETEROGENEITY

PRINCIPLES OF SEGREGATION - HETEROGENEITY AS PROGRESS

SEGREGATED PARTS MEANS THEY ARE SUBJECT TO DIFFERENT ENVIRONMENTAL FORCES
POPULATIONS GROW UNTIL CHECKED;
DRAWS ON MALTHUS BUT WITH A DIFFERENCE, NOT IMPENDING DISASTER BUT EVOLUTION

IMPORTANCE OF ORGANIC ANALOGY
SIMILARITIES BETWEEN SOCIETY AND ORGANISM:

BOTH GROW DURING THE GREATER PART OF THEIR EXISTENCE - BABY TO ADULT, TOWN TO CITY; BUT UNLIKE COMTE, NOT JUST GROWTH IN KNOWLEDGE LEADING TO STRUCTURAL CHANGES; BUT EVOLUTIONARY SELECTION OF BEST ADAPTIVE FEATURES OF SOCIETY

BOTH BECOME INCREASINGLY COMPLEX

PROGRESSIVE DIFFERENTIATION OF STRUCTURE IS ACCOMPANIED BY PROGRESSIVE DIFFERENTIATION OF FUNCTION




DIFFERENCES BETWEEN SOCIETY AND ORGANISM

PARTS OF ORGANISM FORM A CONCRETE WHOLE WITH A CENTRAL CONSCIOUSNESS (GENERAL WILL?); PARTS OF SOCIETY ARE FREE AND MORE OR LESS DISPERSED (AND EACH PART OPERATES WITH THE SAME NEEDS AS THE WHOLE)

PARTS OF ORGANISM EXIST FOR THE BENEFIT OF THE WHOLE; IN SOCIETY THE WHOLE EXISTS MERELY FOR THE BENEFIT OF THE INDIVIDUAL

"...each member of the race ... must not only be endowed with faculties enabling him to receive the highest enjoyment in the act of living, but must be so constituted that he may obtain full satisfaction from every desire, without diminishing the power of others to obtain like satisfaction: nay, to fulfill the purpose perfectly, must derive pleasure from seeking pleasure in others." (quoted in Turner)

He accepted utilitarian principles found in the likes of Bentham and Martineau but with a slight twist, he gave a vital role to altruism looking at positive beneficence and negative beneficence (of doing good for the whole or less harm)




SOCIAL STATICS: HE CONTENDS THAT SOCIETY IS COMPLETELY DETERMINED BY CHARACTERISTICS OF INDIVIDUALS

IN PRINCIPLES OF SOCIOLOGY (LATER) THERE ARISES A LIFE DIFFERENT THAN THE INDIVIDUALS, BUT IT IS PRODUCED BY INDIVIDUALS; WHOLE SERVES INDIVIDUAL
METHODOLOGY FOR SOCIOLOGY

LEARN BY INSPECTION:
THE RELATIONS OF COEXISTENCE AND SEQUENCE IN WHICH SOCIAL PHENOMENA STAND TO ONE ANOTHER
BY COMPARING DIFFERENT SOCIETIES IN DIFFERENT STAGES ONE CAN DISCOVER TRAITS OF SIZE, STRUCTURE, FUNCTION AND HOW THEY ARE RELATED TO ONE ANOTHER

THUS, HIS BOOKS LOOK AT STAGES OF DEVELOPMENT JUST LIKE COMTE; BUT "UNCIVILIZED"; "CIVILIZED" BUT EXTINCT AND RECENT "CIVILIZED". (HISTORICAL METHODS) NATURE OF SOCIAL EVOLUTION

TWO WAYS TO LOOK AT THE PROCESS:

FIRST:
MOVEMENT FROM SIMPLE TO VARIOUS LEVELS OF COMPOUND (COMPLEX) SOCIETIES

SIMPLE - FAMILIES

COMPOUND - FAMILIES ORGANIZED INTO CLANS

DOUBLY COMPOUND - CLANS ORGANIZED INTO TRIBES

TREBLY COMPOUND - TRIBES INTO NATIONS

WITH AN INCREASE IN SIZE COMES INCREASE IN STRUCTURE, AND DIFFERENCES IN POWER (WOMEN ARE LESS EQUAL IN OLDER SOCIETIES FOR BASICALLY NO OTHER REASON THAN LACK OF POWER), OCCUPATIONS OF MEMBERS. ALSO FUNCTIONS ARE DIFFERENTIATED

MILITANT AND INDUSTRIAL SOCIETY (AS ONE LOOKS AROUND CURRENTLY IN HIS LIFE TIME)



(THE FOLLOWING TABLE IS FROM KENNETH ALLAN, 2005. EXPLORATIONS IN CLASSICAL SOCIOLOGICAL THEORY.)




MILITARISTIC
INDUSTRIAL
DOMINANT INSTITUTION
THE STATE: THE NATION (INCLUDING ALL SOCIAL INSTITUTIONS AND ACTIONS) SEEN AS SYNONYMOUS WITH THE ARMY; POWER IS CENTRALIZED
THE ECONOMY: FREEDOM OF ECONOMIC EXCHANGE AND ASSOCIATION; PROFIT MOTIVATION; REGULATORY FUNCTION IS DIFFUSED
SYSTEM EQUILIBRIUM
COMPULSORY COOPERATION
FUNCTIONAL EQUILIBRIUM MAINTAINED THROUGH INDIVIDUAL CHOICES
RELIGIOUS FUNCTION
ORIENTED TOWARD LEGITIMATING GOVERNMENT -- DIRECT REGULATORY FUNCTION

GOV'T IDENTIFIED AS GOD-ORDAINED
HOMOGENEOUS RELIGIOUS TYPES
LEGITIMATING POLITICAL MYTHS TEND TO CONTAIN ULTIMATE VALUES
SOCIAL DEVIATION IS DEFINED AS SIN

ORIENTED TOWARD THE INDIVIDUAL -- INDIRECT REGULATORY FUNCTION

GREATER SEPARATION OF CHURCH AND STATE
HETEROGENEOUS RELIGIOUS TYPES
FOCUS ON INDIVIDUAL SALVATION AND HAPPINESS

STATUS STRUCTURE
GREATER STATUS DIFFERENTIATION WITH DISTINCT CATEGORIES AND CLEAR CEREMONIAL PRACTICES
OVERLAPPING AND VAGUE STATUS POSITIONS WITH UNCLEAR AND INFREQUENTLY PRACTICED CEREMONIAL DISTINCTIONS
EDUCATIONAL FUNCTION
DIRECTLY CONTROLLED BY STATE WITH STRONG IDEOLOGICAL SOCIALIZATION
INDIRECTLY MONITORED BY STATE WITH EMPHASIS ON GENERAL AND SCIENTIFIC KNOWLEDGE
MASS MEDIA
INFORMATION TIGHTLY CONTROLLED BY STATE
INFORMATION FREELY FLOWS FROM THE BOTTOM UP
CONCEPTION OF INDIVIDUAL
INDIVIDUAL EXISTS FOR THE BENEFIT OF THE WHOLE; INDIVIDUAL BEHAVIORS, BELIEFS, AND SENTIMENTS OF INTEREST TO THE STATE
STATE EXISTS TO PROTECT RIGHTS OF THE INDIVIDUAL; DUTY OF INDIVIDUAL TO RESIST GOVERNMENT INTRUSION; BELIEF IN MINORITY RIGHTS



SPENCER WAS VERY MUCH AGAINST SLAVERY AND FOR UNIVERSAL SUFFRAGE (until the end of his life when he seemed to back off from his support for women)
CONFLICT GIVES RISE TO TWO FEARS:
FEAR OF THE LIVING - LEADING TO POLITICAL CONTROL

FEAR OF THE DEAD - LEADING TO RELIGIOUS CONTROL
AS A RESULT OF THESES CONTROLS, CONFLICT BECOMES MILITARISM
MILITARISM ALLOWS FOR COMBINATIONS, ULTIMATELY ACHIEVING SOCIAL INTEGRATION

THERE IS POSSIBILITY TO REGRESS GIVEN THE NATURE OF THE MILITARY; IT TENDS TO SEE THREATS EVERYWHERE AND INSTIGATE AGGRESSION; THERE ARE REAL THREATS; AND CONTROLLING THOSE OUTSIDE THE TERRITORY BUT STILL UNDER YOUR WATCH
---
SUMMARY

VIEW OF EVOLUTION - CHANGE FROM HOMOGENEOUS, UNSTABLE CONDITION TO HETEROGENEOUS, INTEGRATED, AND STABLE CONDITION

AS A RESULT OF THIS FOCUS AND USE OF ORGANIC ANALOGY, SPENCER CONCERNS HIMSELF WITH FOUR PROCESSES OR MAJOR CONCEPTS
GROWTH

DIFFERENTIATION

INTEGRATION

ADAPTATION
QUESTION:

HOW DO THESE CONCEPTS FIT TOGETHER?

IN THE END SPENCER THOUGHT EVOLUTION WOULD CREATE A SOCIETY OF EQUILIBRIUM, PERFECT HARMONY OF PARTS, PERFECT BALANCE

EVOLUTION CREATES A BALANCE - CUMULATING IN THE INVISIBLE HAND OF THE MARKET WHICH ALLOWS FOR MAXIMUM INDIVIDUAL FREEDOM AND A WELL BALANCED (FUNCTIONING) INSTITUTIONAL STRUCTURE
---

The University of Minnesota is an equal opportunity educator and employer.

Copyright: &copy 2001, John Hamlin
Last Modified: Monday, 28-Feb-2011
Page URL: http://www.d.umn.edu/cla/faculty/jhamlin/4111/Spencer/spencer.html
Page Coordinator:John Hamlin