2004 Baeumler-Kaplan Holocaust Commemoration Calendar
All events are free and open to the public.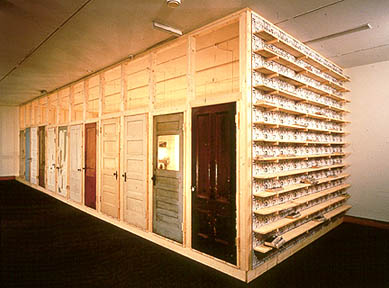 The Anne Frank Project - Ellen Rothenberg
Installation View
Kent Gallery, 1994
Exhibition
"Holocaust as Subject", the Tweed Art Exhibition featuring the work of Samuel Bak, Art Spiegelman, Debbie Teicholz and Ellen Rothenberg will go up on April 13 and will continue until June 13.

Teachers' Workshops:
A teacher workshop, hosted and presented by the UMD Tweed Museum of Art staff, will instruct teachers in how best to incorporate the "Holocaust As Subject" exhibition into their curricula. In addition to teachers' guides, we plan to acquaint participants with the vast array of web-based resources available to them as they instruct their students in the Holocaust. (April 13, 4:30-6:30 p.m. at the Tweed Museum).

Presentation on Holocaust Memorials:
Dr. Stephen Feinstein, the University of Minnesota's Director of the Center for Holocaust and Genocide Studies on the Twin Cities campus will make a presentation on Holocaust Memorials Thursday, April 15, 2004, 7:00 p.m. in the Tweed Museum of Art Lecture Gallery.
Film
:
This year, we will show There Once Was A Town, a documentary film by Yaffa Eliach, about a small village in Lithuania called Eishyshok whose Jewish citizens were nearly exterminated. This film will be shown on Sunday, April 18, 2004 at 7:00 p.m. in Bohannon 90. A panel discussion will follow the film.
Keynote Lecture:
We have invited painter Samuel Bak, one of the featured artists in the Holocaust as Subject exhibition, to serve as our keynote lecturer. This public lecture, the eleventh since the Baeumler-Kaplan series was established in 1994, will be presented on Tuesday, April 20, 2004, 4:00 p.m. in the Kirby Ballroom.
Art & Design Lecture:
Installation artist Ellen Rothenberg will present a lecture on her Anne Frank Installation as part of UMD's Art and Design Lecture Series on April 21, 2004 at 6:00 p.m. in the Tweed Lecture Gallery.
Alworth Brown Bag Presentation
"'Push Me Toulec!' - How Eight Adults and Three Children Survived the Nazi Holocaust. " On the very day the Nazis invaded Belgium, the Herbach family abandoned their Antwerp homes and raced through France under difficult circumstances on a harrowing journey that ended in Brazil a year later. Mr. Max Herbach, a Duluth resident, and just a baby when he and his parents fled a mere step ahead of certain capture, recounts their"great escape", documented in his mother's devastating memoirs. April 22, Noon, Kirby Ballroom A.
6 Million:
Dr. Justin Rubin, a member of the Baeumler-Kaplan Committee and UMD Music Department Faculty, has created an interactive project called "6 Million". This project is designed to make manifest the magnitude and horror of the Holocaust by way of participating individuals attempting to draw 6,000,000 lines on a scrolled parchment.
*Bringing kids to the Tweed:
We will provide funding for busses to bring public school students to the Tweed Museum for educational programs conducted by Art Education students. We will engage student visitors interactively by way of a slide show, a guided tour of the exhibition and an activity based on the exhibition. (Visits have not yet been scheduled)
* signifies that we are missing information
Return to the Events