Cara de Silva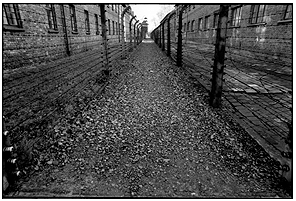 Cara de Silva is an accomplished ethnic food writer. From 1988-1995 she wrote a column on such for
Newsday
. She has done freelance work on food for major magazines and newspapers, and also has edited two other cookbook series. It was because of her interest and expertise in ethnic cooking that she was recruited by Anny Stern, a descendent of one of the women who contributed to this cookbook in Terezin, to edit and research the context of the book. The result,
In Memory's Kitchen
, was designated by the
New York Times Book Review
in 1996 as one of the notable books of the year. We are especially grateful that Ms. de Silva can make the links between past and present, culture and food, food and resistance/survival.
PBS interviewed Cara De Silva for an Online Newshour program. Read the Transcript from this interview.
Press Release for In Memories Kitchen: A Legacy From the Women of Terezin
IN MEMORY'S KITCHEN: A LEGACY FROM THE WOMEN OF TEREZIN INTRODUCES A GENRE OF HOLOCAUST LITERATURE WHOSE EXISTENCE HAS BEEN LARGELY UNKNOWN. A COLLECTIVE MEMOIR IN THE FORM OF A COOKBOOK, THE MANUSCRIPT, PRODUCED IN A CZECHOSLOVAKIAN GHETTO/CONCENTRATION CAMP, CONTAINS TRADITIONAL RECIPES THAT WERE DESTINED NEITHER FOR STOVE NOR TABLE
The steam from the tea kettle was just beginning to cloud the windows when the phone rang that extraordinary afternoon. "Is this Anny Stern?" asked the unfamiliar voice...then " I have a package for you from your mother."
The words were few, but with them a twenty-five year journey from the Czechoslovakian ghetto/concentration camp of Terezin to Manhattan's East Side had come to an end.
Inside the package lay a frail hand-sewn copy book whose brittle pages, covered with a variety of faltering scripts, recalled life before Terezin in a most unusual fashion--through recipes. Committed to paper by malnourished and starving women, this memoir, an example of a largely unfamiliar genre of Holocaust literature, took the form of a cookbook. Yet it was not a cookbook, for there was small hope its authors would be making these dishes again.
Terezin, or as it is called in German, Theresienstadt, was Hitler's Paradise Ghetto, his model camp designed to fool the world into believing the Reich was caring for the Jews. But behind its benevolent facade lay a grim and grisly way station to the death camps of the East, a place where many thousands died, disease ran rampant, the elderly groveled for potato peelings, and the threat of the transports loomed over everyone.
Undoubtedly, this compilation of traditional dishes, of "dream" recipes, was a means of recording a gentler past, but it also had another function. By summoning up a time when these women had children and husbands to feed, and reasons to feast and celebrate, the recipes became a potent form of psychological resistance, a means to reinforce identity and combat those who sought to obliterate the authors and their culture.
In a sense, then the recipes may be said to speak, even to bear witness. Ingredients are sometimes missing, directions halted in mid-sentence, and words misspelled, all lapses that are likely to have been manifestations of the condition their writers were in.
In Memory's Kitchen permits the "voices" of these women--among them that of Anny Stern's mother, Mina Pachter,--to be heard again after fifty years. It recounts the dramatic story of their kochbuch's survival. And in addition to recipes, brings us poems and letters.
Printed with an introduction by editor and journalist Cara De Silva; a foreword by Michael Berenbaum, director of the Research Institute of the United States Memorial Holocaust Museum, and a translation by Bianca Steiner Brown, herself a former inmate of Terezin, the book carries on the traditions of its authors as they themselves could not and in the process preserves their legacy for us all.
IN MEMORY'S KITCHEN:A LEGACY FROM THE WOMEN OF TEREZIN
Publisher: Jason Aronson
Price: $25.00 Publication Date: September 12, 1996 201-767-4093
Return to the Events