Research Areas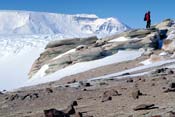 Remote field work
in Antarctica
The UMD campus, located on the Canadian Shield, is in and near classic areas of Precambrian geology with spectacular Pleistocene glacial deposits and Lake Superior on our doorstep. Paleozoic strata are readily accessible in southern Minnesota, and hydrogeology opportunities abound. However, research projects are not restricted to this area: faculty have research interests as far afield as Wyoming, the Four Corners, Barbados, Spain, Malawi, Krygystan, Papua New Guinea, Antarctica and Venus.
Faculty conduct research in many fields of geoscience, including: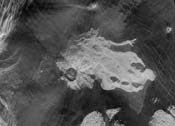 Impact crater with
outflows of lava, Venus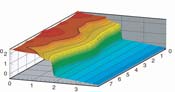 Numerical model of
clinoform evolutionp
We have facilities for microscopy, X-ray diffraction, X-ray fluorescence, scanning electron microscopy (SEM), isotope and trace element analysis, sedimentology and hydrogeology, digital imagery, ground-penetrating radar, and GIS. There is ready access to a departmental computer lab and to the main-frame computer system of the University. Additional analytical facilities are available in the Department of Geology and Geophysics in Minneapolis.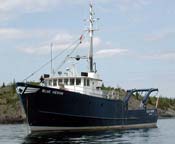 Research vessel Blue Heron operated by LLO
Related or Supporting Research Institutions
The Large Lakes Observatory (LLO) conducts research on Lake Superior and other large lakes of the world, including several in East Africa, Central America and Asia. Field equipment and instrumentation available to LLO include an 87 ft. research vessel for work on the Great Lakes, high-resolution seismic reflection, multi-beam and side-scan sonar profiling systems, various coring systems and water sampling equipment. LLO has a general purpose sediment analysis lab, a sedimentary geochemistry lab, and a sample archive facility, along with laboratories in physical and chemical limnology.
The Natural Resources Research Institute (NRRI) of the University is located nearby and houses a variety of laboratory facilities including a GIS system. Scientists at the NRRI participate in joint research projects in the fields of economic geology, hydrology, and limnology.
The Precambrian Research Center (PRC) is an educational and research organization dedicated to geologic study of Precambrian shield terrains. Its primary mission is to provide training and support to upper-level undergraduate students, graduate students, and professional geologists in modern methods of geological mapping and map-making in glaciated Precambrian terrains. The PRC is a collaboration between the Natural Resources Research Institute at UMD, the Department of Geological sciences at UMD, and the Minnesota Geological Survey at UMTC. Field and visualization training is provided through workshops, short courses and summer field camp by a consortium of professional field geologists and university faculty, in order to provide for synergistic collaboration between the public sector and private industry.