A Study and Celebration of Author Loren Eiseley
| | |
| --- | --- |
| | |
| Loren Eiseley | |
CLA's mission is to encourage learning outside of the classroom. Dean Susan Maher embodies that mission by expanding her own knowledge, and co-editing a collection of essays on the acclaimed natural science writer Loren Eiseley with her former colleague Tom Lynch. The book was published April 3rd of this year.
"When people become Loren Eiseley fans, they're fans for life," said Dean Maher.
Eiseley was an anthropologist, who also taught and wrote about the natural sciences. He wrote in the 50s through the 70s and has been compared to authors such as Thoreau.
Dean Maher described Eiseley as an accessible writer, who was able to incorporate multiple ideas into readable essays about the natural world.
"He was one of those writers who could layer many complicated threads into this essays," Dean Maher said. "His reputation has been so central to that tradition of natural writing...he was a best seller during his lifetime."
Tom Lynch is currently an associate professor and a chair of the undergraduate program for the Department of English at the University of Nebraska Lincoln, Eiseley's alma mater. There, Eiseley received his Bachelor of Arts in English and a Bachelor of Science in Geology/Anthropology.
Professor Lynch first came across Eiseley in a freshmen composition class. "It's difficult to figure out what influences your life, but I think clearly reading that book influenced me to be an English professor who studies nature writing," Professor Lynch said.
Both Dean Maher and Professor Lynch have an interest in creative science writing and incorporated Eiseley into their curriculum at two University of Nebraska campuses. Dean Maher taught about Eiseley in a creative non-fiction class in Omaha, and Professor Lynch brought students to the archives in Lincoln to see Eiseley's work.
Dean Maher and Professor Lynch were members of the Loren Eiseley Society (LES) during Maher's time in Omaha as chair of the English Department. While board members of LES, they decided to create a book dedicated to Eiseley about five years ago during the centennial anniversary of Eiseley's birth.
"We wanted to create something completely new," Dean Maher said. "There is no real critical assessment of him."
When Eiseley died in 1977, two biographies were written. Maher and Lynch wanted to focus on collecting essays from writers who explored less of the biographical and more of the impact of Eiseley's writing.
"Everyone will pay lip service to his writing, but he's not studied. We want him to be studied," said Dean Maher.
Professor Lynch also said, "The ideal audience are professors and others who would like to teach Eiseley but aren't sure how to approach him. This gives them a range of options."
The essays they collected cover a range of topics, including Eiseley's experience hoboing across the country and how that impacted his writing. There is also an essay by a Russian scholar who relays his experiences interpreting Eiseley into Russian.
Maher and Lynch also contributed essays to the collection. Dean Maher touches on how Eiseley's anthropology research in the Great Plains had an influence on his writing throughout his entire career. Professor Lynch's piece focuses on Eiseley as a poet rather than a science writer.
"I think the book is important because Eiseley is important," said Professor Lynch. "He's been a big influence on contemporary writers. He's one of the people to pioneer creative nonfiction as an art form."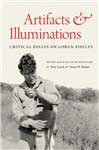 Book Information
Artifacts and Illuminations, Critical Essays on Loren Eiseley
Edited and with an introduction by Tom Lynch and Susan N. Maher
University of Nebraska Press
http://www.nebraskapress.unl.edu/product/Artifacts-and-Illuminations,674965.aspx
Written by Manda Lillie, May 2012
Homepage Stories | News Releases
UMD home page editor, Cheryl Reitan, creitan@d.umn.edu