Technology news for UMD faculty, staff and students
Upcoming Workshops
Dreamweaver 101: The Basics
Dreamweaver 103: Forms
Dreamweaver 104: Using the new UMD templates
Dreamweaver 105: Behaviors
Dreamweaver? Why not Contribute?
Partnering with Contributors: Dreamweaver MX and the new program Contribute
Making the Grade with eGradebook
Web Site Security and Password Control 101
You may have noticed that the UMD home page and second level pages have a new look for the new school year. The new site design is the result of several months of hard work and careful planning. The new design is based on the design the Twin Cities campus is using for their new site, with many subtle but significant changes.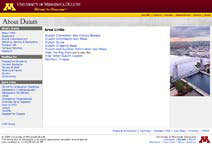 Sample of new UMD templates
To facilitate the conversion of existing pages to the new design, ITSS has also created new web page templates. The templates make it a snap to convert existing pages or to put up new pages. The templates are Dreamweaver template files that you can download and customize to fit your specific needs.
If your department is planning to redesign its web pages, or just wants to match the new UMD site, you can take advantage of the new templates. There are many benefits to using the templates, such as the time you'll save on redesign, increasing usability, and addressing accessibility issues.
If you are unsure how to convert your pages to templates or how to apply new templates to existing pages, have no fear! ITSS will be offering a workshop about the use of the new templates this Fall. You can read about the templates in more detail until then. If you decide to start working with the new templates now and have questions about using or customizing them, feel free to contact Andrew Manteuffel (726-6927 or amanteuf@d.umn.edu).
For more information: UMD Web Page Templates www.d.umn.edu/base/templates/
Starting this fall, our new eGradebook is available for general use by all UMD faculty members.
eGradebook is a web-based program used to record scores and calculate in-progress grades for each class section. All of the grade book information will be stored in a central database that instructors and students access using a web browser. No programs need to be downloaded or installed on your computer either to record or post grades.
To view their grades, students open a web browser and log in to the secure area in a process similar to online registration. If a gradebook has been created for a course by the instructor, it will appear to the student as an available link. By selecting the link, the student will be able to view his/her list of grade reports. If a class does not have a gradebook in this system, students will see a note to check with the instructor for grade information.
For more information: eGradebook www.d.umn.edu/itss/facstaff/WebServices.html

Current wireless coverage on campus
(click for larger version)
Wireless coverage on campus has been significantly expanded during the summer months.
New areas with coverage include:
MONH 121 and 151
ENGR 110
SBE 36 and 54
L 140
KSC 100, 326 and 310
BOHH 20
MWAH (all)
SCC 40
MED 68
KPLZ 359 and 306N
Visit our web site for a listing of all coverage and additional information on wireless at UMD.
For more information: Wireless networking at UMD www.d.umn.edu/itss/computing/wireless/
ITSS worked on a number of projects to upgrade central systems and the network this summer, including:
SunRays: SunRay service was updated to current release level. What most people will notice is that the KDE desktop has a new look with some UMD specifics added. Mulberry is the preferred email system, Netscape 7 is the default browser, and a default printer selector has been added.
IMP WebMail: A faster system has been added to handle the WebMail (IMP) load, from a two processor system to a faster four processor system that has more memory.
Email server: Our email server data is now stored on a very fast "Storage Area Network" disk subsystem. Considerable work has been done to contain the various worms and virus strains that have been slowing email delivery. We continue to look at various automatic update options for email servers - right now we are manually updating the filters.
Network backbone: Although ITSS installed the new 1 Gigabit backbone during last year, we are still in the process of moving all the building connections onto this backbone. During the summer we moved the following buildings to a faster connection to the new backbone: Darland Administration, Engineering, Heller Hall, Kirby Plaza, Library, Marshal W Alworth, Medical School, Solon Campus Center, and Voss Kovach. While upgrading the feeds to these buildings ITSS also installed new feeder switches. Our plan is to complete the move to the new backbone by December.
Residence halls: We reduced congestion and improved network equipment in nearly all of the Residence halls and upgraded most of the feeds to the buildings.
Labs: Six of nine labs have high speed connections to the backbone, and several lab areas have 100Mbit connections to each work station.
QOS: ITSS staff also installed "Quality of service" into our network. This is used to improve certain types of video and IP based telephone transmissions.
:
Most Macintosh users are familiar with choosing a printer by selecting an AppleTalk zone in the Chooser (or PrintCenter in OSX) and then selecting a printer from the list of printers available in that AppleTalk zone. Doing this requires that the network connection your Macintosh is connected to has Appletalk networking available on it (in addition to the IP networking that's available on all network connections).
AppleTalk is available on most network connections at UMD. However, AppleTalk is not available on the UMD wireless network, on the authenticated network connections in the classrooms and public areas on campus, and in some buildings on campus such as the Library.
You can still print to a network printer from a Macintosh even if AppleTalk is not available by creating an "IP" printer using the PrintCenter utility in OSX, or by creating an "LPR" printer using the Desktop Printer Utility in OS 8-9. These IP/LPR printers will also work when you're connected to a network connection that does have Appletalk.
For more information: Printing via IP with a Macintosh www.d.umn.edu/itss/software/mac/ipprinting/
The Student Computing Team of ITSS had a busy summer improving the computer labs around campus. Hardware and software was moved or updated in many of these rooms.
The Kirby Plaza remodeling and construction project began early in the summer. ITSS closed the Basic Internet Access SunRay lab located in Kirby Plaza 165 and relocated these units throughout the Library for student usage.
The computer lab in Kirby Plaza 144 was not forgotten in the reconstruction project for that part of the campus. This lab will be moving to a new location, but conveniently the new room is directly across the hall from its current location. This move is expected to happen in the November/December 2003 timeframe.
New Dell Pentium IV computers were purchased for the Solon Campus Center 42 lab as well as the Engineering 204 room. The computers that were in these labs have been redistributed into Library labs 119 and 115.
Three new Hitachi projectors were installed in Solon Campus Center 42, Humanities 470, Montague 239. These units have been mounted to the ceiling of each room to provide better sight lines, screen resolution, and brightness.
Two electric adjustable computer tables were also purchased. One was placed in the Humanities 470 lab and the other in Montague 239. A third electric adjustable table was also found and placed in Kirby Plaza 144.
Three large 21" monitors were placed in labs that needed this resource. One was placed in Montague 209, another in School of Business and Economics 17, and the last in one of the Access Area rooms on the first floor of the Library.
For more information: Student Computing Labs www.d.umn.edu/itss/labs/
info.tech.News is published monthly during the academic year by ITSS. An email digest is also sent to all users subscribed to the infotech.announce, UMD.business.announce and studenttech.announce. The goal is to distribute information useful to the daily routines of the University of Minnesota Duluth campus community in conjunction with computer and telephone technologies. Comments or suggestions may be sent to the editor at: sbradt@d.umn.edu.