Bachelor of Science in Mechanical Engineering Program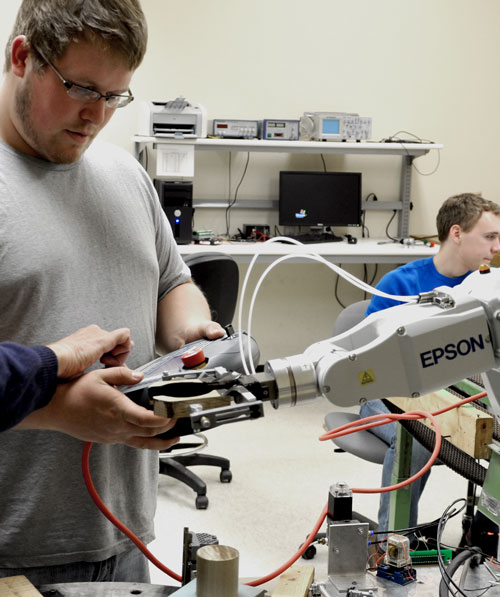 Mission
The mission of the Bachelor of Science in Mechanical Engineering program is to deliver a laboratory-intensive undergraduate mechanical engineering education to provide students with the tools and skills to excel in the engineering profession, as they pursue life-long learning and make positive contributions to society. The student learning experience will offer unique opportunities for study abroad, undergraduate research, and electives outside of mechanical engineering to develop an enhanced global perspective.
Strengths of the BSME Program
Strong commitment to undergraduate education - Class sizes are moderate (typically less than 50) and laboratory sections are small (typically less than 25), and the vast majority of lectures and lab sections are taught by our dedicated, award winning faculty.
Manufacturing emphasis - Many courses and laboratories focus on the design, operation, and management of manufacturing systems, and most faculty members have manufacturing industry experience.
Laboratory intensive - Many courses have a hands-on laboratory component where students get practical experience with a wide variety of industry-grade equipment and software tools in our excellent facilities.
Accreditation - The BSME program is accredited by the Engineering Accreditation Commission of ABET, http://abet.org.
BSME Program Educational Objectives
The BSME program will produce graduates who are able to:
Solve mechanical engineering problems by applying contemporary engineering tools to propose and implement effective solutions.
Design, develop, implement and improve thermal and mechanical systems.
Contribute as informed, ethical, and responsible members of the engineering profession and society as a whole.
Continue lifelong professional development throughout their career.
Collaborate and communicate effectively with others as a member or leader of an engineering or multidisciplinary team in an international setting.
BSME Student Outcomes
Mechanical Engineering graduates will have:
An ability to apply knowledge of mathematics, science and engineering appropriate to a mechanical engineer
An ability to design and conduct experiments, analyze and interpret data, and report findings
An ability to design and realize both thermal and mechanical systems
An ability to function on multi-disciplinary teams
An ability to identify, formulate and solve mechanical engineering problems
An understanding of the professional and ethical responsibilities of a mechanical engineer
An ability to communicate effectively, including oral, written and visual forms
The broad education necessary to understand the impact of mechanical engineering solutions in a global and societal context
A recognition of the need for, and the ability to engage in life-long learning
A knowledge of contemporary mechanical engineering issues
An ability to use the techniques, skills, and modern engineering tools necessary for mechanical engineering practice