Public Lecture by Michael Berman
"National Conventions and Their Role in Presidential Campaign Civility"
September 14
1 p.m.
UMD Kirby Student Center Ballroom
On September 14, UMD will open the distinguished Michael S. Berman Collection, a compilation of over 1,000 political artifacts--including photographs, documents, political publications, bumper stickers, campaign buttons, posters, jewelry, and other significant items.
This remarkable collection was donated by UMD alumnus Michael Berman, and provides important insights into America's recent political history, as well as its social and cultural past. The memorabilia spans the last 40 years, and dramatically outlines Berman's extensive professional career as an important figure in the American political scene. Over 50 pieces from the collection will be included in this first exhibition, which will continue in the UMD Library (4th floor) for several months.
To open the exhibit, Mr. Berman will present a public lecture titled "National Conventions and Their Role in Presidential Campaign Civility," on Friday, September 14 at 1 p.m. in the UMD Kirby Student Center Ballroom.
Mr. Berman will be the first lecturer in the UMD Sieur du Luth Lecture/Conference Series.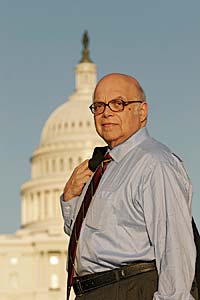 About Michael Berman:
After completing a degree in political science from UMD in 1961, Mr. Berman attended the University of Minnesota Law School graduating in1964. His interest in politics was always strong, and he volunteered to work in the senate campaign of Walter Mondale.
While serving in his position as Special Assistant Attorney General of the State of Minnesota (November 1964-July 1966), Berman represented the State Commission Against Discrimination and brought and tried before a jury, the first fair housing case in Minnesota. In July 1966, he joined U.S. Senator Mondale's staff, and moved to Washington D.C. that December. In Washington, Berman served as Special Assistant, Executive Assistant, and Administrative Assistant to Walter Mondale. In 1972, he ran the senator's reelection campaign.
When Walter Mondale was elected Vice President of the United States, Mr. Berman was appointed legal counsel and Deputy Chief of Staff, serving from January 1977 to January 1981.
There is a photograph in the UMD collection showing Berman sewing a sleeve button onto Mondale's jacket. The photograph, which is signed by Mondale and Jimmy Carter, hung over Berman's desk and was mentioned in a 1981 New York Times article.
Berman has been behind-the-scenes in every Democratic presidential election campaign from just-after his law school days, to the present time. He has worked on 10 Democratic National Conventions stretching from 1968 to 2004. An entire photo album from the 2000 convention belongs to the UMD collection, and pictures from it are in the public display. Berman has worked closely with many democratic political leaders including Hubert Humphrey and Bill and Hillary Clinton.
From 1981 until August 1989, Michael Berman was a partner in the Washington D.C. law firm of Kirkpatrick and Lockhart. Since August 1989, he has been president of the Duberstein Group, Inc. - a government affairs consulting firm in Washington D.C.
Mr. Berman and his wife, Carol, have been married for 42 years, and live in Washington D.C.
The UMD Sieur du Luth Lecture/Conference Series was initiated by 1971 UMD alumnus Richard Teske. Mr. Teske is a nationally known researcher, consultant, and writer on health care policy. He served for eight years in the Reagan administration and was responsible for the Medicaid program during that time. Currently, Mr. Teske is a regular contributor to the Heritage Foundation.