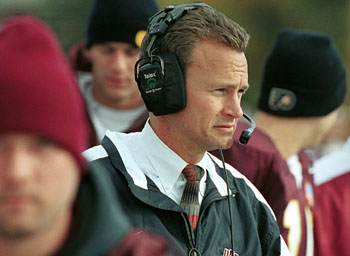 A vote for Bob Nielson is a vote for DULUTH! UMD head football coach, Bob Nielson, has been named a top five finalist in the Liberty Mutual NCAA Division II Coach of the Year contest. The winning coach receives $50,000 for the charities of his choice and the Alumni Association will receive $20,000.
Everyone may vote and is encouraged to vote once a day, everyday from December 15-29 at www.coachoftheyear.com
Liberty Mutual's Coach of the Year finalists are selected by a combination of votes by fans at www.coachoftheyear.com and an elite selection committee of national media and College Football Hall of Fame players and coaches. Beginning in 2006, Liberty Mutual has honored the college football coach in each NCAA Division who best exemplifies responsibility and excellence on and off the field of play. In addition to receiving the charitable monies, the chosen coach will receive a personal trophy and will be recognized in the permanent Liberty Mutual Coach of the Year Award display at the College Football Hall of Fame in South Bend, Ind.
Finalist head coach Bob Nielson (who returned to the UMD sidelines in 2008, following a four-season hiatus) proceeded to oversee one of the most impressive one-season turnarounds in NCAA II history, taking a club, which had gone 4-6 in 2007, and molding it into a national champion. Along the way, his Bulldogs amassed a 15-0 overall mark (only the third NCAA II team to ever accomplish that feat), set or equaled 50 team and individual records, captured the NSIC title by going 10-0 and turned out a whopping nine All-Americans and 17 All-NSIC honorees. ??Named the 2008 NCAA II Coach of the Year by American Football Monthly magazine, D2Football.com, and the Football Gazette, Nielson owns an impressive 63-20 overall record at UMD (for a .759 winning percentage -- far and away the best mark in the program's rich 77-year existence) and is 133-53-1 (.714) in 17 seasons of collegiate coaching. Nielsen, the 2008 and 2002 NSIC Coach of the Year whose first tour of duty with the Bulldogs ran from 1999-2003, was officially appointed to his old post on Jan. 3, 2008. (He continues to also serve as UMD's athletic director, a position he's held since 2003-04). During his five previous years with the Bulldogs, Nielson helped marshal the UMD program to new heights. In 2002, for example, his Bulldogs posted their second unbeaten, untied regular season record at that time (11-0), advanced to the NCAA II playoffs for the first time ever and captured the NSIC championship. Nielson's resume also includes directing UMD to its inaugural post-season appearance (the 2001 Mineral Water Bowl in Excelsior Springs, Mo.) and the school's second greatest one-year turnaround to date (the Bulldogs went 7-4 in 2000 after managing a 3-8 mark the previous fall). ??The runner-up for the 2002 American Football Monthly magazine NCAA II Coach of the Year award, Nielson, 50, joined the UMD staff in the spring of 1999 after he had guided the University of Wisconsin-Eau Claire to a share of the 1998 Wisconsin Intercollegiate Athletic Conference title (its first since 1983) and an initial berth in the NCAA III playoffs. He amassed a record of 22-11 in three years with the Blugolds, including a 10-3 mark in his farewell season when Wisconsin-Eau Claire notched a team standard for victories. Nielson, the Football Gazette's 1998 Division III Coach of the Year, also was employed for five years as the head football coach at his alma mater, Wartburg College, where he strung together five successive non-losing seasons and attained a pair of back-to-back NCAA III playoff berths (1993 and 1994) and two years at Ripon College (1989-90) in Wisconsin.
In 2009, UMD posted an 11-2 overall record (with its lone two losses coming to a pair of NCAA II quarterfinalists in Grand Valley State and Central Washington University) and captured its second Northern Sun Intercollegiate Conference title in as many years with another perfect 10-0 mark. The Bulldogs officially closed out their 77th season of intercollegiate football on Nov. 28 with a 24-10 loss to Grand Valley State University in the NCAA II quarterfinals.
No less than 12 Bulldogs landed first team All-NSIC North Division recognition, including junior running back Isaac Odim, who was named the North Division's Offensive Player of the Year and junior inside linebacker Robbie Aurich, the recipient of the North Division Defensive Player of the Year award. Odim also was one of nine finalists for the Harlon Hill Trophy, joining Ted Schlafke (2008) as the only two Bulldogs to advance that far in the selection process. Odim, senior center Tobias Lemke and senior cornerback Brandon Wood became the first UMD football representatives to attain ESPN Magazine's Academic All-American honors. Lemke and Odim were both selected to the 24-member college division first team while Wood was a second team pick. The college division is comprised of all NCAA Division II, II and NAIA schools in the country.