Communication Associate: Public Relations
| Lori Melton |
lmelton@d.umn.edu
| (218) 726-8830
---
November 14, 2011
Susan Banovetz | UMD Director of External Affairs | 218 726-6141 | banovetz@d.umn.edu
Christiana Kapsner | UMD Public Relations Assistant | 218 726-8830 | ckapsner@d.umn.edu
Professors to Receive Global Engagement Award
Leadership roles raise international visibility and reputation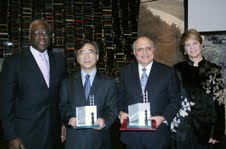 The unwavering support and advocacy for international engagement from Zhuangyi Liu, UMD professor of mathematics and statistics, and Kumar G. Belani, professor of anesthesiology from the Twin Cities School of Medicine, will be recognized on Wednesday, November 16 at the McNamara Alumni Center on the Twin Cities campus. Liu and Belani will be honored for their outstanding contributions to create and sustain international programs.

The award is sponsored by the Office of the Senior Vice President for System Academic Administration and administered by the Global Programs and Strategy Alliance.

"I am honored with the award," said Liu. "This is also a recognition of UMD's effort on global engagement. I believe it is important for us to develop a global perspective."

Liu is an accomplished researcher and scholar, serving as the head of the Department of Mathematics and Statistics and a professor of mathematics. He is also the coordinator of the University's Beijing Higher Education Teacher's Training Center Visiting Program and holds visiting professorships at the Beijing Institute of Technology and the Ninbo Institute of Technology, Zhejiang University, China.

At age 17, Liu was sent to work on a farm during the Chinese Cultural Revolution. After postponing his education for seven years, he completed his undergraduate degree at Fudan University, and then completed his Ph.D. in the United States. After earning his doctorate degree he moved to Duluth where he participated in the development of the master's program in the Department of Mathematics and Statistics. During his 22 years at UMD, his international engagement has focused on China, but he has also conducted research in Peru, Brazil, Argentina, France, Spain, and Germany. He has organized international conferences and has been an invited speaker to many international conferences.

Liu assisted UMD's Department of Foreign Languages to establish a Chinese program and organized a "Chinese Corner" to help students learn Chinese. He founded UMD's "Study Chinese Languages and Culture" summer program in 2007 and has led the program every summer since. More than 65 students have participated in the study abroad program, in which students study Mandarin at Ocean University of China in Qingdao, and travel to Beijing, Shanghai, and Xi'an for 45 days.

His leadership has led to the success of many University delegations to China, resulting in the signing of collaboration agreements with Chinese universities that have brought Chinese undergraduate, graduate students and scholars to UMD. He has also aided University faculty in their collaboration with Chinese colleagues and their visits to China. Liu has hosted delegations of Chinese visitors to Duluth for a broad range of activities, including runners in Grandma's Marathon.

Liu is an exceptional campus leader who has gone above and beyond in service to both the campus and the community. The majority of his internationalization efforts are in addition to his full-time teaching, research, and outreach responsibilities. He has published 40 journal papers and one research monograph and taught a wide range of courses, from honors calculus to linear programming and partial differential equations, while leading international outreach on campus.

Kumar G. Belani, University of Minnesota Twin Cities professor of anesthesiology at the School of Medicine, and assistant vice president of India Affairs through the Academic Health Center, is also honored for his strong leadership and substantial contributions that have resulted in increased internationalization for the University of Minnesota and major improvement in the lives of ordinary people in India.