Communication Associate: Public Relations
| Lori Melton |
lmelton@d.umn.edu
| (218) 726-8830
---
November 14, 2011
Susan Banovetz | UMD Director of External Affairs | 218 726-6141 | banovetz@d.umn.edu
Christiana Kapsner | UMD Public Relations Assistant | 218 726-8830 | ckapsner@d.umn.edu
Sarah Pitterle | Director | UMD Retail Marketing Analytics Program | 218 726-6632 | spitterl@d.umn.edu
Top Teams Compete for Regional Placement in Retail Analytics Event
Local high schools face-off in the 2011 DemandTec Retail Challenge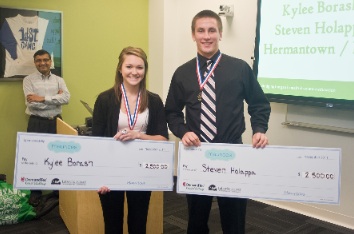 Students from four local high schools are prepared to present their profit making pricing and promotional strategies to a panel of industry professionals on Thursday, November 17 at 4 p.m. in the regional finals of the DemandTec Retail Challenge competition. The competition, followed by the award ceremony, will take place in room 119 of the Labovitz School of Business and Economics on the UMD campus. The judges will announce the winner of the region at the award ceremony, presenting the team with a $5,000 scholarship from maurices. The second and third place teams will also receive monetary awards.

These three teams, consisting of two High School Seniors, achieved the highest profits during the ten-day regional competition in Duluth/Superior region out of the 21 teams participating. Each of the teams will be given twenty minutes to present the strategies they used to maximize their profits to a panel of judges who are from the regional sponsor, maurices, and the national sponsor DemandTec. DemandTec is sending their Regional Manager, and the maurices' judges are head office employees familiar with analytics.

The winning team will receive a $5,000 scholarship from maurices and the opportunity to represent this region in the semi final rounds in December and hopefully be one of five teams selected to travel to New York City in January for the Grand Championship Round.

"The DemandTec Retail Challenge competition is a great opportunity for high school students to experience what it is like to work as a pricing analyst in a retail environment," said Sara Pitterle, director of the Retail Marketing Analytics Program at UMD and the competition facilitator for this region. "Each day of the online competition, students were asked to review their sales and profit trends compared to other entities in their region. They were then able to adjust their pricing, inventory and promotional strategies in response to these trends. The retail world is changing rapidly. The expectation is for retail leaders to have both quantitative and creative problem solving skills. The DemandTec Retail Challenge is an excellent example of marketing and business analytics for the 'real world.'"

The three teams for this region consist of high school seniors from four high schools. The students in the regional finals are students at Harbor City International, Hermantown, East High School and Marshall High School.

The DemandTec Challenge originated in 2005 as a local competition in the San Francisco Bay Area and has expanded nationally to a number of regions. The goal of the Challenge is to present math, science and business concepts creatively through an online simulation giving students a taste of how retailers and consumer products manufacturers decide on pricing and inventory.

About DemandTec
DemandTec (NASDAQ: DMAN) connects more than 350 retailers and consumer products companies, providing common solutions to transact, interact, and collaborate on core merchandising and marketing activities. Their services enable customers to achieve their sales volume, revenue, shopper loyalty, and profitability objectives. The software and analytical services utilize a science-based platform to model and understand consumer behavior. DemandTec customers have collaborated on nearly four million trade deals. Customers include leading retailers and consumer products companies such as Ahold USA, Best Buy, Con-Agra Foods, Delhaize America, General Mills, H-E-B Grocery Co., The Home Depot, Hormel Foods, Monoprix, PETCO, Safeway, Sara Lee, Target, Walmart, and WH Smith.