Communication Associate: Public Relations
| Lori Melton |
lmelton@d.umn.edu
| (218) 726-8830
---
November 30, 2011
Susan Banovetz | Director of External Affairs | 218 726-6141| banovetz@d.umn.edu
Christiana Kapsner | UMD Public Relations Assistant | 218 726-8830 | ckapsner@d.umn.edu
Maroon and Gold Holiday Tree Topped with a Bulldog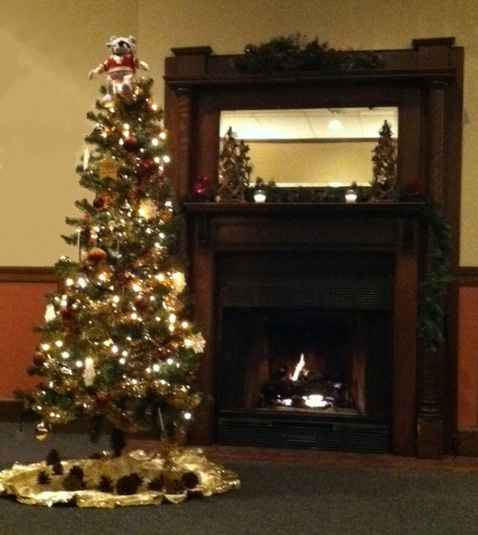 UMD Holiday Tree

UMD Students Decorate Campus-Inspired Tree for Fitger's Holiday Forest

A six-foot tree shining with Bulldog colors and hosting a UMD jersey-clad bulldog at its top is part of the third annual Fitger's Holiday Forest silent auction, thanks to the creativity and community involvement of Travis Thompson, Derek LeDoux, Bailey Goodburn, and Brett Podein, students at UMD's Labovitz School of Business and Economics (LSBE).

The UMD holiday tree will be nestled within the Fitger's Holiday Forest at 600 East Superior Street from Thursday, December 1 through Saturday December 3, with silent auction bids ending at 7 p.m. on Saturday. Proceeds from the sale of the tree will be donated to the American Red Cross Northland Chapter.

Thompson, LeDoux, Goodburn, and Podein held a fundraiser at a local Walmart for the decorations that grace the tree. The students also contacted several UMD departments and UMD stores and received donations for their effort. The finished product is a festive example of UMD, community, and holiday spirit.

"We would like to have someone from the UMD campus bid on the tree during the auction," said Thompson. "It all ties into the university's goal of helping the community. It's teamwork, and it's UMD reaching out and helping a good cause. If someone on campus purchases it, everything will come back full circle."

Helping a non-profit organization is the brain child of UMD Associate Professor of Management Studies Jennifer Mencl, who is teaching a new special topics class, Developing Managerial Skills. Mencl assigned the task of aiding a local non-profit organization. She assigned each student to research a local non-profit organization, and to pick one of the forty organizations from the information provided by their peers, and then find a way to help them locally.

"I wanted students to enhance what they know about teams and team processes," said Mencl. "I wanted them to develop their teamwork skills, gain experience with budgeting, and implement plans and solve problems to achieve team goals. In addition, I wanted to demonstrate to students that there is more to their lives as business professionals than an organization's bottom line. An important outcome of the course is that students become engaged citizens and actively participate in their communities."

Several LSBE student groups organized food and clothing drives at local schools, others held fundraising events.

This is the third and final year of the Fitger's Holiday Forest event in which volunteers purchase and decorate trees. Over the three-year span, the goal has been to raise $10,000. The volunteers hope to reach that goal during this week's auction.