Communication Associate: Public Relations
| Lori Melton |
lmelton@d.umn.edu
| (218) 726-8830
---
November 30, 2011
Susan Banovetz | Director of External Affairs | 218 726-6141| banovetz@d.umn.edu
Christiana Kapsner | UMD Public Relations Assistant | 218 726-8830 | ckapsner@d.umn.edu
Andrea Schokker | UMD Executive Vice Chancellor for Academic Affairs | 218 726-6446 | aschokke@d.umn.edu
UMD Executive Vice Chancellor for Academic Affairs Appointed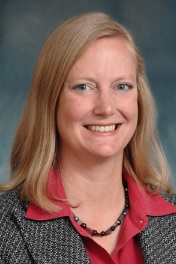 Dr. Andrea J. Schokker

After an extensive national search yielding a strong pool of candidates from which to choose, Dr. Andrea J. Schokker has been appointed UMD's Executive Vice Chancellor for Academic Affairs.

"Dr. Schokker was selected because of her demonstrated record of administrative success and because of her innovative leadership at both UMD and Pennsylvania State University," said UMD's Chancellor Lendley C. Black. "Responses from faculty, staff, and students were overwhelmingly positive to Dr. Schokker. I am convinced that she is the best person at this particular time to be UMD's executive vice chancellor."

As professor and founding head of UMD's Department of Civil Engineering, Schokker, a structural engineer, has over 40 refereed journal articles and conference proceedings as well as strong leadership roles in professional societies. Schokker joined UMD in the fall of 2008 to develop the Civil Engineering program after nearly a decade at Penn State where, in one of her roles, she was the professor in charge of undergraduate programs.

"It's an exciting time at UMD, and I'm thrilled to be starting as EVCAA where I'll be able to play a role working with our faculty, staff and students to reach our enormous potential," said Schokker. "We have challenges ahead that will foster innovation, and I can't think of any other place I'd rather be."

Dr. Schokker will begin her new duties during January 2012.