Communication Associate: Public Relations
| Lori Melton |
lmelton@d.umn.edu
| (218) 726-8830
---
May 23, 2012
Cheryl Reitan | External Affairs | 218 726-8996 | creitan@d.umn.edu
John Rashid | Facilities Management | 218 726-6930 | jrashid@d.umn.edu
AIA Selects UMD's Bagley Classroom
for 2012 COTE Top Ten Green Projects in the Country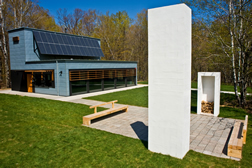 UMD Bagley Classroom

The American Institute of Architects (AIA) and its Committee on the Environment (COTE) selected the University of Minnesota Duluth's Bagley Classroom as one of the top ten examples of sustainable buildings in the United States.

David Salmela, renowned Duluth architect, and John Rashid, UMD Campus Architect were presented the AIA COTE Award for the Bagley Classroom building at the AIA 2012 National Convention and Design Exposition held May 17 – 19, in Washington, D.C.

The UMD's Bagley Classroom was recognized for outstanding efforts by making a positive contribution to the community, taking advanced steps for reducing environmental impacts, and implementing the use of sustainable construction materials.

The building is a model of sustainable design and construction. Some of its distinct characteristics concern the environmental impact both during and after construction. Highlights of the structure include: minimal building footprint, protecting existing habitat, maximizing open space, dramatic reduction in water use, treatment of storm water run-off, composting toilets, passive solar winter heating, super-insulated airtight exterior, recycling of construction waste, and indoor air quality.

Rashid oversaw the design and construction of the project but credits an extremely gifted UMD construction crew with the projects ultimate success. "Under the leadership of construction manager Kevin Claus and the work of all our talented Facilities Management construction crews, we were able to build a building where the craftsmanship and building performance are second to none." "We are proud that UMD leads the way in sustainable building creation and we learned a lot throughout the process," Rashid said. "This project is teaching us all a lot about maximizing energy efficiency. "

The 55-acre Bagley Nature Area had its grand opening on June 22, 2010. The classroom space is utilized primarily by the UMD Department of Biology but also draws in students who study geography, teacher education, outdoor management, art/drawing, recreational outdoor programs, and early childhood learning activities.

In addition, the 2,000 square-foot, multi-purpose building provides space for over 30 classes and attracts new groups and departments to use the space for conferences, meetings, and lectures. The open floor plan and large operating windows on the east and west walls provide a great source of natural light.

In September 2010 Bagley Classroom was awarded LEED (Leadership in Energy and Environmental Design) Platinum status. This is the first building in the University system to be certified by LEED at the platinum level and it joins four other UMD buildings with LEED certification.