Communication Associate: Public Relations
| Lori Melton |
lmelton@d.umn.edu
| (218) 726-8830
---
May 28, 2014
Lisa Sundberg | Large Lakes Observatory | 218 726-8683 | sundb103@d.umn.edu
Lori Melton | Communication Associate | External Affairs | 218 726-8830 | lmelton@d.umn.edu
Large Lakes Observatory Launches New Season of "LLO Science Friday"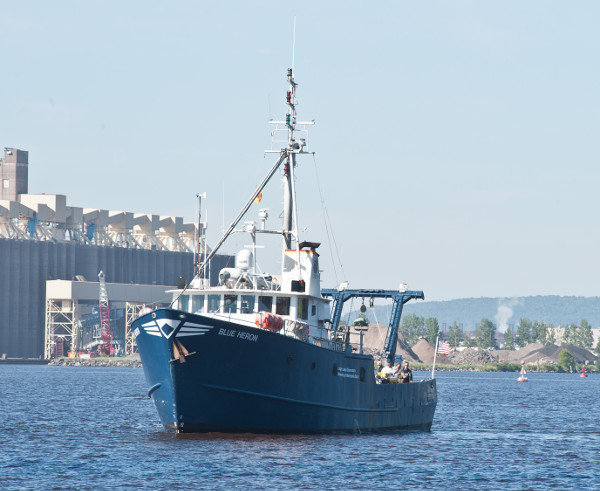 Another Season of "LLO Science Friday" to Launch:
Steve Colman, director of LLO, will be available for interviews with the media from 2–3:30 pm on May 30.
DULUTH, MN – The University of Minnesota's Large Lakes Observatory (LLO) is bringing the Blue Heron research vessel back to the Twin Ports Harbor at the Great Lakes Aquarium, 353 Harbor Drive, for another season of "LLO Science Friday."
These family-friendly events are free and will take place from 12:30-4:30 pm on May 30, June 20, July 18, August 22, and September 26, 2014.
The May 30 presentation, which runs from 3:30–4:30 pm, will be: "Using research and monitoring to protect water resources: The role of the Lake Superior National Research Reserve." The presenter will be Tracey Ledder.
Tours of the vessel are available. In addition, the broadcast of "Talk of the Nation-Science Friday", hosted by Ira Flatow will air. This two-hour radio show is provided by KUWS-FM on board the R/V Blue Heron from 1–3 pm on each of the LLO Science Fridays.
The R/V Blue Heron is the largest university-owned research vessel in the Great Lakes. Built in 1985 for fishing on the Grand Banks, the Blue Heron was purchased by the University of Minnesota in 1997 and converted into a limnological research vessel. She is outfitted with state-of-the-art research equipment, has berthing for 11 crew and scientists, and can operate 24 hours per day for up to 21 days in between port calls.
Located on the Duluth campus of the University of Minnesota, Large Lakes Observatory is the only institute in the country dedicated to the study of large lakes throughout the world. They focus on the global implications of investigations in the areas of aquatic chemistry, circulation dynamics, geochemistry, acoustic remote sensing, plankton dynamics, sedimentology and paleoclimatology.
Visit LLO's website at http://www.d.umn.edu/llo/