Writing in Augmented Space
Down an Old Dirt Road is an experiment in augmented reality completed for a class called New Media Writing at the University of Minneosta Duluth.

This project is designed for delivery by technologies that enable writers or artists to superimpose their work onto actual locations and objects through the use of GPS-powered, hand-held devices. Though the material from this project is presented here as a web site, the intended medium is the location itself, not the computer screen.

The maps, images and interactive panoramas provided in these pages represent the place where this project is installed, and the various texts that appear in the cell phone image - audio tracks, and supplemental images, documents, etc. - would be available via an iPhone, smartphone, or iPad to an audience in locations within that place.

Click on the highlighted spots indicated below to visit these locations virtually. Each page contains a navigation, which you can click to get to the next spot.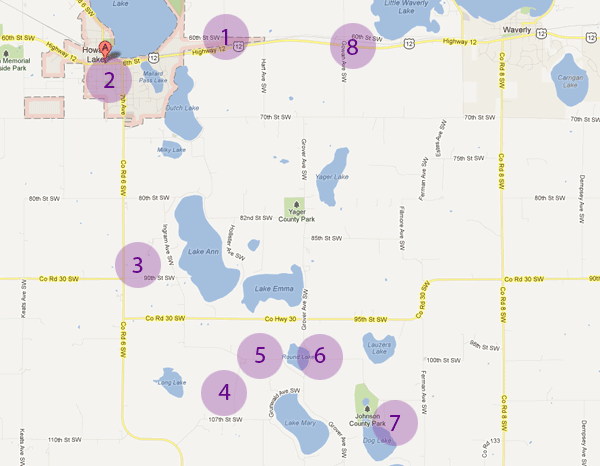 About the Project
This project takes place in the small town of Howard Lake, Minn., located nearly an hour west of the metro area. The project is designed to give the audience an experience of being in the various places of this town, while bringing the "not here/now" into perspective. This augmented space experience will bring the audience around the country block of Howard Lake, down various dirt roads and to every day places for those who live there. In the process of this tour, the audience will experience what is currently "here/now" in the town with events that no longer exist in those places.
Centered around the theme of contentment, this project helps the audience bring things in their lives into perspective. It shows them that being content and happy with what they've been given means making the best out of every situation, working hard to achieve success, and spending time with those you love. It's those simple things in life that will make one truly happy and content. The subject matter of this project - events that happen in a small town - shows how a community of people find contentment with the little things that they have. In this way, the project falls under the genre of purpose. This project isn't about the town where I came from or the places the tour takes the audience through. It's about finding the purpose of situations we go through in life, a purpose that tests our ability to be content in any given circumstance, even when it takes hard work.
Visit this place in Google Maps.