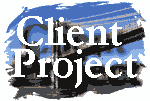 Workshop
Thursday 4/26
1. Angela
http://www.d.umn.edu/~adam0520/5230/Client/

My client is my dad and the future business that he wants to create. Until now, he has not had a website. He is an engineer and is always inventing something or coming up with a different, more effective way of doing something else. The intended audience is anyone who is interested in learning about renewable energy sources and how to harness and use that energy in their daily lives. Eventually, it will hopefully serve as a product/information website for his own ideas and inventions, but for now it's mostly just informative. I was going for a simple, yet professional looking design.
2. Daniel
http://www.d.umn.edu/~ahox0039/5230/client/Home.html

Client- Hinks Brothers Construction. New Business so they do not have a web site. The intended audience is for people looking for Hinks Bros. service. I hope this site will inform people about their business and maybe get them some more jobs. My client wanted to be represented in a proffesional manner, and they just wanted to get their name out on the web. I did not counter too many issues with my clients since they are good friends of mine. I wanted this site to be clean and easy to read so people do not get frustrated with the site.
3. Alyssa
Client: Luann Munson, Owner of the Duluth Plato's Closet.

Non-Web Existence: although Plato's closet itself has a website, my client wanted a website just for the Duluth store that people could go to and see what they are currently taking and see what the Duluth store specifically is like.

Intended Audiences: College students that need money or want to be able to shop affordably.

Actions hoped for: I hoped that this website would inspire people to want to come and see what Plato's closet is like. I also wanted it to inspire people to bring in their clothes and shop there.

What client wanted: My client wanted the site to be visually appealing for one. She also wanted it to give a sense of what Plato's closet is like in general, and make people curious and want to come there.

Issues: We pretty much agreed on everything. The only issue that we really had was that I didn't like some of the wording she specifically asked for, and I didn't especially care for some of the backgrounds she chose, but overall we agreed on content.

Ethos Teen Focus Reasonable Prices Name brand clothing New and slightly used Current styles

Pathos Saved Money Fashionable clothing Make money by selling clothes you don't want anymore Got styles they wouldn't be able to afford otherwise Feeling more confident about what they are wearing http://www.d.umn.edu/~alfve003/5230/client/PlatosHome.html
4. Pete
http://www.d.umn.edu/~carp0160/5230/5230/client/about%20us.html

my client is Nikki Olson. She hand makes all kinds of aprons to sell from her business from her home. Her intended audience is pretty much everyone, male or female, who likes to wear aprons for whatever. She gave me some content to use and you can see it on the site. Also gave prices for her aprons and styles, too, but no pictures yet. She really made this project hard because she didn't have her act together.
5. Gretchen
Client: Superior Middle School

Web non existence: Actually, the school district just recently put up a brand-new very nice site. I am creating a linked site for incoming sixth graders, that would be accesible through the middle school part of the site. There is nothing up on the district site to welcome new students to the middle school.

Intended audience: incoming sixth graders and their parents

Actions: To answer typical questions new sixth graders have, explain the setup of the school, familiarize self with staff, building, and curriculum

What client wanted: My client (the middle school principal) wanted a site that was easy to navigate but still looked like part of the district website.

Ethos and Pathos: I wanted to appeal to both sixth graders and adults. I did extensive interviewing to see what was needed for the site, and to make the middle school (1100 students) seem like not such a scary place. I also wanted it to look professional and flow well with the original school district website.

Obviously, I still need my client to provide most of the photos and quite a bit of text. I'm working on it.

my site: http://www.d.umn.edu/~flahe055/5230/client/index.html

School district site: http://www.superior.k12.wi.us
Tuesday 5/1
6. Kathleen
http://www.d.umn.edu/~grigg034/5230/client/index.html

Client: My sister, Ashley Grigg.

Web non existence: I suppose she has a myspace, but nothing formal that has her artwork put up.

Intended audience: people who enjoy art and can appreciate the surreal. (Salvador Dali fans will be happy ...) I really, really, REALLY want her to talk to me about her work, where she gets inspiration, but we are both busy people.

Actions: to inspire people to experiment, if not with paints than with ideas in their lives.

What client wanted: My client (the adorable Ashley Grigg) didn't really know what she wanted specifically, other than to have her art published in a way that was accessible. She also didn't want the details altered with photoshop, etc.

Ethos and Pathos: I wanted to appeal to people who like to do art as a hobby, not as criticism. People who can appreciate it and maybe take something with them.

--

I am also trying to find a practical application for this site -- maybe Ashley's advice on how to do some of the techniques she frequently uses. If you have any ideas about what you, fellow classmates, would like to see, please let me know!
7. Sarah H.
Client: Duluth Vineyard Church

Non-Web existence and operation: Church services are held every Saturday and Sunday. This is when people are welcomed into the church, announcements are made, and people have a chance to get to know each other and the pastors at the church.

Intended audience: These members who come to the church and those who want to know more about this particular church.

Actions: To get involved in events at the church, to attend the services, to get to know the pastors or small groups... basically, to get up out of their chairs and GO there.

Client wanted: Service times, information on small groups, ways to contact people, upcoming events.

Disagreements: I felt that it was important to talk about what happens during a typical service so that if someone were to find this site and decide to go to the church, they wouldn't walk into the service and be totally clueless about what was happening. Therefore, I included this information.

Ethos/Pathos: The voice of the text is fairly informal, relaxed, and personal. I wanted the viewer to feel they were in communication with humans, not a machine.

http://www.d.umn.edu/~hass0219/5230/client/
8. Mark
Client: My client is the league secretary of the bowling league. Audience: members of the bowling league, and new perspective teams. Objective: To allow the teams to view there stats before bowling and have a place for new teams to see what the league was like and some links for them to find out new information

http://www.d.umn.edu/~lund0873/5230/client/
9. Carly
10. Ron
My client is the local vintage/retro store, Obscuriosities. I've been in the store before and was really impressed with the array of things they have and the fact that the owners are actually really into their business and the lifestyle it emulates. I made the site as more of a way for people to see what they have and want to visit the store rather than an online web store sort of thing. A typical person to stop in here could be everyone from a movie/music buff to someone simply looking for a T-shirt. I would like people to look at the site and understand that there's more than in the store than is portrayed, and most importantly, that anyone visiting the site would actually want to go shop there, or even just check it out. They pretty much gave me free reign to do what I wanted with the site, but it was still a challenge trying to take a store that's so individualistic and full of items and make a site for it that did it justice, but at the same time was structured and easy to navigate. In order to do this I used some loud colors (the background green, etc), and pictures to show the nature of items they sold.

http://www.d.umn.edu/~parpa002/5230/Client/Obscuriositieshome.html
11. Louis
Thursday 5/3
12. Joel
http://www.d.umn.edu/~runc0014/5230/client/atcpage.html

Craig, my client is Arrowhead Tennis Center(ATC) in Duluth. This site is designed for users to obtain information about ATC in regard to tennis lessons, memberships, court hours, and other areas of the Arrowhead Tennis Center & Athletic Club complex. Keep in mind that Arrowhead Tennis Center is a division of the Arrowhead Tennis Center & Athletic Club here in Duluth. Also, the reason why I have a 'Wilson' sports logo on my Web site is because I consulted with Tracy Broin, the director of ATC and she said that it is imperative that I list their sponsor on this site. Wilson equipment is stocked and sold at ATC under a contract and therefore, this is the reason why it is listed on my Web site. At the request of my client, I have included a privacy statement and a synopsis about the faciliity at the bottom links of the pages.
13. Mathew
http://www.d.umn.edu/~sahl0028/5230/client/home2.html

This is a cafe/bar/restaurant. Their services include delivery and other things. Options that still need to be added are employee's favorite meals. So that when a customer finds that they have similar tastes of the employee, they can then know what food to try next. Also this restaurant delivers all food but breakfast. A map describing their delivery zone would be quite helpful. With a business that provides so many services there will be continual improvement of this site, also with the increased usage of the site by people the purpose will be continually changing. Also this page was meant to be more dynamic than professional. A typical customer visiting this site will likely be a "bar fly." They are not concerned if the site looks nice, they want the site to be fun, and look and feel like the business does when you are actually there.
14. Justin
http://www.d.umn.edu/~sore0319/client/

- Brett Groehler (University Photographer) in this case Brett Groehler Photography (seperate from UMD)

Brett shoots freelances on the side, ussually in the summer- mostly weddings and some sports.

The audience is engaged couples planning a wedding in the DUluth area. The desired action from them is an inquiry about having their wedding shot or a link to buy prints to Print Room if they are a previous customer

I didn't really have any disagreements about the site, I was given pretty free reign outside of the content desired.

The ethos and pathos would focus on quality work and catching the emotion of a wedding.
15. Judson
http://www.d.umn.edu/~turk0026/5230/client
16. Landon
Site: http://www.d.umn.edu/~wenin003/5230/client/index.html

Client: Mike Hagan, Graphic Designer

Non-Web Existence: My client does a lot of freelance work and also is employed by late night kirby, he does a lot of the posters we see hanging around school, like the ones on the homepage of my site. Before this website was created, he had no way of people finding him other then by word of mouth, now anyone in the world can use his services.

Intended Audience: Anyone business or individual who is in need of brand identity, a poster for an event, a logo for a t-shirt, pretty much anything involving images.

Actions from Audience: I want the audience to feel that after they have visited this site that they have seen what Mike is capable of creating and are comfortable with him creating something for them.

Client Wants: He simply left it to me and supplied me with some images. I came up with the concept and layout and all the content minus his images.

Ethos and Pathos: I wanted to create simplicity and ease on the eyes. I don't want people to be confused when looking at this site, not much work in navigating the site and everything is nice and straight forward.