My background
I was born in Opava, which is now in the Czech Republic, although it was then Czechoslovakia. There I also later graduated from high school. I got my undergraduate education at Comenius University in Bratislava (now Slovakia, but it used to be Czechoslovakia then) between 1973 and 1978. Later I got my CSc. Degree (Ph.D. equivalent) there under the supervision of Štefan Znám. In 1994 I received my Ph.D. at McMaster University in Hamilton, Ontario, under the supervision of Alexander Rosa.
Before I joined UMD, I was a Visiting Assistant Professor at the Department of Mathematics and Statistics, University of Vermont. I spent three wonderful semesters there. Before then I was an Associate Professor at the Department of Applied Mathematics, Technical University Ostrava in the Czech Republic. When I was in Czechia, I had also a part time appointment with the Institute of Computer Science at Silesian University in Opava, where I still like to spend about two months every year. 
My mathematical interests
I am interested mostly in graph theory and design theory. In particular, I have been recently mostly working in graph decompositions and factorizations, graph designs, and magic type labelings. You can see my list of publications and preprints, if you want. I have also used graph factorizations and magic type labelings in some interesting applications, namely tournament scheduling. I have scheduled with my friend Mariusz Meszka the Czech National Soccer League, the Czech National Hockey League, the Czech National Basketball League, and also some competitions of the NSIC, where UMD Bulldogs compete. I prepared schedules for NCC football (where the Bulldogs played then), and some schedules for the MIAA.
<![if !vml]>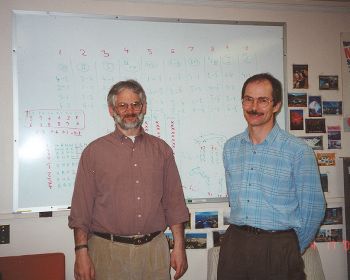 <![endif]>When I was at UVM, we also scheduled with my friend Jeff Dinitz the now defunct football league, the XFL. Here is our photo with one of our schedules, when we believed it was the final one (since then we have had about ten more "final ones"). Too bad the league folded after one year, they really liked our schedule and were planning on working with us again. At least we got to go to the championship game in Los Angeles and we got a lot of press for doing the schedule. Here is a photo of me and Jeff in the LA Coliseum at the championship "Million Dollar Game". There was also an article about us and the schedule in New York Times (click here if you do not subscribe to the NY Times online).
There were some more articles, but the links are not permanent… You may try to locate them, I believe they are still buried somewhere. There was an article in Burlington Free Press which I liked very much, because we were called the Brainy Professors there!! And one more article in a Czech newspaper "Sport," which I liked even more, because they said that I am most likely a genius!
My private life and other interests
I have a wife, Anna, and two sons, Peter (31) and Fabian (29). Although my wife has not moved permanently to Duluth, she comes often to visit me. We both prefer to live in both worlds, Old and New, rather than choosing just one of them.  So my wife joins me here from time to time and I am commuting, spending summer and winter breaks with her in Europe. Some summers or winters we are both here; several times we spent a summer week on Poplar Lake off Gunflint Trail canoeing, kayaking and bicycling and another time nice bicycling trip at Keweenaw region in the Upper Peninsula. Twice during Christmas break we all spent a few days together in Duluth before going to a cabin at Gunflint Lodge for some fabulous cross-country skiing and dog-sledding.
Peter got his double major BA in Sociology and Media Studies at Masaryk University, Brno, Czech Republic, and also his BS in Math and MA in Sociology there. He got his MS in Math at University of Vermont and PhD in Computational Social Sciences at George Mason University. He got married to Shauna, who got her PhD in math at GMU as well. They now live with their daughter Alana in Alexandria, VA, and both work for employers with three (or less) letter acronyms.
Fabian got his BA in Film Editing and MA in Film and Sound Editing at Academy of Performing Arts in Bratislava, Slovakia. He had spent six months working as an intern in Sweden and now lives in Prague, Czech Republic. He is a freelance movie editor and does most of his work for TV stations in Czechia.
I like cross-country skiing (more on the back-country side rather circling the groomed trails in parks, but due to constraints, I settle for that in Duluth), bicycling, and hiking, preferably with my wife, and also hay-wiring (a.k.a. duct-taping).
If you want to see a Swedish translation of this page by Weronika Pawlak from Krakow, Poland, click here. I love the translation even though I do not understand a word. Great job, Weronika! And thank you.
And an Estonian translation by Łucja Adamska from Wroclaw, Poland, is here. Great job, Łucja, and thank you! It seems that this may becoming a trend in Poland, translating mathematician's pages to languages other than Polish! :-)
Well, a trend not only in Poland! Here is another translation, this time to Dutch, by Johanne Teerink. Thanks, Johanne!