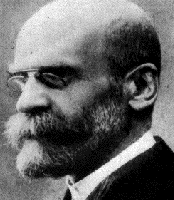 Sociological Theory
Department of Sociology and Anthropology
UMD



Outline of Lecture on Durkheim:

CHRONOLOGY OF DAVID EMILE DURKHEIM'S LIFE

BORN APRIL 15, 1858 AT EPINAL, VOSGE, LORRAINE, FRANCE, SON OF A RABBI
1874-5 GRANTED BACCALAUREATE (EG, HIS DIPLOMA)
1879 ADMITTED TO STUDY IN THE ECOLE NORMALE SUPERIEURE (3rd TRY AT AGE 21)
Read Comte, Simon, and Spencer wrote on Montesquie
He then studied in Germany at Leipzig University 1887-1902 TAUGHT PHILOSOPHY (really pedagogy and moral education), SOCIOLOGY, FACULTY OF LETTERS, BORDEAUX
1887 MARRIED LOUISE DREYFUS, HAD A SON - ANDRE, & a DAUGHTER - MARIE;
1891-92 LECTURES ON RULE GOVERNED AUTHORITY WHICH WERE TO CULMINATE IN, THE DIVISION OF LABOR



Durkheim's most excellent works!!
1893 DIVISION OF LABOR IN SOCIETY
1894 RULES OF SOCIOLOGICAL METHOD
1897 SUICIDE
1896 BEGAN JOURNAL, ANNEE SOCIOLOGIQUE
1912 ELEMENTARY FORMS OF RELIGIOUS LIFE

1914 WORLD WAR I
1916 ONLY SON, ANDRE, KILLED IN THE WAR
HE SUFFERS A STROKE
1917 NOV. 15, DURKHEIM DIES

(FOR A COMPLETE BIO. SEE STEVEN LUKES, "EMILE DURKHEIM: HIS LIFE AND WORK. A HISTORICAL AND CRITICAL STUDY; STANFORD UNIVERSITY PRESS 1973)
"SOCIOLOGY MUST NOT BE A SIMPLE ILLUSTRATION OF READY-MADE AND DECEPTIVE TRUISMS; IT MUST FASHION DISCOVERIES WHICH CANNOT FAIL TO UPSET ACCEPTED NOTIONS." 1909
IDEAS DEVELOPED PRIOR TO 1888

I. SOCIOLOGY AS SCIENCE OF MORAL LIFE

A. USE OF ORGANIC ANALOGY
SOCIETY COMES PRIOR TO INDIVIDUAL
SOCIETY AS SOMETHING BEYOND EVERY PERSON
PRODUCTION OF COLLECTIVE CONSCIENCE

AS DURKHEIM STATES, "THE TOTALITY OF BELIEFS AND SENTIMENTS COMMON TO AVERAGE CITIZENS OF THE SAME SOCIETY FORMS A DETERMINATE SYSTEM WHICH HAS ITS OWN LIFE; ONE MAY CALL IT THE COLLECTIVE OR COMMON CONSCIENCE." ... "IT IS, IN EFFECT, INDEPENDENT OF THE PARTICULAR CONDITIONS IN WHICH INDIVIDUALS ARE PLACED; THEY PASS ON AND IT REMAINS." (PAGE 79-80 THE DIVISION OF LABOR IN SOCIETY.)

INDIVIDUAL AND COLLECTIVE CONSCIENCE WILL DIFFER
SOCIETY IS GREATER THAN THE SUM OF ITS PARTS THIS IS UNIQUE SOCIAL ORGANIZATION
SOCIOLOGY IS TO STUDY THE MORAL RULES AS PART OF THE SOCIAL ORGANIZATION.
B. EARLY WRITINGS PRODUCE LASTING CONCERNS:


IMPORTANCE OF IDEALS & MORAL UNITY FOR STABILITY
INDIVIDUALS ARE SHAPED BY SOCIETY & ARE ACTIVE
ATTACHMENT TO SOCIETY INVOLVES OBLIGATIONS, CONSTRAINTS AND COMMITMENT TO IDEALS (NORMS, VALUES, BELIEFS)
PROPERTIES OF SOCIETY, PARTICULARLY THE CONSCIENCE COLLECTIVE, CANNOT BE DEDUCE FROM INDIVIDUALS
FOUNDATIONS FOR THEORY OF ANOMIE
THEORY OF RELIGION
II. METHODOLOGY

SOCIAL FACTS

"But in reality there is in every society a certain group of phenomena which may be differentiated from those studied by the other natural sciences. When I fulfill my obligations as brother, husband, or citizen, when I execute my contracts, I perform duties which are defined, externally to myself and my acts, in law and in custom. Even if I conform to my own sentiments and I feel their reality subjectively, such reality is still objective, for I did not create them; I merely inherited them through my education." (pg. 1 Rules of Sociological Methods)
CHARACTERIZED BY;
EXTERNALITY - THEY CONSTITUTE A REALITY SUI-GENERIS OUTSIDE OF ANY PARTICULAR INDIVIDUAL
CONSTRAINT - THEY POSSESS A POWER COERCION OVER THE INDIVIDUAL
GENERALITY - THEY ARE POTENTIALLY UNIVERSAL, DIFFUSED WITHIN A GROUP
"Our definition will then include the whole relevant range of facts if we say: A social fact is every way of acting, fixed or not, capable of exercising on the individual an external constraint; or again, every way of acting which is general throughout a given society, while at the same time existing in its own right independent of its individual manifestations."
SOCIAL FACTS SHOULD BE EXPLAINED IN TERMS OF OTHER SOCIAL FACTS
INSTITUTIONS ARE SOCIAL FACTS; CRIME, SUICIDE

IS CRIME NORMAL?

FOUR TYPES OF SUICIDE
EGOISTIC

OUTGROWTH OF THE DIVISION OF LABOR AND THE "CULT OF INDIVIDUALISM"

ANOMIC

ALSO THE RESULT OF THE DIVISION OF LABOR, PROBLEMS IN THE STRUCTURE OF THE ORGANIC SYSTEM

ALTRUISTIC

AN ASPECT OF TRADITIONAL SOCIETIES OR TIGHTLY KNIT GROUPS; A BY-PRODUCT OF A STRONG CONSCIENCE COLLECTIVE

FATALISTIC

ASPECT OF OVERPOWERING SOCIAL CONTROL. YOU GIVE UP TO AUTHORITY SO COMPLETELY THE ONLY WAY OUT IS SUICIDE. IS THIS THE LAST ASPECT OF INDIVIDUALISM? NOT LIKELY, ALL INDIVIDUALISM IS GONE. SLAVE IN ANTIQUITY AND PERHAPS JEWS DURING THE HOLOCAUST? (found on page 276 as a footnote)
II. THE DIVISION OF LABOR IN SOCIETY.

INDUSTRIALIZED SOCIETY PRODUCES MIXED MESSAGES
HE IS LESS CONCERNED WITH THE QUESTION OF WHAT CONSTITUTES SOCIETY THEN WHAT HOLDS IT TOGETHER AND HOW DID IT DEVELOP


EVERYONE IS AN INDIVIDUAL (EGOISTIC)
YET EVERYONE SHOULD FOLLOW THE SAME MORAL CODES
BASIC QUESTION:

WHAT HOLDS SOCIETY TOGETHER? WHAT IS THE RELATIONSHIP OF THE INDIVIDUAL TO SOCIETY?

LIKE SMITH DIVISION OF LABOR APPEARS A NATURAL LAW, BUT WHAT NEEDS DOES IN ADDRESS? IS IT A MORAL LAW AS WELL AS NATURAL?

DURKHEIM MAINTAINS WE MUST LOOK AT THE CAUSE & EFFECTS OF THE GROWTH IN THE DIVISION OF LABOR

HOW DOES IT CONTRIBUTE TO SOCIAL INTEGRATION?

USE OF ORGANIC ANALOGY:
SMALL SOCIETIES ARE LIKE SINGLE CELL ORGANISMS, LITTLE DIVISION OF LABOR
INDUSTRIALIZED SOCIETIES ARE LIKE COMPLEX ORGANISMS, HIGHLY DEVELOPED DIVISION OF LABOR
TWO TYPES OF BONDS (THESE ARE EMOTIONAL)
MECHANICAL SOLIDARITY (MORE CONCRETE)
ORGANIC SOLIDARITY (MORE ABSTRACT)
THE ONLY WAY TO KNOW SOLIDARITY IS BY INDICATORS, AND AN IMPORTANT PIECE OF COHESION ITSELF
REPRESSIVE LAW
RESTITUTIVE LAW
WHAT ABOUT WHEN LAW AND CUSTOM DIVERGE?

WHAT BRINGS THE CHANGE FROM ONE TO THE OTHER?


ISN'T INCREASED HAPPINESS, INSTEAD IT IS A
GROWTH IN POPULATION DENSITY


CORRESPONDING GROWTH IN MORAL OR DYNAMIC DENSITY

CONFLICT BETWEEN LIKE PARTS LEADS TO DIFFERENTIATION RATHER THAN DESTRUCTION, COMPLEX DIVISION OF LABOR WHICH HELPS PRODUCE STABILITY


ABNORMAL FORMS OF THE DIVISION OF LABOR

ANOMIC

LACK OF INTEGRATION, SOCIAL DISINTEGRATION, LOSING THE SINCE OF INTEGRATION, THE QUESTION IS HOW TO CREATE RULES OF CONDUCT THAT WILL HOLD SOCIETY TOGETHER - THEY NEED TO BE HABITUAL AND HAVE COLLECTIVE FORCE OR CONTROL OVER PEOPLE, LIKE COMTE - SPECIALIZATION CAN RESULT IN LACK OF INTEGRATION


FORCED DIVISION OF LABOR

NON-ACHIEVED STATUS, FOR SOCIETY TO WORK SMOOTHLY FOLKS HAVE TO ACCEPT THEIR LOT IN THE STRATIFIED SYSTEM, WHEN TALENT AND ACCESS DO NOT MATCH


INADEQUATELY COORDINATED DIVISION OF LABOR

WAISTED TIME AND ENERGY, ONE PART ACHIEVES MORE ONLY IF OTHERS DO, SOME WILL BE HELD BACK


III. ELEMENTARY FORMS OF RELIGIOUS LIFE

I. PURPOSE - ORIGIN OF RELIGION

For Durkheim, everything starts from religion. More accurately, religion was the social bond in society (much like St. Simon).
FOR ST. SIMON AND COMTE AS WELL, THE DISMANTLING OF THE POWER AND CONTROL OF THE CATHOLIC CHURCH CREATED A VOID THAT NEEDED TO BE FILLED WHETHER IT WAS THE "NEW CHRISTIANITY" OR THE "RELIGION OF HUMANITY"

Definition...


"A religion is a unified system of beliefs and practices relative to sacred things, that is to say, things set apart and forbidden -- beliefs and practices which united into one single moral community called a Church, all those who adhere to them."




LOOK AT TOTEMIC PRACTICES
ARUNTAS, PRIMITIVE GROUP, PROVIDE CLUE TO ORIGINS


BELIEF OF MYSTERIOUS SACRED FORCE COMING FROM THE TOTEM; IT IS THE EMBLEM FOR THE SOCIAL GROUP



CAN'T COME FROM TOTEM ITSELF; THINGS ARE SACRED IN ONE CONTEXT BUT PROFANE IN ANOTHER (THINK DRINKING OF WINE AT CATHOLIC CHUCH VS A PARTY)


TOTEM MUST BE SYMBOL OF SOMETHING ELSE

THEREFORE:



SYMBOLIZED DIVINITY AND THE CLAN ITSELF


TOTEMIC DIVINITY AND CLAN ARE REALLY THE SAME THING


DIVINE IS ONLY SYMBOLIC EXPRESSION OF SOCIETY, BOTH "GOD" AND SOCIETY POSSESS MORAL AUTHORITY; INSPIRE DEVOTION; AND SACRIFICE



SMALL BANDS COME TOGETHER IN EUPHORIC CELEBRATION WHICH BREAK DULL ROUTINE OF EVERYDAY LIFE


SACRED AND PROFANE TAKE ON VERY DIFFERENT CHARACTERISTICS, WHERE THE PROFANE SEEMS INDIVIDUALISTIC AND ISOLATING TO SOME DEGREE, THE SACRED IS AT ONCE COMMUNAL, CREATING BONDS THAT UNITE US TOGETHER AS ONE


THE FUNCTION OF RELIGION IS THE CREATION, REINFORCEMENT, AND MAINTENANCE OF SOCIAL SOLIDARITY


IT REPRESENTED THE MORAL CODE OF SOCIETY, THE GLUE



DURKHEIM: FOUR MAJOR FUNCTIONS OF RELIGION (ACCORDING TO HARRY ALPERT)



DISCIPLINE, -- SELF CONTROL BY ADHERING TO RELIGIOUS PRINCIPLES


COHESION, -- CEREMONIES, RITES, RITUALS BIND FOLKS TOGETHER


VITALIZING, -- RENEWS ONES BELIEF AND ENERGY AND SOCIAL OR COMMUNAL HERITAGE AND PASSES THOSE MORAL CODES AND VALUES ON TO THE NEXT GENERATION


EUPHORIC, -- COUNTERACTS THE HEAPS OF CRAP LIFE PUTS ON US AND GIVES US THAT SENSE OF MORAL RIGHT, COMMON GOOD, ETC.
DEPENDENT VARIABLES
INDEPENDENT VARIABLE
TYPE OF LAW (INDEX)
TYPE OF SOLIDARITY
EFFECT ON PERSONALITY
LITTLE OR NO DIVISION OF LABOR
REPRESSIVE LAW
MECHANICAL SOLIDARITY
COLLECTIVE CONSCIENCE OVERWHELMS PERSONALITY
DIVISION OF LABOR
RESTITUTIVE LAW
ORGANIC SOLIDARITY
VARIED PERSONALITIES DEVELOP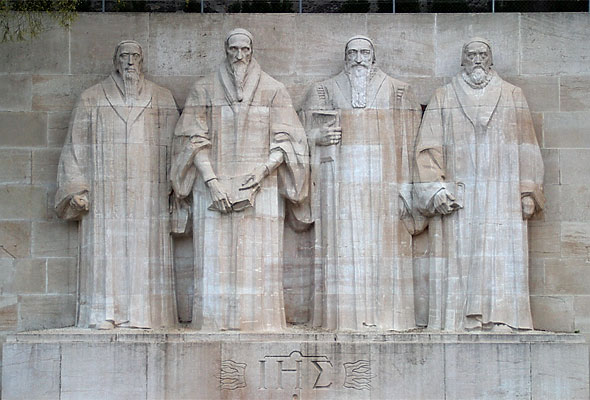 REFORMATION WALL IN GENEVA, SWITZERLAND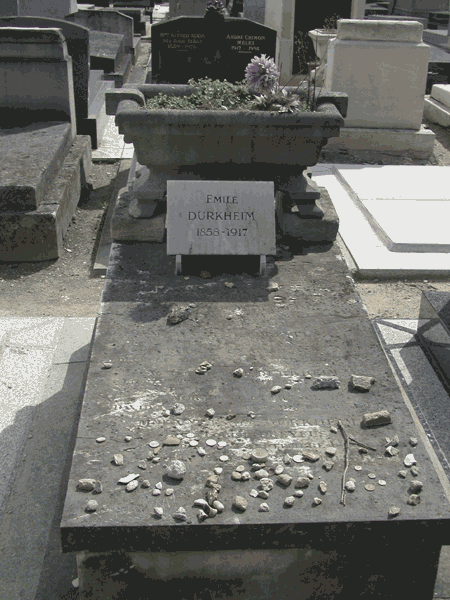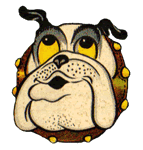 The University of Minnesota is an equal opportunity educator and employer.

Copyright: &copy 2001, John Hamlin
Last Modified: Wednesday, 30-Oct-2013 11:19:36 CDT
Page URL: http://www.d.umn.edu/cla/faculty/jhamlin/4111/Durkheim - Division of Labor_files/durkheim.html
Page Coordinator:John Hamlin