Planetary Processes Laboratory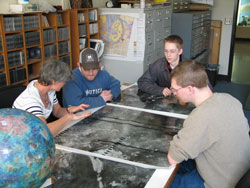 In order to unravel the geologic histories of the terrestrial planets, and gain insight into their inner workings, we study large scale magmatic and tectonic processes through geologic mapping with remote sensing data sets and performing structural analysis. Our recent work has focused on Venus and Archean tectonic mechanisms.
If you are interested in working on a MS or PhD with our group please contact Dr. Vicki L. Hansen at vhansen@d.umn.edu.