Communication Associate: Public Relations
| Lori Melton |
lmelton@d.umn.edu
| (218) 726-8830
---
June 2, 2006
John King, Facilities Management, 218-726-8262
Susan Beasy Latto, Public Relations Director 218-726-8830 slatto@d.umn.edu
Cheryl Reitan, Publications Director 218-726-8996, creitan@d.umn.edu
"Wild Ricing Moon" Outdoor Sculpture Completed on UMD Campus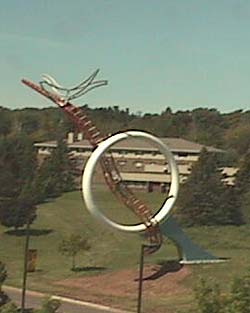 The final pieces of the sculpture designed for the grounds outside the James I. Swenson Science Building were transported and assembled onsite in the early to late morning hours of June 2nd.
The sculpture, titled "Wild Ricing Moon" was designed by John David Mooney, a Chicago sculptor with an international reputation. The completed piece now reaches 89-feet at its highest point.
The first half of the large-scale outdoor structure was erected in October 2005. This first installation, a large steel circle, 40 feet in diameter, represents the full, rice-harvesting moon of late summer. The second, the graceful, flowing "rice stalk" section and tallest part of the structure, was put in place June 2nd. Mooney described the now-completed sculpture as reflecting the North Shore of Lake Superior and natural features of the region.
Mooney is known for huge public sculptures that draw their inspiration from the spirit of place. The importance of the site, its past history and the present environment, is acknowledged in his works. Art and science also play a significant role.
Because of their large size, the sculpture pieces were transported to UMD beginning at 5 a.m. from the BendTec company on Garfield Avenue by Jeff Foster Trucking. The entire sculpture was fabricated at BendTec through the generosity of BendTec owner, Bob Meierhoff.