UMD Chancellor Kathryn A. Martin and the Royal D. Alworth Jr. Institute for International Studies proudly present a lecture by former U.S. Vice President and U.S. Senator Walter F. Mondale, Thursday, January 31 at 1:30 p.m. in the UMD Weber Music Hall.
Mr. Mondale's speech, titled "Foreign Policy Development and Presidential Candidates", is the UMD 2008 Royal D. Alworth, Jr. Memorial Lecture. The public is cordially invited to attend. A reception will follow.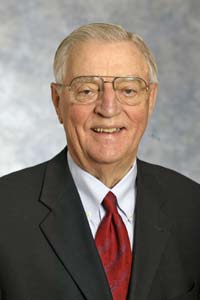 Walter F. Mondale's eminent record of public service includes: Vice President of the United States, U.S. Ambassador to Japan, U.S. Senator and Attorney General for the State of Minnesota. He was also the Democratic Party's nominee for President in 1984. He is currently Senior Counsel with the law firm of Dorsey & Whitney LLP, headquartered in Minneapolis with 16 offices worldwide. He serves on the firm's Asia Law Practice Group.
In March 1998, serving as President Clinton's special envoy, Mondale traveled to Indonesia to meet with then-President Suharto regarding the Asian financial crisis and economic reforms in Indonesia.
Mondale most recently visited the UMD campus in September to attend the lecture and dedication of the distinguished Michael S. Berman Political Collection. A UMD graduate and native Duluthian, Berman served as Vice President Mondale's legal counsel and Deputy Chief of Staff in the Carter/Mondale White House.
There is a photograph in the UMD collection showing Berman sewing a sleeve button onto Mondale's jacket. The photograph, which is signed by Mondale and Jimmy Carter, hung over Berman's desk and was mentioned in a 1981 New York Times article.
Jimmy Carter and Walter Mondale were elected President and Vice President of the United States on November 2, 1976. On the President's behalf, Mondale traveled extensively throughout the country and the world advocating U.S. policy. He was the first Vice President to have an office in the White House, and he served as a full-time participant, advisor, and troubleshooter for the Administration.
In 1984, Mondale was the Democratic Party's nominee for President of the United States. Following that election, Mondale practiced law, taught, studied, traveled and served as a director of both non-profit and corporate boards. He returned to his native Minnesota in 1987, where he practiced law with the firm of Dorsey & Whitney until President Clinton nominated him to be the U.S. Ambassador to Japan.
He served as Ambassador to Japan from August 13, 1993, to December 15, 1996. During that period, he helped to negotiate several U.S.-Japan security agreements, including a resolution to the controversy about the U.S. military presence in Okinawa. He also helped to negotiate numerous trade agreements between the United States and Japan, and he promoted the expansion of educational exchanges between the two nations. In addition, Mondale attended the annual APEC (Asia Pacific Economic Cooperation) summit meetings in Seattle, Jakarta, Osaka, and Manila.
Mondale is a director of several non-profit boards, which includes the United Health Foundation, Hubert H. Humphrey Institute of Public Affairs Advisory Board, The Mike and Maureen Mansfield Foundation, the Dean's Board of Visitors of the Medical School at the University of Minnesota.
Mondale currently serves on the executive committee of the Peace Prize Forum, an annual conference co-sponsored by the Norwegian Nobel Institute and five Midwestern colleges of Norwegian heritage.
In 1997 and 1998, Mondale served as co-chair (with former Republican Senator Nancy Kassebaum Baker) of the independent, bipartisan Campaign Finance Reform Project. This national project was supported by the Pew Charitable Trusts and staffed by The Aspen Institute in Washington, DC.
Prior to his appointment as U.S. Ambassador to Japan, Walter Mondale was a Distinguished University Fellow in Law and Public Affairs at the Hubert H. Humphrey Institute of Public Affairs, University of Minnesota. In 1990, he established the Mondale Policy Forum at the Humphrey Institute to bring together leading scholars and policymakers for conferences on domestic and international issues.
From 1986 until his appointment as Ambassador in 1993, Mondale served as chairman of the National Democratic Institute for International Affairs, a Washington, DC-based organization that conducts non-partisan international programs to help maintain and strengthen democratic institutions.
Mondale is married to the former Joan Adams. They have three children, Theodore, Eleanor Jane and William. They also have four grandchildren.
Mondale has authored the book The Accountability of Power: Toward a Responsible Presidency and has written numerous articles on domestic and international issues.