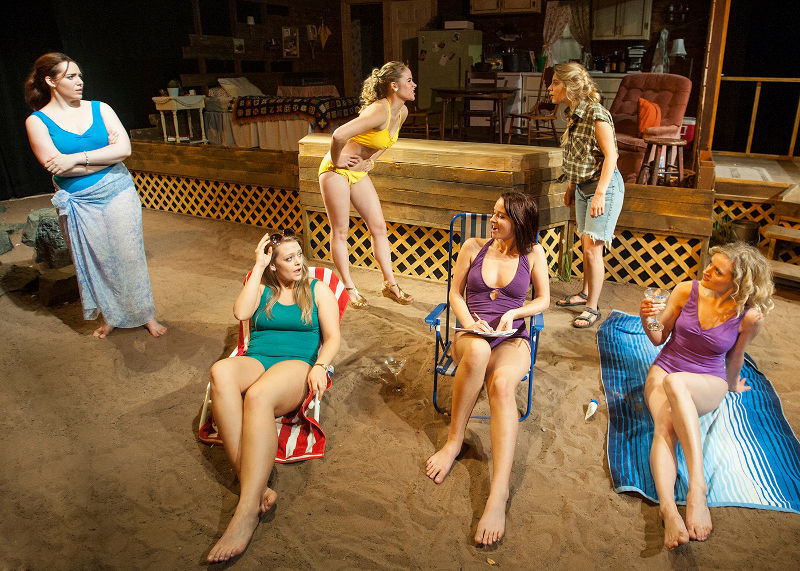 Last Summer at Bluefish Cove photo by Joe Olivieri
Left to right, Sarah Rabe as SUE, Elise Benson as RAE, Brittany Mingo as DONNA, Mikaela Kurpierz as KITTY, Katelin Delorenzo as ANNIE, and Vanessa Barr as RITA
Duluth, MN - UMD's Last Summer at Bluefish Cove is one of only five productions selected to compete in the six-state Kennedy Center American College Theatre Festival (KCACTF) regional competition in Lincoln, NE from January 19 - 25, 2014.
To help defray traveling costs, UMD is hosting an encore performance of this highly acclaimed show:
Last Summer at Bluefish Cove Encore Performance
Thursday, January 16, 2014 @ 7:30 pm
Mainstage Theatre | Marshall Performing Arts Center
Tickets go on sale of Friday, January 3 and are available online z.umn.edu/CoveEncore or by calling 218-726-8561. They're $20 for adults, $15 for seniors & UMD faculty/staff, and $10 for students. (Please note that the Box Office has very limited hours due to UMD's winter break.)
Over the past 27 years, UMD Theatre has been selected 11 times to present at the KCACTF Regionals and has been chosen five times to perform at the National Festival held at the Kennedy Center for the Performing Arts in Washington, D.C. For more information about KCACTF visit www.kcactf.org.
Last Summer at Bluefish Cove
By Jane Chambers | Directed by Tom Isbell
In the summer of 1980, Eva Margolis leaves her husband and winds up in Bluefish Cove, not knowing she's stumbled into a community of lesbians. What happens next will forever change her life – and the lives of those around her. Important in the history of lesbian theatre as being "the first mainstream quality literary piece of its kind," Last Summer at Bluefish Cove is a love story that equally balances comedy and drama, provoking laughter one moment and tears the next. Set on the northeastern tip of Long Island in the 1970s. Including original music composed by Sara Thomsen.
"Director Tom Isbell and a remarkably skilled cast bring the eight characters to rich and nuanced life in credibly ordinary but still compelling circumstances, at times with ample but gentle humor, at others with touching pathos." - Paul Brisett, Duluth News Tribune review (11/8/13)