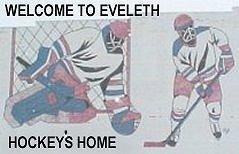 Synonymous with the sport of ice hockey, the small mining town of Eveleth Minnesota has come to be known around the country as the "Hockey Capital of the United States," due to its incredible ability to produce numerous elite players in the first half of the 20th century. Located 60 miles north of Duluth, and 100 miles south of the Canadian border, this small town of under 5,000 residents has contributed more to American hockey than any other city in the country.

The sport of hockey is estimated to have been played in the town of Eveleth since 1902. With one hundred years of hockey tradition, this town has many stories that could fill numerous pages of text, but one in particular stands out.

The 1928-1929 Eveleth Junior College hockey team, who was comprised entirely of Eveleth players, was the number one ranked college hockey team in the nation, ahead of teams such as Yale, Minnesota, Harvard, Princeton, and Dartmouth. So good was this junior college team that it was considered by the United States Olympic Committee to represent the United States in the 1928 Winter Olympic Games in Amsterdam, Holland. However, due to a lack of financial funding, Eveleth Junior College respectfully declined the invitation to serve as the US Olympic hockey team, and the United States consequently was not represented in the 1928 Winter Games.
Related Sites:

Eveleth Chamber of Commerce

City of Eveleth Homepage