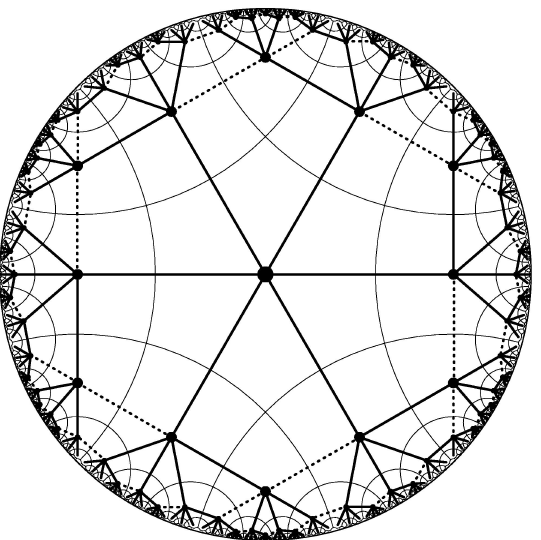 Figure 6: A spanning tree in a coset graph of [6,4].
Other researchers have used different methods to generate a set of words in the generators of hyperbolic symmetry groups in order to replicate repeating hyperbolic designs. One method is to keep track of the transformations generated so far and iteratively add new transformations by multiplying all the previous transformations by the group generators, discarding duplicates. Then the desired pattern is generated by applying the final set of transformations to the motif. The techniques of automatic groups have been used to efficiently generate non-redundant sets of words. Silvio Levy has used this technique to create a computer rendition of Escher's Circle Limit III [Levy].
Like many mathematicians, I was immediately enthralled by M. C. Escher's intriguing designs when I first saw them, more than 30 years ago. Several years later when I became involved with computer graphics, that medium seemed like an obvious one to use to produce Escher-like designs. When discussing the symmetry groups of Escher's hyperbolic patterns with Joe Gallian, it occurred to me that Hamiltonian paths could be used as a basis for an algorithm to generate such patterns. At this point everything had come together and I could not resist the temptation to regenerate Escher's hyperbolic patterns with a graphics program. As described above, the students and I achieved this goal.
Having gone to the trouble of implementing a hyperbolic pattern program, I could not resist the further temptation of creating more hyperbolic patterns. I found inspiration in Escher's Euclidean repeating patterns. In constructing my patterns, I noticed myself paying attention to aesthetic issues such as shape and color. More of these hyperbolic designs can be seen in my chapter in the recent book Escher's Legacy [Schattschneider2]. When designing these patterns, I think of myself as working in the intersection of interesting mathematics, clever algorithms, and pleasing art.
Acknowledgements
I would like to thank Doris Schattschneider for her considerable help, especially with the history of Escher and Coxeter's correspondence. I would also like to thank Abhijit Parsekar for help with the figures.
References
[Coxeter1] Coxeter, H. S. M., "Crystal symmetry and its generalizations", Royal Society of Canada (3) 51 (1957), 1-13.
[Coxeter2] Coxeter, H. S. M., "The non-Euclidean symmetry of Escher's Picture `Circle Limit III'", Leonardo 12 (1979), 19-25, 32.
[Bool] Bool, F.H., Kist, J.R., Locher, J.L., and Wierda, F., editors, M. C. Escher, His life and Complete Graphic Work, Harry N. Abrahms, Inc., New York, 1982. ISBN 0-8109-0858-1
[Dunham1] Dunham, D., J. Lindgren, and D. Witte, "Creating repeating hyperbolic patterns", Computer Graphics, 15 (1981), no. 3, 79-85.
[Dunham2] Dunham, D., "Hyperbolic symmetry", Computers and Mathematics with Applications, Part B 12 (1986), no. 1-2, 139-153.
[Dunham3] Dunham, D., D. Jungreis, D. Witte, Infinite Hamiltonian paths in Cayley digraphs of hyperbolic symmetry groups, Discrete Mathematics, 143, 1995, 1-30.
[Gallian] Gallian, J., On-line bibliography of the Duluth Summer Research Programs supervised by Joseph Gallian, http://www.d.umn.edu/~jgallian/progbib.html
[Goodman-Strauss] Goodman-Strauss, Chaim, "Compass and straightedge in the Poincaré disk", Amer. Math. Monthly, 108 (2001), no. 1, 38-49.
[Greenberg] Greenberg, Marvin, Euclidean and Non-Euclidean Geometries, 3rd Edition, W. H. Freeman and Co., 1993. ISBN 0-7167-2446-4
[Levy] Levy, Silvio,. Escher Fish, at: http://geom.math.uiuc.edu/graphics/pix/Special_Topics/Hyperbolic_Geometry/escher.html
[Roosevelt] The letter of December 29, 1958 from H. S. M. Coxeter to M. C. Escher, from the Roosevelt collection of Escher's works at The National Gallery of Art, Washington, D. C.
[Schattschneider1] Schattschneider, Doris, A picture of M. C. Escher's marked reprint of Coxeter's paper [1], private communication.
[Schattschneider2] Schattschneider, Doris, and Michele Emmer, editors, M. C. Escher's Legacy: A Centennial Celebration, Springer Verlag, 2003. ISBN 3-540-42458-X
---
Page URL: http://www.d.umn.edu /~ddunham/notices/paper.html
Page Author: Doug Dunham
Last Modified: Thursday, 06-Feb-2003 15:53:10 CST
Comments to: