3. The Four Basic Forms. In addition to the prime and inversion forms, each row can be articulated from last pitch to first, a transformation called retrograde. As applied to the inversion form of the row, this is called retrograde-inversion. As such, the rows notated below illustrate the four basic forms of our original series. Note that we have added an accidental before each note, regardless if it seems to need a natural or not. This stems from Schönberg's practice to avoid any ambivalence in the total-chromatic field.
Also, it is important for the student to realize that without any tonal hierarchy, there exists no functional difference between, say, C# and Db or G# and Ab. The preference between the two will depend on the situation in the actual composition and what is clearest for the performer to read. With this in mind, some theorists substitute numbers 0-11 for the pitch names. Although this is useful for analytical purposes, for our compositional needs we will preserve the traditional note names.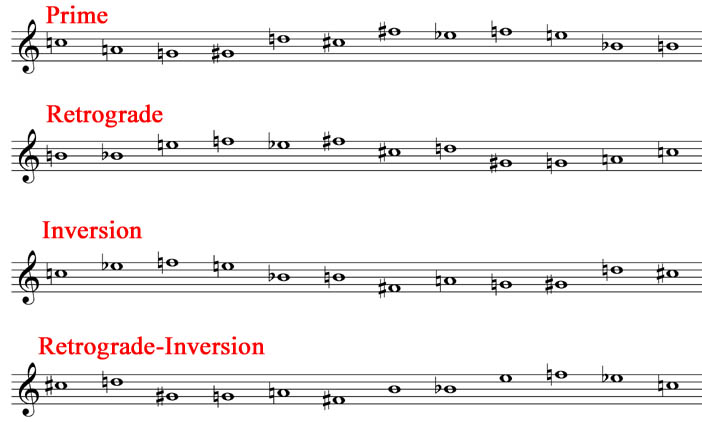 | | | | |
| --- | --- | --- | --- |
| Prime | | | |
| | | | |
4. The Dodecaphonic Matrix. As we have observed, dodecaphony inherits an important premise from the Renaissance composers' ideal to create with an economy of means in order to provide a unified and organic artistic expression, or more simply put, as much musical development possible from as little primary material possible. As such, Schönberg devised a visual way for the composer to examine all possible versions of a given row by borrowing an idea from mathematics: the matrix. This should by no means be interpreted that 12-tone music is somehow inordinately 'mathematical', just as artists outlining horizon lines to organize perspective in a painting should as well not be so accused.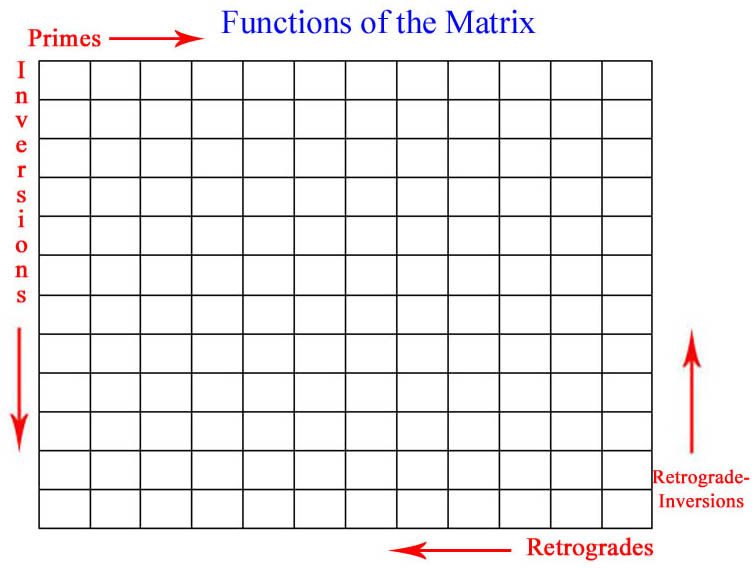 5. Extrapolating a Matrix from a Row: Inversions. After inserting our original prime series as the first row in the matrix, reading from left to right; the inversion of this row can be inserted reading down in the first column.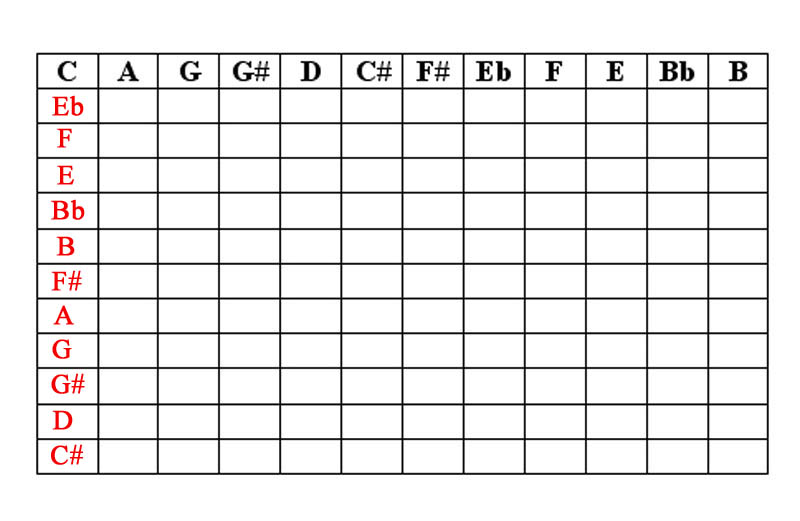 6. Extrapolating a Matrix from a Row: Transpositions. The final step to creating our matrix is the simple task of deriving the transpositions.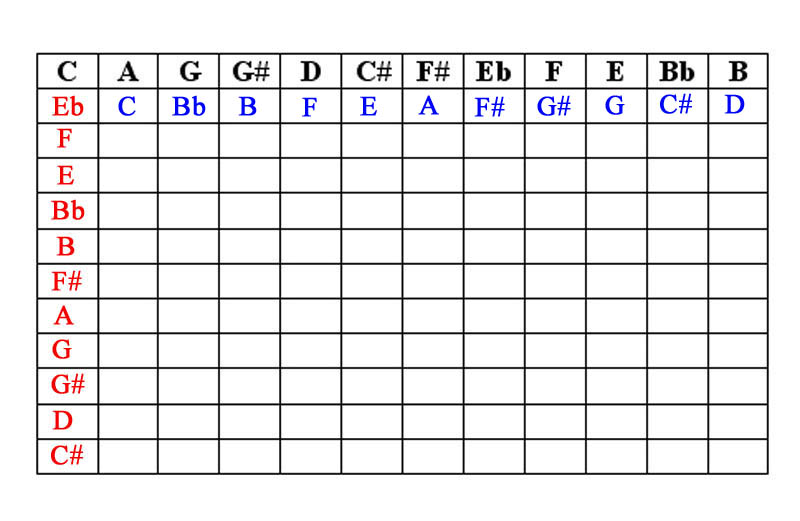 7. Complete Matrix. The final version of our matrix will feature all of the forty-eight transformations (four basic forms, twelve transpositions each) that can be derived from the original row. To make viewing easier, we have used contrasting colors to clearly distinguish adjoining hexachords.