Composing a Fugue
(continued)
Dr. Justin Henry Rubin © 2005
Complete score. Putting it all together, we have a dynamic piece featuring several significant technical devices pertinent to fugue composition, but also (and equally important) displaying ample freedom and expressive high-points. This is what fugue should be about, not a mechanical exercise, but simply another form into which you can pour your creative efforts.

mp3 download (piano version)
mp3 download (harpsichord version)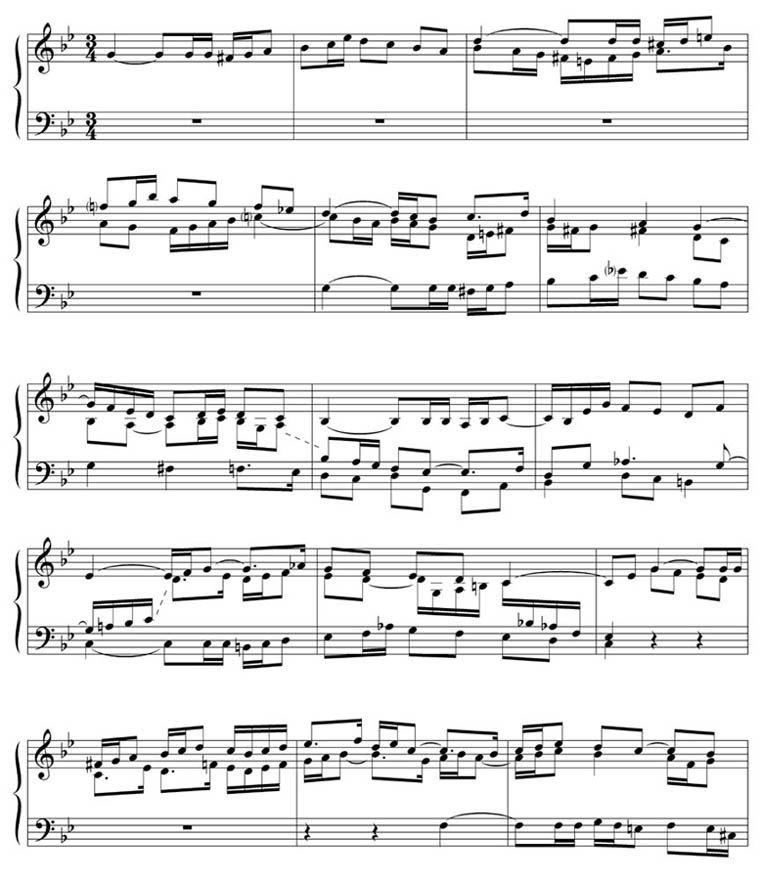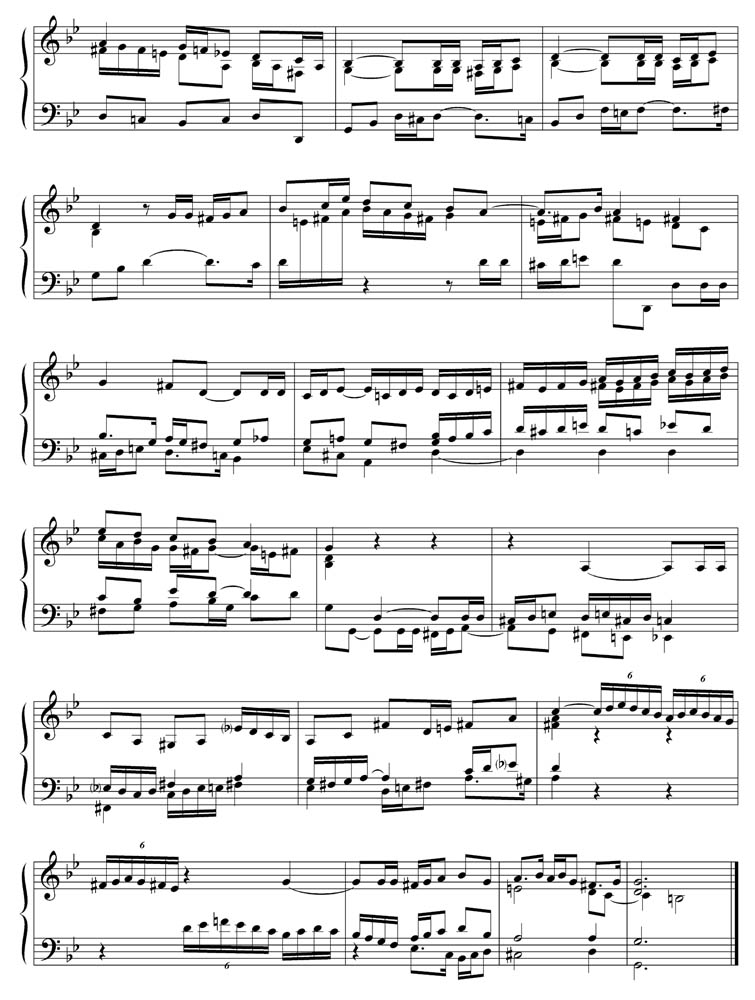 Continue for an example of a quartal harmony (20th century) adaptation of the fugue.
---
The following listening list is provided for the student to explore numerous outstanding examples of how this form has been adapted from the Baroque through the present.
List from the Common Practice:
Johann Sebastian Bach: Die Kunst der Fuge (The Art of the Fugue) - a compendium of fugal devices and techniques.
Dietrich Buxtehude: Praeludium in d minor [BuxWV 140] (organ) - features fugues with interrelated subjects placed within a larger structure.
Manuel Coelho: Segundo Tento do segundo tom - late Renaissance Iberian composer, featuring startling harmonies and metrical devices.
Theodore Dubois: Prélude et Fugue [from Douze Pièces Novelles] - traditional fugue imbued with the rich harmony of the French Romantic era.
Michael Gotthardt Fischer: Six Organ Fuges (Sechs Orgelfugen) [Op. 17]
Johann Jakob Froberger: Canzona II - features a chromatic subject placed within a diatonic based contrapuntal texture.
Felix Mendelssohn: Three Preludes and Fugues (organ)
Max Reger: Fünf leicht ausführbare Präludien und Fugen [Op.56] (organ)
Josef Seger: Prelude and Fugue in C major - a fugal composer employing Classical era styles.
Mathias Weckmann: Praeludium in d minor
List from the Modern Era:
Bela Bartok: Fuga (second movement) from the Sonata for Violin [Sz 117]
Ferruccio Busoni: Fantasia Contrappuntistica (two pianos)
Hugo Distler: Fuge (third movement) from Partita:"Wachet auf, ruft uns die Stimme" (organ)
Leopold Godowsky: Prelude and Fugue for the Left Hand Alone (piano)
Paul Hindemith: Third Piano Sonata (fourth movement)
Arnold Schönberg: The New Classicism [from Three Satires for Mixed Chorus Op. 28, #3]
Dmitri Shostakovich: 24 Preludes and Fugues
Kaikhosru Shapurji Sorabji: Symphony [#1] for Organ (second movement)
Igor Stravinsky: Symphony of Psalms (second movement)
---

---
The views and opinions expressed in this page are strictly those of the page author.
The contents of this page have not been reviewed or approved by the University of Minnesota.
View Privacy Statement
Copyright © 2005 by Justin Henry Rubin
http:// www.d.umn.edu /~jrubin1
The University of Minnesota is an equal opportunity educator and employer.