The University of Minnesota Duluth
Department of Theatre
presents
Crazy for You
Music and lyrics by George and Ira Gershwin
Book by Ken Ludwig
Directed by Ann Bergeron
Scenic Design by Curtis Phillips
Costume Design by Patricia Dennis
Lighting Design by Mark Harvey
October 19-28, 2006
---
Lighting Design Approach
My first reaction to reading Crazy for You was that visually the show needed contrasting looks between the slick urban environment of New York City, and the dry, Nevada desert. The storyline involves our hero, Bobby Child, who wants to make it in show business, and how he eventually gets his wish. The twist, however, is that his true heart's content is found, not New York, but in small, sleepy Deadrock, Nevada. While Bobby finds his dream of true happiness, this humble desert town is revitalized by his love for the theatre.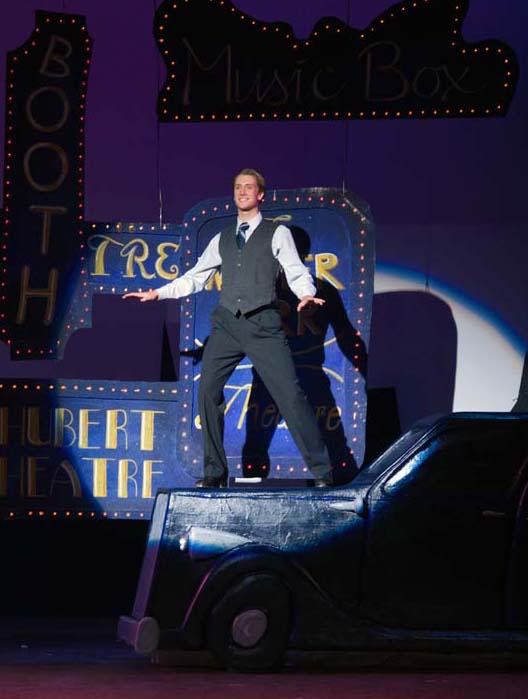 photo by Brett Groehler
"I Can't Be Bothered Now"
---
As I analyzed the plotline, I realized that, while the book is admittedly superficial, the show makes the claim that theatre can, and does, invigorate any community. In the play, the sparkle of NYC is slowly re-discovered in Deadrock, and I wanted to find ways we could visualize the transformation of this long forgotten town. As the story progressed, we needed to show hints of the dazzle of New York that was coming alive again in Deadrock.


photo by Brett Groehler
"I've Got Rhythm"
---
I began looking for ways to bring the sparkle of practical lighting sources to each Nevada location in the play to serve as symbols of the town's growing vitality. In opening scenes, New York was shown with the glitz of marquee signs, streetlights, a glowing skyline, and the car headlight of Mother's limousine. In contrast, Nevada was dusty, drab and dull. Later, however, scenes in Deadrock began to show some sparkle: first, when the ghost light is turned on in the largely abandoned theatre; and then in the reflections of a mirror ball as our leading couple fall in love; a moon gobo that magically appears; and finally, in the gleaming portal lights during the follies finale in the newly refurbished Gaiety Theatre.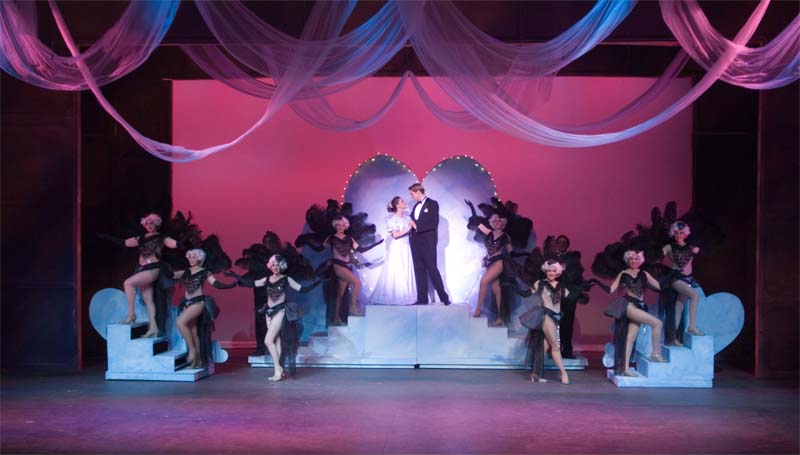 photo by Brett Groehler
"Finale"
---
Color in the lighting design was critical for creating contrasting scenes in New York and Nevada. Both cool (Rx364) and warm (Rx51) front light was provided. Top light was also doubled up with one set of top light a dark blue (Rx81), and another of amber (Rx21). Cooler colors were incorporated into the night scenes of New York; warmer colors were used in the Nevada saloon interior scenes.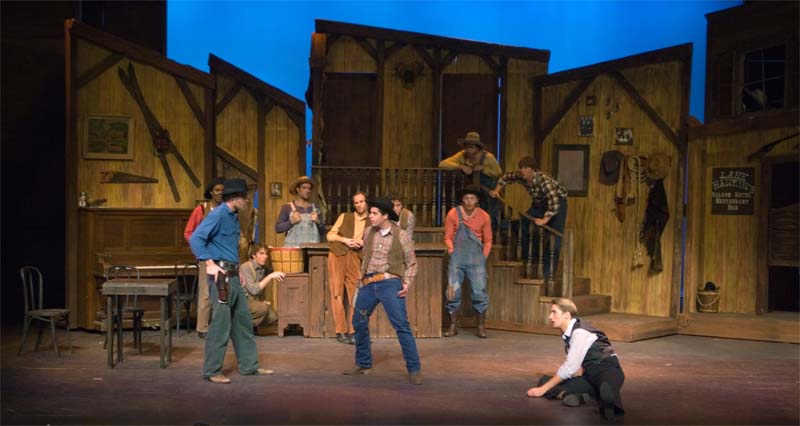 photo by Brett Groehler
Lank Hawkins Saloon
---
Sidelight was used to provide as much variety as possible, particularly during dance numbers. Six different colors were used: Dark blue (Rx79), Light blue (Rx63), Dark lavender (Rx359), Pink (Rx344), Rose (Rx 47), and Yellow (Rx15). We used three-cell far cycs to light the cyclorama located upstage. Rx85 was used to create a night sky, Rx84 provided a daytime sky look, and Rx26 mixed with these colors to create a pink cyc for the follies finale. Color scrollers were used to provide a range of color washes from the front.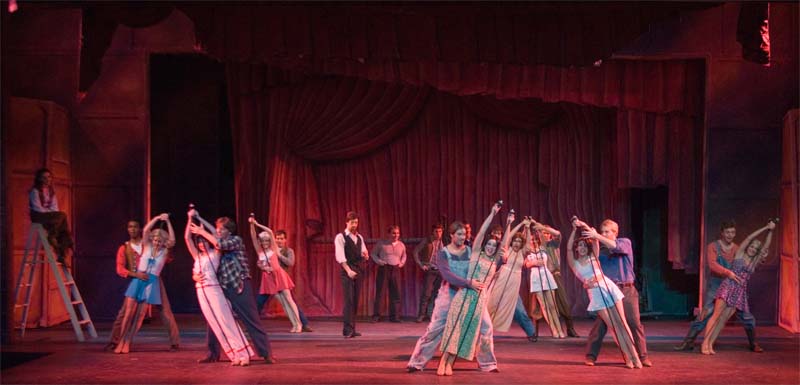 photo by Brett Groehler
"Slap That Bass"
---
The scenic design provided several challenges for the lighting, chief of which was the realization that there was going to be very little real estate available back stage for lighting equipment. Sidelight was accomplished with pipe ends and vertical pipes mounted above the deck stage left and right. A traditional ground row was replaced with rope light attached to two different scenic ground rows that flew out to accommodate scene changes. Two small light trees just behind the first portal were able to provide the up light on the chiffon that was flown in for the follies finale.
photo by Brett Groehler
"I Can't Be Bothered Now"
---
After the initial light plot was drafted, the assistant lighting designer, Jim Eischen, suggested a cross wash of ellipsoidals from 45 degrees from either side of center. These two washes, gelled in a cool lavender color, proved to be very useful in outdoors scenes that required a great deal of front light.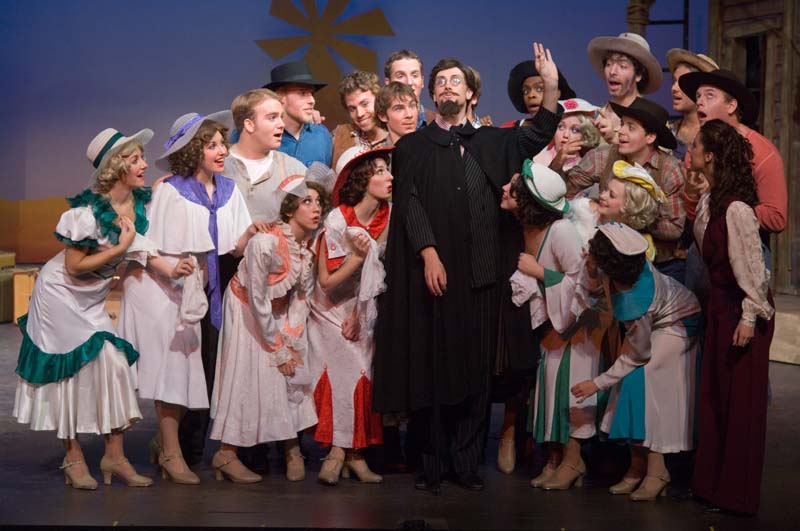 photo by Brett Groehler
Bobby Child, disguised as Bella Zangler, arrives in Deadrock, Nevada
---
This production used followspots with HMI lamps. Traditionally, I've used incandescent followspots and controlled their intensity through conventional dimming. With HMI ballasted lamps, I depended more on the follow spot operators to come in when needed. The followspots were often too bright, so we tended to use neutral density filters to bring the intensity down. At times, I also used frost to soften the edge of the followspot, as well.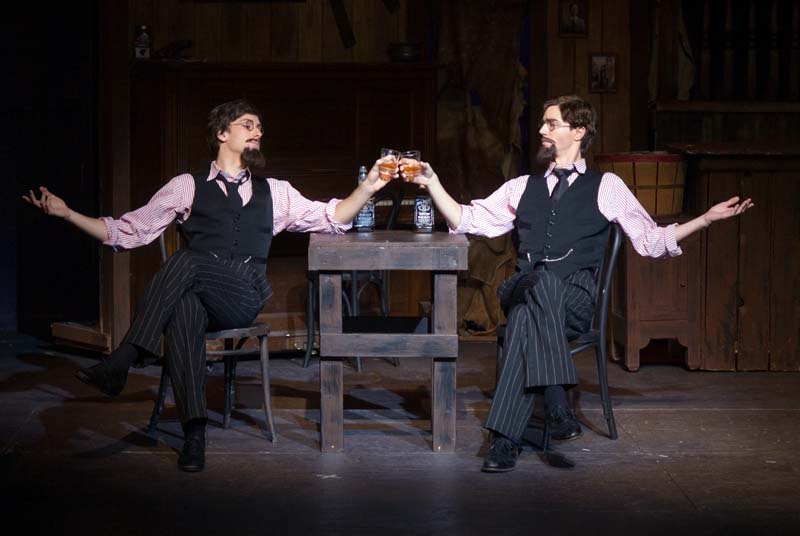 photo by Brett Groehler
"What Causes That? "
---
Little Snafus Mar Crazy for You , But it's Still a Good Show
by Paul Brissett for the Duluth News Tribune
Published Friday, October 20, 2006
Leigh Wakeford is sharp. Finely chiseled good looks. He's a good dancer, good singer. And, as the central character in Crazy for You, which opened Thursday at UMD's Marshall Performing Arts Center, he's willing to work like a fiend to drive the show forward. But sharp as he is, Wakeford was not able to offset a pervasive "blurriness" to the production. Not that the production is rough. It's just not sharp. The orchestra at times was just a little off. Likewise the choral singing. And sometimes the dancing. There were missed light and sound cues and sloppy scene changes. A key piece of the set trembled every time any number of actors passed through it. Perhaps it was only opening night jitters and glitches, and a couple of such could easily be overlooked. But to have little snafus in so many different aspects of a show suggests such an ambitious undertaking might have better been scheduled for later in the school year. Director and choreographer Ann Aiko Bergeron has certainly staged shows as complex as this one in the past, and all have been more polished on opening night. But to repeat: It's not a bad show. It's simply not all that UMD Theater has conditioned its audiences to expect.
Crazy for You is a thin story that serves as the setting for almost two dozen songs by George and Ira Gershwin. Young banker Bobby Child (Wakeford), who would rather be a dancer, is dispatched to Deadrock, Nev., to foreclose on a theater building. On arrival he is smitten by the theater and by the tiny town's lone female, Polly Baker, played by Michelle Smukowski, whose father owns the building. He decides, in openly declared imitation of several Mickey Rooney characters, that the money to save the theater can be raised by putting on a show with local cowboys and his chorus girl friends from back in New York City.
Bergeron has attempted to beef up the entertainment value of the story with sight gags -- a couple of which work quite well -- and carefully rationed appearances by her pet border terrier, Ninja. Act I is a little stingy with the best-known Gershwin tunes, with "Embraceable You" as third from the end of the act and "I Got Rhythm" as the finale, which was definitely the most polished number of the show to that point.
The stumbles were fewer and the familiar tunes more plentiful in the second act, even though it opened with simultaneous missed lighting and sound cues. Things seemed to smooth out a bit from that point, but that may have just been the soothing effect of "They Can't Take That Away From Me," "But Not For Me" and "Nice Work if You Can Get It."