The University of Minnesota Duluth
Department of Theatre
presents
in conjunction with the
Rita and Burton Goldberg Department of Dramatic Writing
Tisch School of the Arts
New York University
premiere productions of two original one act plays

The Man of Infinite Sadness
by Brian Tanen
Directed by Ann Bergeron
Scenic Design by Alison Rouzer
Costume Design by Alice Shafer
Lighting Design by Mark Harvey
Here I go, boys. Wish me luck.
by Dan Moyer
Directed by William Payne
Scenic Design by Alison Rouzer
Costume Design by Alice Shafer
Lighting Design by Mark Harvey
December 1-10 , 2005

Lighting Design Approach
The first assumption I made concerning these two plays was that we needed to provide contrasting looks with a single light plot. The Man of Infinite Sadness involved a series of short scenes set in a variety of spaces. While the play requires four different locations, the scenic design centered around the symbolic rooftop of a high rise office building where key scenes take place. I attempted to use light to create a compartively large, open space for these scenes. Other locations, such as Holly's apartment, a restaurant, and a movie theatre are accomplished with lighting specials, hand props and minor shifts of a few scenic elements.
The Man of Infinite Sadness begins when two office workers spot a mysterious crying man during their lunch break atop an urban office building.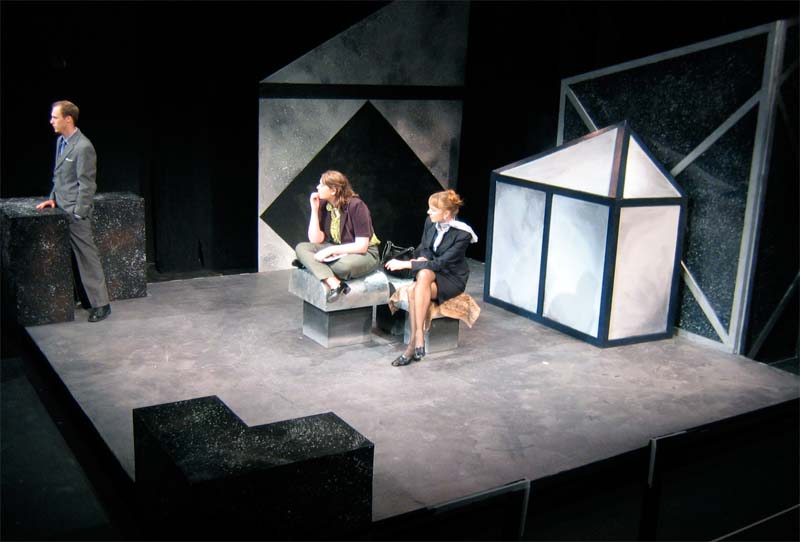 The Man of Infinite Sadness
---
The lighting for Holly's apartment is created with a warm top light on the couch and a window gobo.
---
Once each location is established, fantasy scenes are created by adding special lighting.

The restaurant scene is created with simple props and a pool of warm pink light.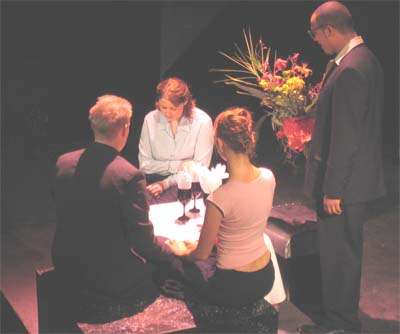 While the men distract themselves with college stories, the romantic imaginations of the two women take flight,
visualized with sudden shifts in lighting, romantic music, and a pair of sultry dances with the mysterious crying man.
---
The scene in the movie theatre is created mainly with light from two directions:
back light squared off on the floor, and a front light as if coming from the movie screen.

Specials are brought up when Holly begins to imagine sightings of the crying man away from the office rooftop.
---
Maya, too, begins to imagine romance with the crying man.
The office rooftop slowly transforms into a fantasy moonlight-in-the-park proposal from the crying man.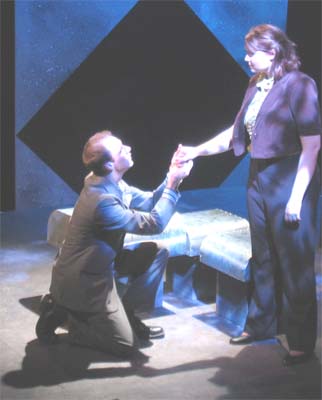 ---
The play concludes with the realization that the crying man is suffering from nothing more than clogged tear ducts,
and the women are left, once again, wishing for mystery and romance in their lives.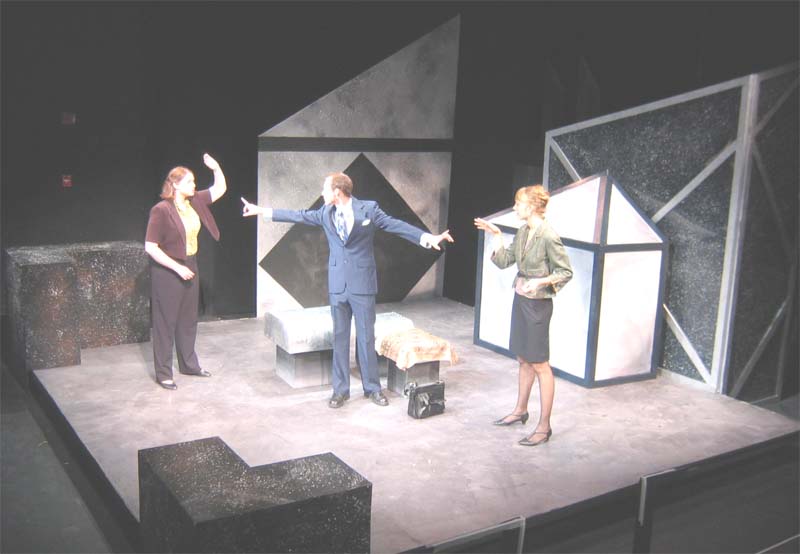 ---
Here I go, boys. Wish me luck.
by Dan Moyer
In contrast to the light humor of The Man of Infinite Sadness, Here I go, boys. Wish me luck is a realistic play set in the near future when the military draft is reinstituted in the United States. The goal of the production was to make the suburban basement where the young men gather as realistic as possible. Set at 10:30 PM, the only light in the room is a single light bulb above the playing space. The key light was created to approximate the angle of the performers to this single light source as closely as possible. Fill light, as if bouncing of the walls of the basement interior, provide visibilty for actors when their backs are to the source of light. The intimate, 100 seat Dudley Theatre made this stark lighting approach possible.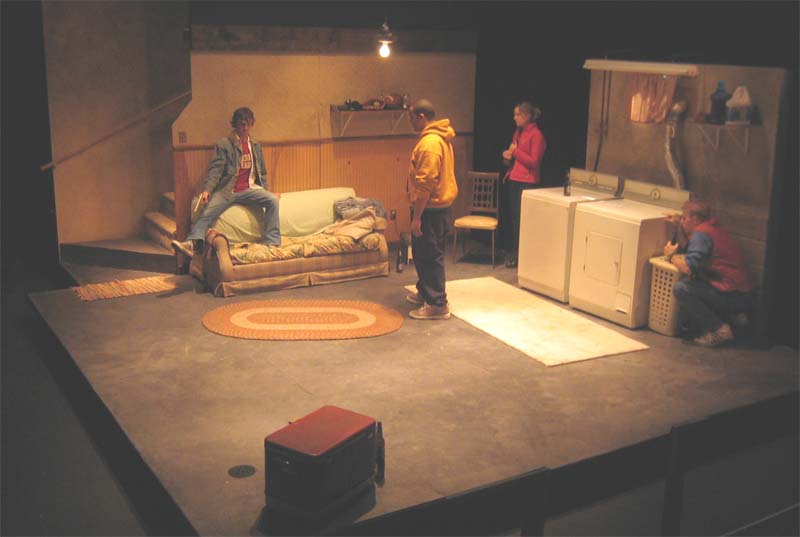 Here I go, boys. Wish me luck.
---
With the exception of the dryer light going out towards the beginning of the play, and Denny turning off the lights as he leaves at the end of the play, the lighting for Here I go. boys. Wish me luck had a single, stark look.
Review
UMD One-Act Plays Showcase Promising Talents
by Paul Brissett
for the Duluth News Tribune
UMD Theatre's collaboration with a New York University dramatic writing program has produced an excellent evening of theater in two one-act plays that opened Thursday. Brian Tanen, author of "The Man of Infinite Sadness," and Dan Moyer, author of "Here I Go, Boys. Wish Me Luck." are playwrights of obvious talent and great promise. Both are products of NYU's Tisch School of the Arts.
Tanen's "Man" is an examination of longing and the quest for self-knowledge, laced with gentle humor and concluding with a near-trite poignancy. Its main characters are two women, co-workers who, during lunch on their office rooftop, observe a man who comes there every day, crying like a baby. Holly (Annie Ragsdale) is slender, fashionably dressed and perfectly made up. She lives with her hugely successful fiance and is so uptight and prissy that she carries a scarf with her everywhere to spread before she sits down anywhere but at home. Maya (Brittany Parker) is overweight, frumpy and -- to Holly, distressingly -- plainspoken. Both are taken with the crying man's evident sensitivity and begin to fantasize about him. Tanen's plot includes some interesting innovation, well-handled by director Ann Aiko Bergeron and her cast. Mark Harvey's lighting is key to some effective fantasy scenes. Ragsdale, offstage a free-spirited senior from Minneapolis who has been known to sport fluorescent pink hair in a punk cut, plays emphatically and impressively against type as the buttoned-down Holly. Parker, whose role calls for her to appear as plain as possible, somehow manages to grow prettier as the Crying Man expresses his interest and affection.
"Here I Go" examines friendship, love and homophobia with dialogue that is realistic and economical. Jake (David Hauer) and Cort (Brandon Roberts) are hosting a farewell party for their friend Denny (Kyle Bosley), who has been drafted. When Denny arrives -- late, drunk and combative -- the mood turns tense and ugly. Director William Payne and the three actors have built from Moyer's script three distinct and detailed characters, all played with an exceptional naturalness and ease. Payne has dictated numerous exceptionally long pauses in the dialogue, but the play does not stop its forward movement during these silences because of the quality of Moyer's dialogue, the staging and the actors' skill. The pauses are not the reason the early, expository, scenes drag on too long. The problem is that Moyers crams too much information -- more than is needed for the plot to work -- into them.
Both scripts contain adult language.
Paul Brissett is a Duluth writer and amateur actor who has appeared in numerous community theater productions and has served on the board of the Duluth Playhouse.