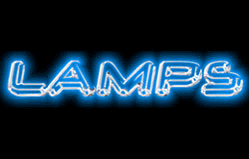 Stage Lamps
---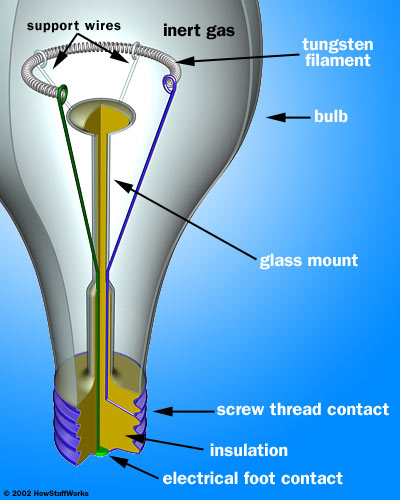 ---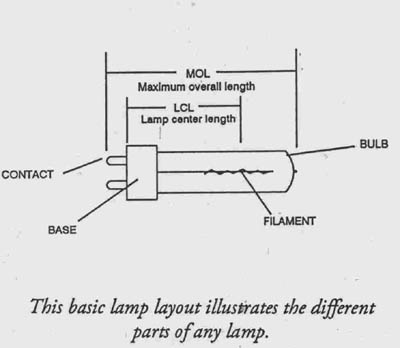 ---
Major Components
Base
Must have two contacts (hot and common) to create a circuit.




Base Types
Screw, Prefocus, Bipost, Bayonet

Base Sizes
Candelabra, Minature, Medium, Mogul

---

Filament
Material (tungsten) that resists heat, then glow when electricity is forced through the circuit.

Filament Types
Coilied
Coiled Coil

---

Envelopes
Glass or synthetic quartz




Envelope Types
Frosted or Clear
Shapes: Tubular, Globular, Reflector,
Sizes: Number indicates 1/8" increments

---
Tungsten Halogen Lamps
Advantages
Longer lamp life
Smaller lamp housing
Higher color temperature

Disadvantages
Cost
Special handling requirements
---
World's Longest Continuously Burning Light Bulb
Burning continuously since 1901!
Livermore, California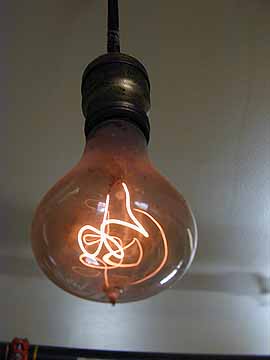 ---
American National Standards Institute
(ANSI)
Arbitrary three letter code
Necessary to install proper lamp in each fixture
What to Do When You Don't Have the ANSI Code
by Earl Lee Burnout
(courtesy of Scott Electric)


Provide as much information about the lamp as possible...
Wattage (or Candle Power)
Voltage (or Amps)
Shape of glass (tubular, round, pear shaped, etc.)
Type of Base (single contact, bayonet, 2 pin, etc.)
Maximum Overall Length (measured from tip of glass to end of base)
Diameter (size of glass at widest point)
Filament Shape
Light Center Length (from top of base to center of filament)
Use of Lamp (display, projector, theatrical fixture, etc.)
Manufacturer and/or Model Number of Equipment
Manufacturer of Lamp
Any Numbers and/or Letters on the Lamp
...and lamp suppliers should be able to identify the lamp you need!