Department Head
Dr. Elizabeth Minor
Office: 246A Chem, 211 RLB
E-mail: eminor@d.umn.edu
Phone: 218-726-8056, 218-726-7097
Assistant Head
Dr. Steve Berry
Office: 152C SSB
E-mail: smberry@d.umn.edu
Phone: 218-726-7087
Executive Secretary
Ms. Dawna Carlberg
Office: 246 Chem
E-mail: dcarlber@d.umn.edu
Phone: 218-726-7979
Welcome to the Department of
Chemistry and Biochemistry
The Department offers Baccalaureate degrees in both Chemistry and Biochemistry and Molecular Biology to undergraduate students. At the graduate level, the Department offers Master's (MS) degrees in Chemistry. Upon graduation, our students are equipped with the knowledge, expertise and personal skills to make a significant and positive impact in the field and benefit their communities at the state, regional, and national levels.
The department is also committed to promoting the professional development of its faculty through active research, scholarship, networking opportunities, and mentoring. The expertise of our faculty spans a wide range of disciplines such as analytical, environmental, inorganic and organic chemistry, physical chemistry, biophysics, biochemistry, geochemistry and other specialties of study.
News and Events
Now Hiring - Assistant/Associate Professor
The Department of Chemistry and Biochemistry at the University of Minnesota Duluth invites applications for a tenure track faculty position at the assistant or associate professor level. The position starts August 21, 2017.
Appointments at either the Assistant or Associate Professor will be considered for an Experimental Materials Chemist. Job duties and responsibilities include teaching lower level undergraduate courses, upper-level undergraduate and graduate courses in their specialty area and inorganic chemistry or analytical chemistry; mentoring undergraduate and graduate research students; and service to the University. The faculty are particularly interested in candidates whose research interests demonstrate connectivity to and the ability to complement department-, college- and campus-wide efforts concentrating on experimental approaches to materials science.
Please apply online via the Employment System at http://humanresources.umn.edu/jobs.
Major Gift Launches Advanced Materials Center
UMD and its Swenson College of Science and Engineering (SCSE) announced the creation of the UMD Advanced Materials Center (AMC). The new Advanced Materials Center will catalyze innovative research, student learning, and stakeholder partnerships in an interdisciplinary, cross­departmental initiative in the emerging field of materials science, in which UMD has already established itself as a regional leader. See full story at http://www.d.umn.edu/external-affairs/homepage/16/advancedmaterials.html
Science Prof 'Retires' after 50 Years at UMD
Bob Carlson may have officially retired from his classroom job with the graduation of the University of Minnesota Duluth's class of 2016, but you'll still find the 75-year-old chemist reporting to his campus office and research laboratory like clockwork. Read the full story at http://www.duluthnewstribune.com/news/4046531-science-prof-retires-after-50-years-umd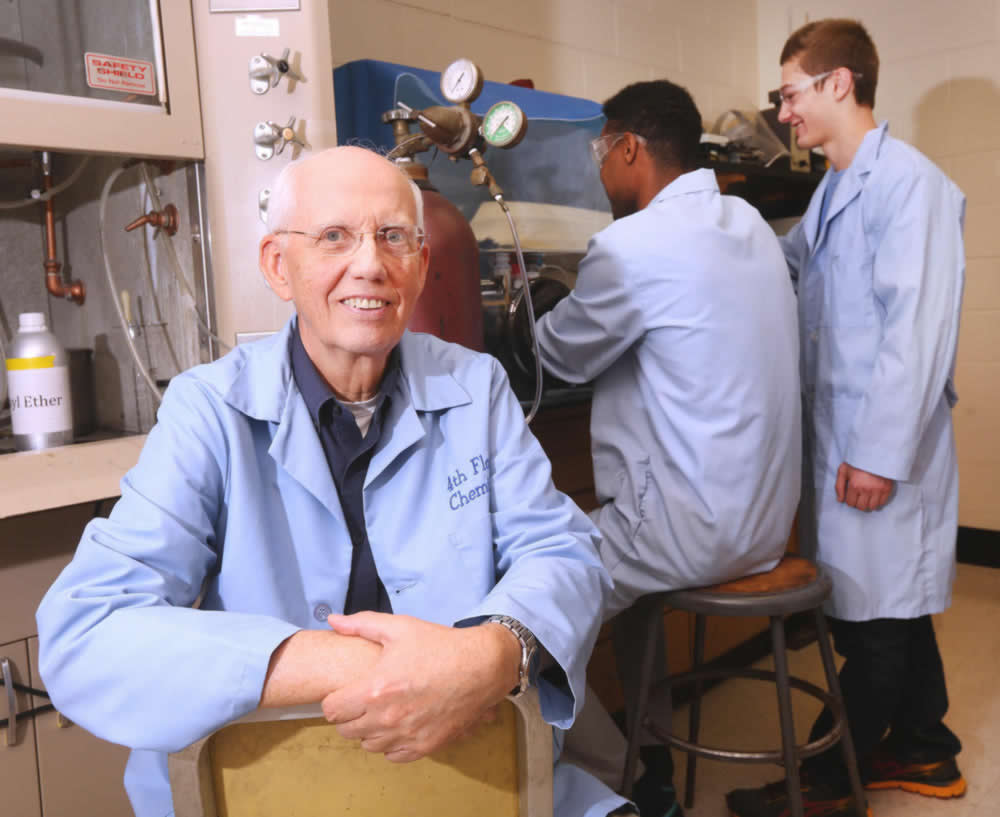 Bob King / rking@duluthnews.com
Special Recognition
Katherine McMahon, Biochemistry & Molecular Biology, Chemistry and Spanish, Caitlin Peterson, Chemistry, Kathryn Peterson, Biochemistry & Molecular Biology and Chemistry, and Megan Strehlke, Biochemistry & Molecuular Biology presented in the 2016 University Honors Capstone Project.
See the full story at http://www.d.umn.edu/external-affairs/homepage/16/capstone2016.html
University Honors provides some of our most motivated students the opportunity to push themselves academically and personally. University Honors students graduate by achieving the highest academic standards and by engaging deeply in a broad array of honors-level academic courses, cultural and leadership experiences, research and creative expression projects, and meaningful work within the Duluth community. University Honors students commit hundreds of hours of work to expand their undergraduate experience.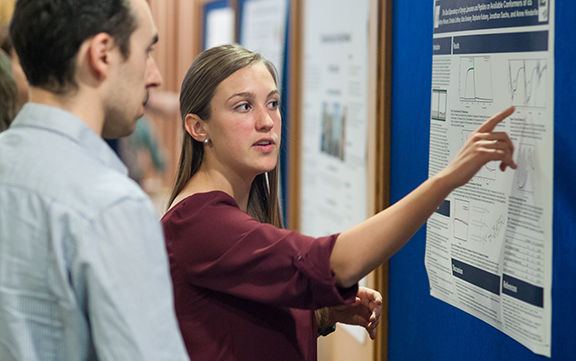 Anthony Meger, a first year Master students working with Dr. Berry and Dr. Cembran, was awarded a $1,000 prize as a finalist at the 2016 Minnesota Supercomputing Institute Research Exhibition where his research on azurin variants was selected among over 60 posters. Tony will be using the funds to travel to a national conference in the coming months. Congratulations Tony!
The UMD Chemistry & Biochemistry Club Show was featured on the news last Friday, April 15. Watch it here: http://www.fox21online.com/news/local-news/chemistry-magic-show/39055100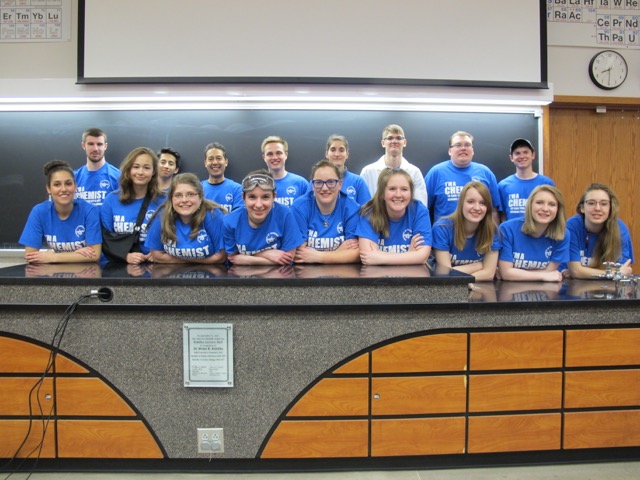 Dr. Venkatram Mereddy was the keynote speaker for the 2016 Rho Chi Research Day in the College of Pharmacy Duluth held on March 31.
It is with pleasure that we announce the Chemistry & Biochemistry 2016 UMD Student Awards Recipients, recognizing the outstanding service and leadership to our campus and community by students, and the incredible work by staff and faculty for our students. Recipients and nominees will be honored at the 2016 Students Awards Program, Sunday, April 10, 2016.
Outstanding Academic Adviser
Ahmed Heikal, Professor of Chemistry & Biochemistry
Outstanding Student Organization Adviser
Romesh Lakhan, Chemistry & Biochemistry Club
Bulldog Award - Undergraduate
Jasmin Mellesmoen, Chemistry & Biochemistry Club and Pre-Dental Club
Arrowhead Award
Chemistry & Biochemistry Club (Officers: Matt Iverson, Jasmin Mellesmoen, Cyrina Ostgaard, Kaelt Simpson)
For full descriptions of all the awards (including a list of last year's recipients) - click here.
Congratulations Dr. Nemykin! We are pleased to announce that our own, Dr. Victor Nemykin, Professor of Chemistry & Biochemistry, has received the 2015-2016 Chancellor's Award for Distinguished Research. Seminar topic: "New Materials for Solar Energy Conversion, Nano-scale Electronics, and Imaging." http://www.d.umn.edu/external-affairs/homepage/16/news-faculty-awards.html
Sheila Paintsil, an undergraduate researcher in the Sheets Group and BMB major, was chosen to participate in the highly selective Summer Research Program in Biophysics. This program will be held at the University of North Carolina at Chapel Hill during May-July 2016. Congratulations on your acceptance, Sheila!