MS in Engineering Management Program
MS in Engineering Management Program
Other Programs



---

We are unable to provide financial assistance to any

incoming students for the 2017-2018 academic year.
---


Contact
105 Voss-Kovach Hall
1305 Ordean Court
Duluth, MN 55812
Phone: 218-726-7981
E-mail: msem@d.umn.edu
Mission
The mission of the Engineering Management Program at the University of Minnesota is to provide tools for practicing engineers and engineering managers to effectively manage technology, people, and information in their careers to ensure economic growth, competitiveness, ethical decision-making, and environmentally responsible behavior. The program will also provide research based opportunities to prepare students for further education and career opportunities in Engineering Management.
Educational Objectives
Graduates of the MS Engineering Management Program are able to:
Develop and apply appropriate quantitative and analytical methods effectively to engineering management decision making.
Successfully make the transition from technical engineering responsibilities to managerial responsibilities crossing various disciplines.
Successfully manage technical projects using modern tools and techniques.
Successfully communicate management requirements with non-technical business functional areas including marketing and sales, human relations, accounting, etc.
Identify operational and system problems and successfully develop and apply the appropriate tools to solve them.
Application
All materials are submitted electronically through the ApplyYourself application system. Admission decisions are communicated to applicants using this system.
A decision for admission notice will be emailed to you once your application is carefully reviewed by the department's admission committee and your transcripts and any credentials (test reports, diploma copies, etc.) are authenticated by Graduate School officials. You can expect a decision by late March or early April.
Admission
Applicants should have completed an undergraduate degree in an engineering discipline. However, an applicant with a degree in another technical major and a substantial background in engineering may qualify. Such students may be admitted on a case-by-case basis and are asked to submit documentation that substantiates their engineering experience and responsibilities.
A minimum 3.00/4.00 GPA from an accredited U.S. institution or foreign equivalent is preferred.
Applicants must provide two letters of recommendation concerning their academic ability and readiness for graduate education.
Graduate Record Examination (GRE) scores are not required for admission, but these scores will be taken into account if they are provided.
Students whose native language is not English are required to submit scores that meet or exceed the scores listed from one of the following English profediency examinations: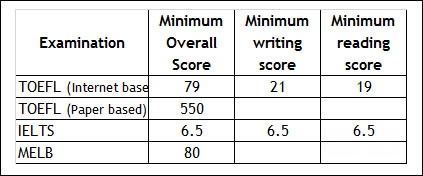 Please note that in general we prefer to admit graduate students for fall semester. However, students will be admitted for spring semester on a case-by-case basis.
Financial Aid
Several assistantships are usually available each year at the 25% and 50% levels. A 25% assistantship requires 10 hours of work per week and carries a 50% tuition waiver. A 50% assistantship requires 20 hours of work per week and carries a 100% tuition waiver. The hourly wage for graduate assistants is currently about $18.00 per hour, and health benefits are included. Graduate Teaching Assistants (GTA) primarily assist with teaching laboratory courses. Graduate Research Assistants (GRA) assit individual professors with their research. Students are often assigned a mixed assistantship, e.g 25% GTA and 25% GRA. The number of assistantships available varies from year to year depending on the availability of funding.
Costs
Current tuition and fee rates for the University of Minnesot Duluth can be seen here. MSEM students pay standard graduate tuition rates.
Application Process
Deadlines
To receive full consideration for financial aid including assistantships, students must apply by:
April 1 for Fall Semester admission
September 15 for Spring Semester admission
Students not seeking financial aid may apply by:
July 1 for Fall Semester admission
November 15 for Spring Semester admission
Materials
All application materials should be submitted directly to the
ApplyYourself
admissions system. We cannot review your application until
all
of the required materials listed below are submitted successfully.
Submission of the following indicate a complete application file:
REQUIRED
Materials:
Where to submit:
How to submit:
Application
Electronically via ApplyYourself
Required fields: Personal Information, Application Information, Educational Background, Languages, Awards & Activities, Employment/Residence Information, Financial Support, Applicant Statements #1 & #2, and Recommendations.

Optional fields: All other fields or application materials are optional, but will be taken into consideration if submitted.
Application Fee
Electronically via ApplyYourself
When you have completed your application and are ready to submit it, you must pay your application fee ($75 for U.S. citizens and permanent residents and $95 for international students) via credit/check card online.
Transcripts
Electronically via ApplyYourself
Unofficial transcripts or academic records should be uploaded directly to the online application. Please do not mail in paper copies of your transcripts, there is no need for official transcripts or academic records for initial review.

If you are admitted, the University will then request official copies of this material.
Letters of Recommendation
Electronically via ApplyYourself
Acceptable recommendations will come from current or former professors who can assess your potential for graduate work. Other recommenders, such as employers, are also acceptable. Paper copies are not accepted.
English Language test scores (TOEFL, IELTS, etc.)
Electronically via ApplyYourself
Required for students whose native language is not English

OPTIONAL

Materials:
Where to submit:
How to submit:
GRE Scores
Electronically via ApplyYourself
Our department does not require GRE scores for admission, but if submitted they will be taken into consideration. Scores should be entered in the Test Information-Self-Reported field in ApplyYourself.