Communication Associate: Public Relations
| Lori Melton |
lmelton@d.umn.edu
| (218) 726-8830
---
November 22, 2011
Susan Banovetz | UMD Director of External Affairs | 218 726-6141 | banovetz@d.umn.edu
Christiana Kapsner | UMD Public Relations Assistant | 218 726-8830 | ckapsner@d.umn.edu
American Institute of Architects Chicago Chapter Honors UMD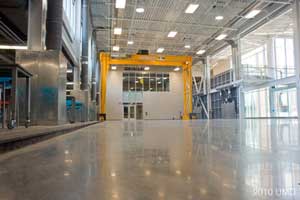 One of the two 15-ton hydraulic cranes in the James I. Swenson Civil Engineering building.

UMD's James I. Swenson Civil Engineering building was recently honored with the prestigious Distinguished Building Award from the American Institute of Architects (AIA) Chicago chapter and was selected to grace the cover of the current issue of Chicago Architect, AIA Chicago's magazine.

The building's distinctive look and the use of local materials tying the building to the region's mining industry impressed the competition's jurors. Combining wood, glass, and precast concrete in innovative ways, the building is a showcase and an instant landmark on the UMD campus, according to AIA Chicago. "It's a standout, really fine work," according to one of the jurors.

Also unique is that the civil engineering building's design integrates techniques relating to the students' course of study. Architects highlighted construction and site systems engineering students will find familiar, including enormous roof scuppers that channel heavy volumes of water supplied by run-off from the roof to large French drains. The scuppers were made from recycled pickle barrels originally from a Green Bay, Wisconsin factory. In addition, a precast structural lab with installation materials were left in place for students' learning.

"Any architect would jump at the chance to design a building for a civil engineering program where students learn the nature of materials and how to construct," said one of a building architect Carol Ross Barney, Ross Barney Associates, Chicago, Illinois, who joined Duluth architectural firm SJA, the lead architect for the project. "Our concept was to expose the building's systems and materials to allow an intimate understanding. It is brawny, muscular, and expressive. Nothing is hidden from sight."

Two of the building's six laboratories have exceptionally large glass walls reaching two stories upward, both providing "engineering on display." One lab showcases structural engineering with two 15-ton hydraulic cranes that can lift large sections of concrete and other structural elements for evaluation and testing. Other research spaces include a construction materials lab, a geomaterials lab (soil and rock testing), and a parts fabrication lab.

The 34,000 square foot building, built in 2010 at a cost of $15 million, houses sophisticated, specialized teaching and research laboratories as well as classrooms, computer labs, and administrative offices. It adjoins the Voss Kovach Hall, home of mechanical engineering and industrial engineering programs.

The building also has been heralded for its environmental sustainability, earning gold certification from Leadership in Energy and Environmental Design (LEED) through a rigorous rating system established by the U.S. Green Building Council that evaluates the sustainability of building design, construction, and operation.

Funding for the building was provided through the state of Minnesota's 2008 capital bonding bill, a $3 million donation from UMD benefactor and 1959 graduate, James I. Swenson (Swenson Family Foundation), and UMD university funds.

SJA and Ross Barney Associates also joined forces to design UMD's James I. Swenson Science Building that opened in September 2005.