The Ministry of Foreign Affairs of Afghanistan
newspapers / newsnetworks specific to Afghanistan and its environs
newspapers / newsnetworks of regional and South Asian scope
radio

The World -- BBC World Service, PRI and WGBH Boston


Afghan Persian or Dari dictionary

food

World Food Habits: Bibliography -- Robert Dirks
Saberi, Helen J. Afghan Food & Cookery: Noshe Djan. Blackawton, Devon, UK: Prospect, 1986. [Hippocrene, 2000.]


Asne Seierstad
NY: Little, Brown & Company
ISBN: 0316159417
ISBN-13: 9780316159418
From the Publisher

With The Bookseller of Kabul , award-winning journalist Asne Seierstad has given readers a first-hand look at Afghani life as few outsiders have seen it. Invited to live with Sultan Khan, a bookseller in Kabul, and his family for months, this account of her experience allows the Khans to speak for themselves, giving us a genuinely gripping and moving portrait of a family, and of a country of great cultural riches and extreme contradictions.

For more than 20 years, Sultan Khan has defied the authorities—whether Communist or Taliban—to supply books to the people of Kabul. He has been arrested, interrogated, and imprisoned, and has watched illiterate Taliban soldiers burn piles of his books in the street. Yet he had persisted in his passion for books, shedding light in one of the world's darkest places

This is the intimate portrait of a man of principle and of his family—two wives, five children, and many relatives sharing a small four-room house in this war ravaged city. But more than that, it is a rare look at contemporary life under Islam, where even after the Taliban's collapse, the women must submit to arranged marriages, polygamous husbands, and crippling limitations on their ability to travel, learn and communicate with others.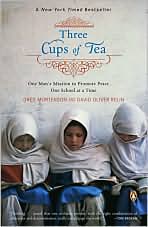 Greg Mortenson and David Oliver Relin
NY: Penguin Books
ISBN 9780143038252 (paperback)
ISBN 0670034827 (hardcover)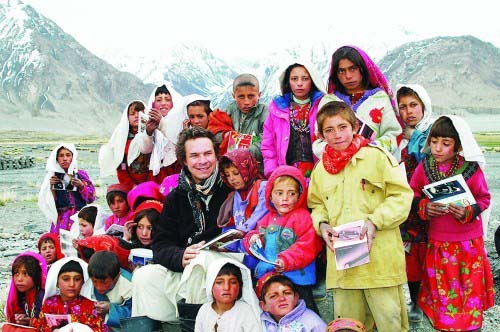 "Greg Mortenson is shown in 2005 with students from Sitara School in the Sarhad Village in the Wakhan corridor in Northeastern Afghanistan. It's the first school in one of the most remote ares of Afghanistan, where the litercay rate was less than five percent."
[Central Asia Institute]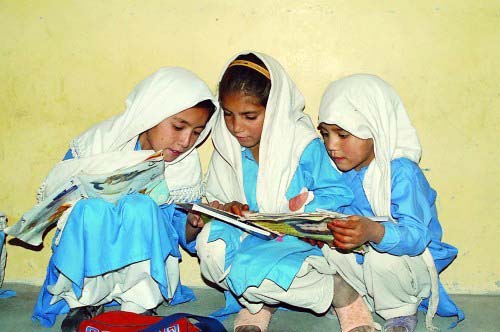 "Girls attend Gultori Girls Refugee School in village of Skardu in the Karakoram mountains of Northeastern Pakistan. Greg Mortenson's Central Asia Instute started the school."
[Central Asia Institute]
From the Publisher
The astonishing, uplifting story of a real-life Indiana Jones and his humanitarian campaign touse education to combat terrorism in the Taliban's backyard
Anyone who despairs of the individual's power to change lives has to read the story of Greg Mortenson, a homeless mountaineer who, following a 1993 climb of Pakistan's treacherous K2, was inspired by a chance encounter with impoverished mountain villagers and promised to build them a school. Over the next decade he built fifty-five schools—especially for girls—that offer a balanced education in one of the most isolated and dangerous regions on earth. As it chronicles Mortenson's quest, which has brought him into conflict with both enraged Islamists and uncomprehending Americans, Three Cups of Tea combines adventure with a celebration of the humanitarian spirit.
From the Critics
Publishers Weekly
Some failures lead to phenomenal successes, and this American nurse's unsuccessful attempt to climb K2, the world's second tallest mountain, is one of them. Dangerously ill when he finished his climb in 1993, Mortenson was sheltered for seven weeks by the small Pakistani village of Korphe; in return, he promised to build the impoverished town's first school, a project that grew into the Central Asia Institute, which has since constructed more than 50 schools across rural Pakistan and Afghanistan. Coauthor Relin recounts Mortenson's efforts in fascinating detail, presenting compelling portraits of the village elders, con artists, philanthropists, mujahideen, Taliban officials, ambitious school girls and upright Muslims Mortenson met along the way. As the book moves into the post-9/11 world, Mortenson and Relin argue that the United States must fight Islamic extremism in the region through collaborative efforts to alleviate poverty and improve access to education, especially for girls. Captivating and suspenseful, with engrossing accounts of both hostilities and unlikely friendships, this book will win many readers' hearts. (Mar.) Copyright 2006 Reed Business Information.


Kirkus Reviews

An unlikely diplomat scores points for America in a corner of the world hostile to all things American-and not without reason. Mortenson first came to Pakistan to climb K2, the world's second-tallest peak, seeking to honor his deceased sister by leaving a necklace of hers atop the summit. The attempt failed, and Mortenson, emaciated and exhausted, was taken in by villagers below and nursed back to health. He vowed to build a school in exchange for their kindness, a goal that would come to seem as insurmountable as the mountain, thanks to corrupt officials and hostility on the part of some locals. Yet, writes Parade magazine contributor Relin, Mortenson had reserves of stubbornness, patience and charm, and, nearly penniless himself, was able to piece together dollars enough to do the job; remarks one donor after writing a hefty check, "You know, some of my ex-wives could spend more than that in a weekend," adding the proviso that Mortenson build the school as quickly as possible, since said donor wasn't getting any younger. Just as he had caught the mountaineering bug, Mortenson discovered that he had a knack for building schools and making friends in the glacial heights of Karakoram and the remote deserts of Waziristan; under the auspices of the Central Asia Institute, he has built some 55 schools in places whose leaders had long memories of unfulfilled American promises of such help in exchange for their services during the war against Russia in Afghanistan. Comments Mortenson to Relin, who is a clear and enthusiastic champion of his subject, "We had no problem flying in bags of cash to pay the warlords to fight against the Taliban. I wondered why we couldn't do the same thing to buildroads, and sewers, and schools."Answering by delivering what his country will not, Mortenson is "fighting the war on terror the way I think it should be conducted," Relin writes. This inspiring, adventure-filled book makes that case admirably.