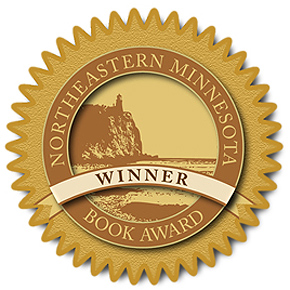 DULUTH, MN – This year marks the 27th annual Northeastern Minnesota Book Awards (NEMBA). The event, which is free and open to the public, will be held on Thurs., May 21, in the Kirby Ballroom on the campus of the University of Minnesota Duluth. Reservations are not required.
Festivities begin at 5 pm with a book fair and refreshments. Guests will enjoy pie from the Rustic Inn and harp music by Georganne Hunter. At 6:30 pm, Jim Johnson, 2014–2016 Poet Laureate of Duluth, will give the keynote address followed by the award presentations, hosted by Barton Sutter, Duluth's first poet laureate. Following the awards, the book fair continues until 9 pm.
Awards are given in six categories: (1) fiction, (2) poetry, (3) general nonfiction, (4) memoir/creative nonfiction, (5) children's literature, and (6) art, photography. The winner of each category receives a cash prize of $200, and the winning author and the honorable mention in each category receives a glass plaque and 100 complimentary NEMBA book seals.
NEMBA is a free community event sponsored by the Kathryn A. Martin Library at UMD with financial support from Friends of the Duluth Public Library and Lake Superior Writers. For more information, visit the UMD Library/NEMBA website.
About This Year's Keynote Speaker
Jim Johnson has published seven books of poetry. His most recent collection, The First Day of Spring in Northern Minnesota, was a Minnesota Book Award Finalist and winner in the poetry category of the 25th annual Northeastern Minnesota Book Awards.
Much of his poetry focuses on the lives of northern Minnesota's Finnish settlers, translating the experiences of these immigrants into universal themes of hard work, nature, and families.
Johnson also served as Duluth's poet laureate from 2008–2010.
Workshop with Jim Johnson
On Thurs., May 21, from 1–3 pm, Jim Johnson will lead a writing workshop entitled "Feelings, Images, and Poetry." It is offered through Lake Superior Writers (LSW). It will be held in the Kathryn A. Martin Library Rotunda. Cost (payable at the workshop to Lake Superior Writers) is $25 for members or $40 for non members, which includes membership in LSW. Register via email at writers@lakesuperiorwriters.org or call Marty Sozansky at 218-341-4363.
NEMBA Nominees
Each year, NEMBA recognizes books that best represent northeastern Minnesota in the areas of history, culture, heritage, or lifestyle. This year, 39 books published in 2014 have been nominated.
Fiction
Incident at the Bruce Mine Shaft, Stephen M. Ivancic, Monarch Tree Publishing, Inc.
The Last Moran, Pat McFauley, PJM Publishing
Only the Dead, Vidar Sundstol, translated by Tiina Nunnally, University of Minnesota Press
Plover Landing, Marie Zhuikov, North Star Press of St. Cloud, Inc.
A River Through Two Harbors, Dennis Herschbach, North Star Press of St. Cloud, Inc.
The Road Back to Sweetgrass, Linda LeGarde Grover, University of Minnesota Press
Sins of Our Fathers, Shawn Lawrence Otto, Milkweed Editions
Sukulaiset: The Kindred, Mark Munger, Cloquet River Press
Undeveloped: A Pine County Mystery, Dean L. Hovey, self-published
Voice Lessons: Tales of Breaking Free, Catherine Holm, North Star Press of St. Cloud, Inc.
Waters Like the Sky: Book 1 – The Chronicles of an Unlikely Voyageur, Agnes Rajala and Nikki Rajala, North Star Press of St. Cloud, Inc.
Poetry
Approaching the Gate, Lynette Reini-Grandell, Holy Cow! Press
Everyday Love, Peggy Trojan, self-published
Night Train Red Dust: Poems of the Iron Range, Sheila Packa, Wildwood River Press
A Skim of Ice on Still Water, Ann Glumac, self-published
Some Measure of Existence, Marjorie Buettner, Red Dragonfly Press
Nonfiction
Backyard Almanac: 365 Days of Northern Natural History, Larry Weber, illustrated by Judy Gibbs, Stone Ridge Press
Minnesota's Lost Towns: Northern Edition, Rhonda Fochs, North Star Press of St. Cloud, Inc.
More Than Just Ore: The Era That Really Made Ely, David Kess, Ely-Winton Historical Society
Sawdust in Their Blood: 100 Years of the Hedstrom Lumber Co., Jim Boyd, North Shore Press
Talking Sky: Ojibwe Constellations as a Reflection of Life on the Land, Carl Gawboy and Ron Morton, Rockflower Press
Twin Ports by Trolley: The Streetcar Era in Duluth-Superior, Aaron Isaacs, University of Minnesota Press
Memoir, Creative Nonfiction
Annie Comes Home, Bonnie I. Malterer, Maltech Press
One Woman's Place, Donna Schilling, Lakewalk Press
Rooted in Iron and Ice: Innocent Years on the Mesabi, Gary W. Barfknecht, North Star Press of St. Cloud, Inc.
Travels and Tribulations: A Coach's Journey, Bob McDonald and Melody Swenson, W. A. Fisher Printing and Advertising
Zenith City: Stories from Duluth, Michael Fedo, University of Minnesota Press
Children's Literature
A Bird on My Hand, Mary Bevis, illustrated by Consie Powell, Raven Productions, Inc.
Breath of Wilderness: The Life of Sigurd Olson, Kristin Eggerling, Fulcrum Publishing
Full Wolf Moon: A Lunar Calendar of the Anishinabe, Cheryl Weibye Wilke, illustrated by Ernest Gillman, McDonald & Woodward Publishing Co.
Karner's Quest for Blue Lupine, Sara Jo Dickens, illustrated by Nancy Scheibe, Beaver's Pond Press
The Map Maker's Quest, Matthew J. Krengel, North Star Press of St. Cloud, Inc.
Otter Out of Water, Kathy-jo Wargin, illustrated by John Bendall-Brunello, Sleeping Bear Press
Rhoda's Rock Hunt, Molly Beth Griffin, illustrated by Jennifer A. Bell, Minnesota Historical Society Press
Searching for Raven, Jerry Hines, North Star Press of St. Cloud, Inc.
Wilder's Foe, Diane Bradley, North Star Press of St. Cloud, Inc.
Art, Photography
Is That an Old Camera? 100 View Camera Photos of the North Country, Allen Anway and Ruth Anway, Gladglass Press
The Other Side of Wilderness, Richard C. Johnson, Will o' the Wisp Books
Saved by Beauty: Sister Mary Charles McGough, OSB, John Schifsky, Sister Lois Eckes, Peter Spooner, Dustin Lyon, and Meridith Schifsky, Duluth Benedictine Books