European Union related WebSites
newspapers and networks
radio

The World -- BBC World Service, PRI and WGBH Boston



Süleyman
the arts
food

World Food Habits: Bibliography -- Robert Dirks
CliffordAWright.com (Mediterranean)
"The Turkish Coffehouse," Ch. 6 of Understanding Global Cultures: Metaphorical Journeys Through 28 Nations, Third Edition. Martin J. Gannon. 2004. Thousand Oaks, CA: SAGE, pp. 79-93.
UM DULUTH Library Reserve Online Resource EL Online Resource
<https://login.libpdb.d.umn.edu:2443/login?url=http://lib.d.umn.edu/res/troufs/anth3888_und_gl_cu_ch_06.pdf>


(Requires University of Minnesota Duluth account validation)

Halici, Nevin. 2005. Sufi Cuisine. Saqi Books.

practicallyedible.com

Zubaida, Sami and Richard Tapper (Eds.). A Taste of Thyme: Culinary Cultures of the Middle East. NY: Tauris, 2001.
Işin, Mary. Sherbet and Spice: The Complete Story of Turkish Sweets and Desserts. London: I. B. Tauris, 2013.
"Sweet makers claim desserts in Cyprus row." -- Thomas Grove, IOL News (13 May 2006) 
Baklava war intensifies between Turks and Greeks. -- Ya Libnan, AssyriaTimes (15 May 2006)
Political Kouzina

-- Dean Kalimniou (06 June 2006)

Yerasimos, Marianna. 500 Years of Ottoman Cuisine. Trans. By Sally Bradbrook. Istanbul: Boyut Publishing and Trading Company, 2011.
Unger, Friedrich. Translated by Pricilla Mary Işin. A King's Confectioner in the Orient: Friedrich Unger, Court Confectioner to King Otto I of Greece. London: Kegan Paul, orig. 1837.
Süleyman the Magnificent
(National Gallery of Art and the Metropolitan Museum of Art, 1987, 57 min., UMD VC 1009)
other web sites
Bibliography

Gannon, Martin J. (2004). Chapter 6, "The Turkish Coffehouse." Understanding Global Cultures, 3rd. ed., pp. 79-93. Thousand Oaks, CA: SAGE.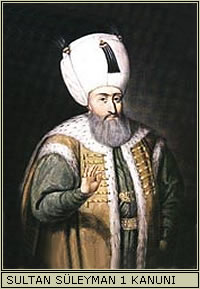 Süleyman the Lawgiver
aka
Süleyman the Magnificient
1494 - 1566