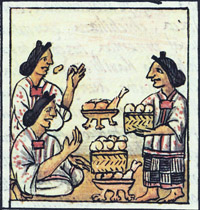 At Aztec feasts guests were presented with food,
Florentine Codex,
late 16th century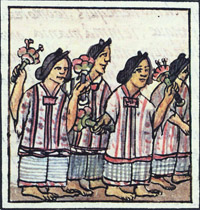 At Aztec feasts guests were presented with flowers,
Florentine Codex,
late 16th century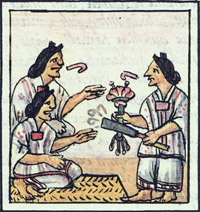 At Aztec feasts guests were presented with cylindrical pipes full of tobacco,
Florentine Codex,
late 16th century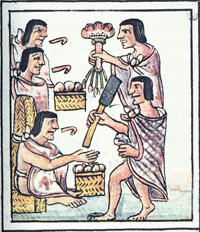 Aztec feast,
Florentine Codex,
late 16th century
books


Dunmire, William W. Gardens of New Spain: How Mediterranean Plants and Foods Changed America. Austin: University of Texas Press, 2004.


A Hot Time in the Old Archaeological Dig Tonight Pacific Standard -- (21 November 2013)


Maguey Worm: This protein-rich legacy of the Aztecs makes for a savory taco filling -- Atlas Obscura (n.d.)


The market of Tlatelolco. Bernal Díaz del Castillo. The Conquest of New Spain (circa 1568) -- mexicocity.com


Mexican Chocolate: A Short History & Recipe -- Jennifer Moncayo, thelatinkitchen (28 January 2013)


Mexico's ancient 'caviar' -- BBCtravel (11 September 2019)


Morgan, Louis Henry. Montezuma's Dinner. The North American Review. Vol. 122, Issue 251, April 1876, pp. 265-308. [N.B. pp. 297-307]


Native Americans tamed turkeys in 800 B.C. -- MSNBC (01 February 2010)


Ortega, Oscar, AtelierOrtega, Jackson Hole, WY


Pre-Conquest Aztec Cooking -- Jennifer Edwards Ring


Quintana, Patricia. Cuisine of the Water Gods: The Authentic eafood and vegetable Cookery of Mexico. NY: Simon and Schuster, 1984.


Rain, Patricia. Vanilla: The Cultural History of the World's Favorite Flavor and Fragrance. London: Penguin, 2004.


Staller, John, and Michael Carrasco. Pre-Columbian Foodways: Interdisciplinary Approaches to Food, Culture, and Markets in Ancient Mesoamerica. NY: Springer, 2009.


Super, John C. Food, Conquest, and Colonization in Sixteenth-century Spanish America. Albuquerque: University of New Mexico Press, 1988.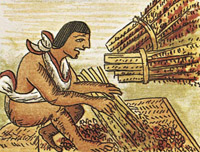 a man threshing amaranth.
Florentine Codex,
late 16th century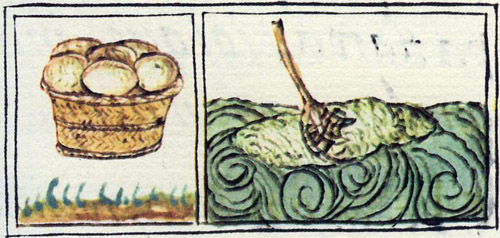 Harvest of insect eggs and the tortillas from which they were made.
Florentine Codex,
late 16th century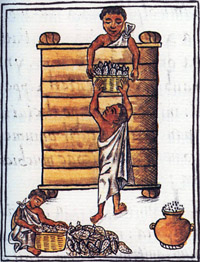 Aztecs storing maize.
Florentine Codex,
late 16th century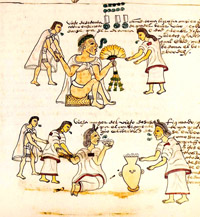 An elderly Aztec woman drinking pulque
Codex Mendoza
mid 16th century