| | | |
| --- | --- | --- |
| Tim Roufs | A B C D E F G H I J K L M N O P Q R S T U V W X Y Z | extended search |
File is in C:\Users\troufs\Documents\Web Sites\Tim\Buffalo\doc files
50
"New White World . . .
living with rules and regulations
and the BIA, IRA, IRS, RBC, DNR,
WPA, CCC, CAPAND ADC"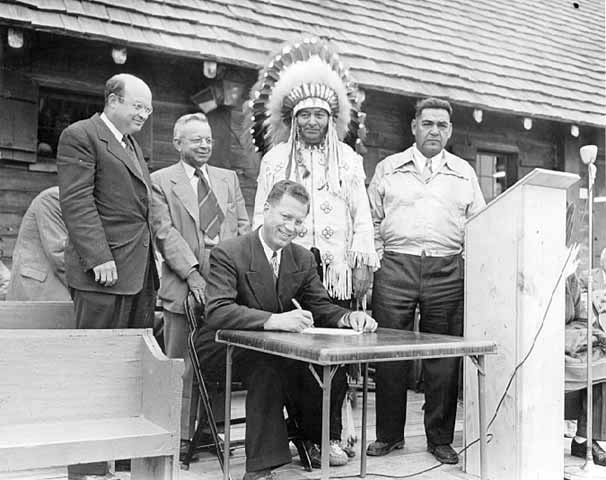 R.F. Lee, Assistant Director, National Park Services; Don Foster, Area Director, Bureau of Indian Affairs; Dale Doty, Assistant Secretary of the Interior; Ed Wilson, Chief of Chippewas; and John Flatt, Chief of Grand Portage Band at Grand Portage national historic site dedication.
Photographer: Abbie Rowe
Photograph Collection 8/9/1951
Collections Online
Minnesota Historical Society
Location no. SD4G p35 Negative no. 38776
The chapter on the "New White World" will appear shortly,
about the time of Miin-giizis (Berry Moon, 2016)
Sorry for the inconvenience.
Peter Graves Page
(under construction)







The views and opinions expressed in this page are strictly those of the page author.
The contents of this page have not been reviewed or approved by the University of Minnesota.

Page URL:http://www.d.umn.edu /cla/faculty/troufs/Buffalo/PB50.html
Last Modified Thursday, 20-Sep-2018 00:18:12 CDT

Department of Anthropology, Sociology and Criminology
College of Liberal Arts
215 Cina Hall
University of Minnesota Duluth (maps)
Duluth, MN 55812 - 2496 (maps)

Gitchee-Gumee Live