Search the site
(all TR courses and web pages)
Anthropology of food Course Information
.
Do you want a list of your grades in the Anthropology of Food?
Click on the "Grades" in the upper-left-hand corner of your

screen
(if you have maximized the content of your screen, click on llittle

square first)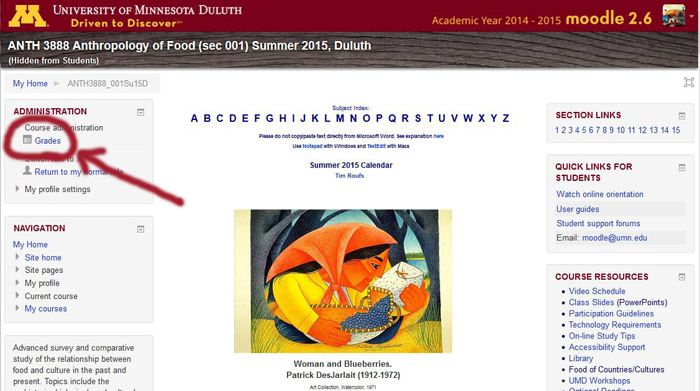 Click here if you cannot see the image above this line
If you have any questions, please do not hesitate to e-mail troufs@d.umn.edu.
Tim Roufs

AF Index of Major Items

AF 1.0 "Sunday Memos"
AF 2.0 Video Schedule
AF 3.0 Slides Schedule
AF 4.0 Text Assignments Schedule
AF 5.0 Other (check Canvas)
AF 6.0 Exams . . . (wk-6 and wk-16)
AF 7.0 REM: Work on Project
AF 8.0 Discussion(s)
AF Main Due Dates
AF Fall 2023 Calendar
AF Spring 2024 Calendar
© 1998 - 2024 Timothy G. Roufs — All rights reserved



Page URL: http:// www.d.umn.edu /cla/faculty/troufs/anthfood/FAQ/af_grades.html
Site Information / Disclaimers ~ Main A-Z Index




View Stats