Abbott, Elizabeth. Sugar: A Bittersweet History. Penguin Canada, 2008. Overlook, 2010.


Agave: Nectar of the Gods? -- Rami Nagel (2 April 2009)


Agave Syrup May Not Be So Simple -- Laura Johannes, Wall Street Journal (27 October 2009)


Asian sugar farmers fear prices may fall on over supply -- BBCNews (16 August 2011)


Beahrs, Andrew. Twain's Feast: Searching for America's Lost Foods in the Footsteps of Samuel Clemens, NY: Penguin, 2010.

[maple syrup]




Children's sweet tooth explained -- BBCNews (24 March 2009)


Curtis, Wayne. And a Bottle of Rum: A History of the New World in Ten Cocktails. NY: Three Rivers, 2007.


Dean, Don Howard. The American Cane Mill: A History of the Machines, the Manufacturers, Sugar Cane and Sorghum. Jefferson, NC: McFarland, 2010.


Eagleston, Janet, and Rosemary Hasner.

The Maple Syrup Book

. Boston: Boston Mills, 2006.


Ethical Sugar NGO -- specialized on social, communitarian and environmental sugarcane issues


Evolution: Sugar Helped Separate Human Ancestors From Apes' -- ABC News (12 October 2011)
|

Food and Behavior Research -- Alex Richardson


Galloway, J.H. The Sugar Cane Industry: An Historical Geography from its Origins to 1914. Cambridge: Cambridge University Press, 1989.


Guarapo, the new lemonade -- Ariel Safdie, Colombia Reports (26 March 2012)


Hobhouse, Henry. Seeds of Change: Six Plants That Transformed Mankind

Reprint Edition

. Counterpoint, 2005.


How sugar affects the brain

-- Nicole Avena




How Sugar Changed the World -- LiveScience (02 June 2008)


How we became addicted to sugar -- BBC HISTORY (26 NOVEMBER 2012)


Jurafsky, Dan. The Language of Food: A Linguist Reads the Menu. NY: Norton, 2014.


Kessler, David. The End of Overeating: Taking Control of the Insatiable American Appetite. Rodale, 2009.


[Such foods he argues, artfully layer fat on sugar on salt on fat (I've begun to see this as an acronymn--FOS/SOF or more musically "Frankenfoods") to release the brain chemical dopamine, leading to a kind of "conditioned hypereating." -- RH]




Lawrence, Felicity. Eat Your Heart Out: Why the Food Business is Bad for the Planet and Your Health. London: Penguin Books, 2008.


Lawrence, Felicity. Not on the Label: What Really Goes into The Food on Your Plate, Revised Edition. London: Penguin Books, 2013.


Lustig, Robert H. Fat Chance: Beating the Odds Against Sugar, Processed Food, Obesity, and Disease. Hudson Street, 2012.


Macinnis, Peter. Bittersweet: The Story of Sugar. Allen & Unwin, 2002.


McQuaid, John. Tasty: The Art and Science of What We Eat. NY: Scribner, 2015.


Mazumdar, Sucheta. Sugar and Society in China: Peasants, Technology, and the World Market. Harvard University Asia Center, 1998.


Mintz, Sidney W. Sweetness and Power: The Place of Sugar in Modern History. NY: Penguin, 1986.


Nestle, Marion. Soda Politics: Taking on Big Soda (and Winning). Oxford University Press, 2015.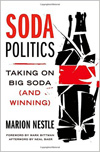 Newman, Kara. The Secret Financial Life of Food: From Commodities Markets to Supermarkets. Columbia University Press, 2012.


Not So Sweet - The Average American Consumes 150-170 Pounds of Sugar Each Year -- Jennifer M. Regan, Ezine


Parker, Matthew.

The Sugar Barons: Family, Corruption, Empire, and War in the West Indies

. Walker, 2011.


Perlmutter, David and Kristin Loberg. Grain Brain: The Surprising Truth about Wheat, Carbs, and Sugar--Your Brain's Silent Killer. NY: Little, Brown and Company, 2013.


Pollan, Michael. Cooked: A Natural History of Transformation. NY: Penguin, 2013.


Schatzker, Mark. The Dorito Effect: The Surprising New Truth About Food and Flavor. NY: Simon & Schuster, 2015.


Sexual Selection by Sugar Molecule Helped Determine Human Origins, Researchers Say -- Science Daily (11 October 2011)


Simon, Michele. Appetite for Profit: How the Food Industry Undermines Our Health, and How to Fight Back. NY: Nation/Avalon Publishing Co., 2006.


Sugar

-- J.H. Galloway,

Cambridge World HIstory of Food


Sugar and the Visual Imagination in the Atlantic World circa. 1600-1800. -- The John Carter Brown Library, Brown University. Accessed July 5, 2020. https://www.brown.edu/Facilities/John_Carter_Brown_Library/exhibitions/sugar/pages/eden.html


Sugar: Hiding in plain sight -- Robert Lustig


Sugar: The Bitter Truth (1:29:28) -- UCtelevision


Sugar Cane: Lecture 21 -- Tropical Horticulture, Center for New Crops & Plant Products, Purdue University


Taubes, Gary. The case against sugar: A potent toxin that alters hormones and metabolism, sugar sets the stage for epidemic levels of obesity and diabetes. NY: Knopf, 2016.


Tax food makers' caloric sweetener use to reduce consumption, study suggests


Toussaint-Samat, Maguelonne. A History of Food. Chichester, UK: John Wiley & Sons/Blackwell 2009.


Twitty, Michael W. The Cooking Gene: A Journey Through African American Culinary History in the Old South. NY: HarperCollins, 2017.




Utilizing the Native Labor Force -- Christopher Columbus, 1492, Digital History


Watson, Andrew M. "The Arab Agricultural Revolution and Its Diffusion, 700-1100." The Journal of Economic History, Vol. 34, No. 1, Mar., 1974, 8-35. <http://www.jstor.org/stable/2116954>


Why is sugar so enticing? -- BBCNews (21 April 2011)


Woloson, Wendy A.

Refined Tastes: Sugar, Confectionery, and Consumers in Nineteenth-Century America

. The Johns Hopkins University Press, 2002.


Yudkin, John. Sweet and Dangerous: The New Facts About the Sugar You Eat as a Cause of Heart Disease, Diabetes, and Other Killers. The University of Michigan Press, 1972.

[Note: Check book reviews on this title.]

Pure, White and Deadly. National Health Federation, 1978; Penguin Books 1988.