Brown, Lester R. Full Planet, Empty Plates: The New Geopolitics of Food Scarcity. NY: W.W. Norton, 2012.


EarthSave International [ ". . . founded by . . . John Robbins, as a direct result of the overwhelming reader response to his book Diet for a New America: How Your Food Choices oAffect Your Health, Happiness and the Future of Life on Earth" (Jane Goodall, Harvest for Hope)]


Fraser, Evan D.G., and Andrew Rimas. Empires of Food: Feast, Famine, and the Rise and Fall of Civilizations. NY: Free Press, 2010.



Mann, Charles.

"Our Good Earth:

The Future Rests on Soil."

National

Geographic, September, 2008




Montgomery, David R. Dirt: The Erosion of Civilization. Berkeley: University of California Press, 2012.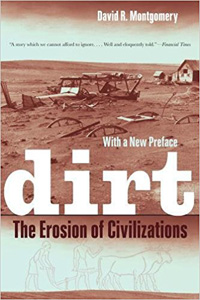 Salatin, Joel. Tilling the Soil: Cultivating an Entrepreneurial Vision in Your Family. Vision Forum 2010. [Audio CD]


Shiva, Vandana. Soil Not Oil: Environmental Justice in an Age of Climate Crisis. Cambridge, MA: South End Press, 2008.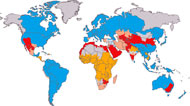 Water woes
A map of the different degrees and kinds of water scarcity
(blue: little water scarcity, red: physical water scarcity, peach: approaching water scarcity, orange: economic water scarcity
Credit: IWMI