After the passing of Norman Borlaug, commentators offer assessments on his legacy and work -- The Scout Report, 18 September 2009 | Volume 15, Number 37


Agricultural Biodiversity Weblog: Crops, animals, wild relatives . . .


Agriculture in the Classroom -- National Institute of Food and Agriculture (NIFA), United States Department of Agriculture (USDA)



[video]

American Meat


(85 min., 2011,

UM Duluth Library

Multimedia

BJ52.5 .A44 2011 DVD)
(

UM Duluth Library

Multimedia Guide

BJ52.5 .A44 2011 DVD)


Bellows, Anne C., Flavio L.S. Valente, Stephanie Lemke, María Daniela Núñez Burbano de Lara, (Eds.). Gender, Nutrition, and the Human Right to Adequate Food. NY: Routledge, 2015.


The Center for Genomic Gastronomy ["The Center for Genomic Gastronomy Is an artist-led think tank that examines the biotechnologies and biodiversity of human food systems"]



film:

Ingredients: The Local Food Movement Takes Root

(67 min., 2011)




A Step Beyond Anthropology -- MIREYA NAVARRO, New York Times (29 December 2009)


Berry, Wendell. What Are People For? NY: North Point, 1990.


Berry, Wendell. The Unsettling of America: Culture and Agriculture. San Francisco: Sierra Club Books, 2004.


Brown, Lester R. Full Planet, Empty Plates: The New Geopolitics of Food Scarcity. NY: W.W. Norton, 2012.


The Wessels Living History Farm, the Story of Agricultural Innovation -- Nebraska Educational Television Network


Earth Day Network Footprint Calculator -- Earth Day Network [ ". . . computes sustainability in specific and understandable terms by using the best aailable scientific data. . . . Take the Footprint Qui to find out how big a footprint you make upon the earth--it's eye-opening" (Jane Goodall, Harvest for Hope)]


e-Agriculture -- United Nations


Elton, Sarah. Consumed: Food for a Finite Planet. Chicago: University of Chicago Press, 2013.


A Global Map of Human Impacts to Marine Ecosystems -- National Center for Ecological Analysis and Synthesis, University of California, Santa Barbara


Goodman, Mike, Lewis Holloway, Moya Kneafsey, and Damian Maye. Geographies of food: An Introduction. Bloomsbury/Berg, 2014.


Grasseni, Cristina. Alternative Food Networks. Bloomsbury/Berg, 2013.


Hedgelink [hedges (or hedgerows) in the United Kingdom]


Hesterman, Oran B. Fair Food: Growing a Healthy, Sustainable Food System for All. NY: Perseus/Public Affairs, 2011.


Hirshberg, Gary. Stirring it Up: How to Make Money and Save the World. NYHistory, Art and Biography: National Agricultural Library -- USDA : Hyperion, 2008.


Iberian Peninsula's Earliest Agricultural Systems Were Unsustainable -- ScienceDaily (23 September 2008)


Kimbrell, Andrew, Ed. Fatal Harvest: The Tragedy of Industrial Agriculture. Sausalito, CA: Foundation for Deep Ecology, 2002.


King, Franklin Hiram. 1911/2004/2008/2010. Farmers of Forty Centuries. Madison, WI: Mrs. F.H. King/Dover/BiblioBazaar/Global Oriental.


Lake Superior Sustainable Farming Association -- a farmer-driven organization that works to build sustainable farming systems in the Lake Superior region


Lappé, Frances Moore, and Anna Lappé. Grub: Ideas for an Urban Organic Kitchen. NY: Jeremy P. Tarcher, 2003.


Latest Stories in Green Food -- Treehugger ["a media outlet dedicated to driving sustainability mainstream"]


Levenstein, Harvey. Paradox of Plenty: A Social History of Eating in Modern America. Berkeley: University of California Press, 2003.


Levenstein, Harvey. Revolution at the Table: The Transformation of the American Diet. Berkeley: University of California Press, 2003.


Montgomery, David R. Dirt: The Erosion of Civilization. Berkeley: University of California Press, 2012.


Mulligan, Martin.

An Introduction to Sustainability: Environmental, Social and Personal Perspectives

2nd Edition.

NY: Routledge, 2018.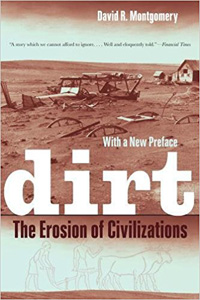 Nabhan, Gary Paul (Ed.). Forward by Deborah Madison. Renewing America's Food Traditions: Saving and Savoring the Continent's Most Endangered Foods. White River Junction, VT: Chelsea Green, 2008.


Nabhan, Gary Paul. Where Our Food Comes From: Retracing Nikolay Vavilov's Quest to End Famine. Island, 2011.


Natural Resources Research Institute (NRRI) -- UMD


Northern Harvest Farm

-- Richard and Karola Dalen, 2572 Country Road 102, Wrenshall, MN




Project Passenger Pigeon -- Peggy Notebaert Nature Museum, The Chicago Academy of Sciences


Patel, Raj. Stuffed and Starved: The Hidden Battle for the World Food System. Brooklyn, NY: Melville House, 2008.


Pimentel, David and Marcia Pimentel. Food, Energy, and Society, Third Edition. Boca Raton, Florida: CRC Press, 2008.


Pollan, Michael. In Defense of Food: An Eater's Manifesto. NY: Penguin, 2008.


Pollan, Michael. The Omnivore's Dilemma: A Natural History of Four Meals. NY: Penguin, 2006.


Roberts, Paul. The End of Food. Boston: Houghton Mifflin, 2008.


Salatin, Joel. Everything I Want To Do Is Illegal: War Stories From the Local Food Front. Polyface, 2007.

Salatin, Joel. Pastured Poultry Profits. Chelsea Green, 1996.


Salatin, Joel. You Can Farm: The Entrepreneur's Guide to Start & Succeed in a Farming Enterprise. Polyface 1998.


Schlossr, Eric. Fast Food Nation: The Dark Side of the All-American Meal. NY: Houghton Mifflin, 2001.


Shiva, Vandana, Ed. Manifestos on the Future of Food and Seed. Cambridge, MA: South End Press, 2007.


Shiva, Vandana. Soil Not Oil: Environmental Justice in an Age of Climate Crisis. Cambridge, MA: South End Press, 2008.


Shiva, Vandana. Stolen Harvest: The Hijacking of the Global Food Supply. Cambridge, MA: South End Press, 2000.


Stock, Paul V., Michael Carolan, and Christopher Rosin, (Eds.). Food Utopias: Reimagining Citizenship, Ethics and Community. NY: Routledge, 2015.


Superior Grown -- in partnership with Silver Creek Institute, Two Harbors, MN, and the Lake Superior Sustainable Farming Association



[video]

Sustainable Table: What's On Your Plate -- Mischa Hedges, Director


Towards food sovereignty: Reclaiming autonomous food systems -- International Institute for Environment and Development


Treehugger

-- ["a media outlet dedicated to driving sustainability mainstream"]




University of California: Sustainable Agriculture Research and Education Program -- University of California Davis
Sustainability Comes of Age -- HENRY FOUNTAIN, New York Times (29 December 2009)


What We Can Learn from Our Hunter-Gatherer Ancestors -- Guardian (30 September 2010)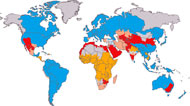 Water woes
A map of the different degrees and kinds of water scarcity
(blue: little water scarcity, red: physical water scarcity, peach: approaching water scarcity, orange: economic water scarcity
Credit: IWMI