The Center for Genomic Gastronomy ["The Center for Genomic Gastronomy Is an artist-led think tank that examines the biotechnologies and biodiversity of human food systems"]


Coe, Sophie D. America's First Cuisines. Austin, TX: University of Texas Press, 1994.


Counihan, Carole. The Anthropology of Food and Body: Gender, Meaning and Power. New York: Routledge, 1999.
The Digestive System -- Colorado State University


Etkin, Nina L. Foods of Association: Biocultural Perspectives on Foods and Beverages that Mediate Sociability. Tucson, AZ:

University of Arizona Press, 2009

.


Evolutionary Relationships Hold, Even in Our Guts -- Science (16 November 2010)


Gosden, Chris and Jon G. Hather. The Prehistory of Food: Appetites for Change. Routledge, 1999.


Halstead, Paul and John C. Barrett. Food, Cuisine and Society in Prehistoric Greece. Oxford: Oxbow Books, 2005.


Is Rice Domestication to Blame for Red-Faced Asians? -- Science (20 January 2010)


Jawbones are 'shaped by diet', a study finds -- BBC News (23 November 2011)


Jaw shape reflects diet -- Past Horizons (23 November 2011)



Jerome, Norge W., Randy F. Kandel, and Gretel H. Pelto

. Nutritional Anthropology: Contemporary Approaches to Diet and Culture. Pleasantville, NY: Redgrave, 1980.


Johannessen, Sissel, and Christine Ann Hastorf. Corn and Culture in the Prehistoric New World. Boulder, CO: Westview Press, 1994.


Lelwica, Michelle Mary.

Starving For Salvation: The Spiritual Dimensions of Eating Problems among American Girls and Women

. Oxford University Press, 2002.


Liking Sweets Makes Sense For Kids -- ScienceDaily (20 March 2009)


McQuaid, John. Tasty: The Art and Science of What We Eat. NY: Scribner, 2015.


Meat-eating link to early periods -- BBC News (11 June 2010)


Nabhan, Gary Paul. Food, Genes, and Culture: Eating Right for Your Origins. Island Press, 2013.


Nabhan, Gary Paul. Why Some Like It Hot: Food, Genes, and Cultural Diversity. Washington, DC: Island Press, 2004.


Nestle, Marion, and Malden Nesheim. Why Calories Count: From Science to Politics. University of California Press, 2012.


Pelto, Gretel H., Alan Goodman, and Darna Dufour (Eds.). Nutritional Anthropology: Biocultural Perspectives on Food and Nutrition. Mountain View, CA: Mayfield, 2000.


The Psychology, Biology and Politics of Food

-- Kelly Brownell, Open Yale Courses, Fall 2008.




Zaraska, Marta. Meathooked: The History and Science of Our 2.5-Million-Year Obsession with Meat. NY: Basic Books, 2016.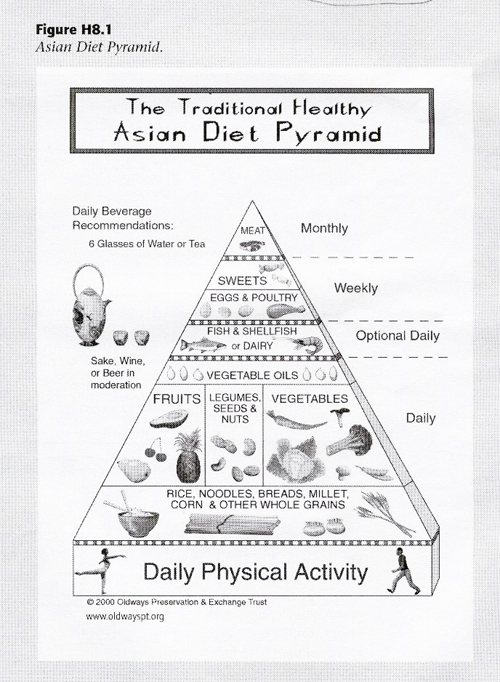 Asian food pyramid