18th Century Tavern Food on the Menu -- Past Horizons (13 September 2011)


Albala, Ken. The Food History Reader: Primary Sources. Bloomsbury/Berg, 2013.


Albala, Ken. Three World Cuisines Italian, Mexican, Chinese. AltiMira, 2012.


Alexander, Kelly, and Cynthia Harris. Hometown Appetites: The Story of Clementine Paddleford, the Forgotten Food Writer Who Chronicled How America Ate. Gotham, 2008.


Ancient DNA Reveals Ingredients of Roman Medicine -- Nature (09 September 2010)


Belasco, Warren. Food: The Key Concepts. Bloomsbury/Berg, 2009.


Brothwell, Don R., and Patricia Brothwell.

Food in Antiquity: A Survey of the Diet of Early People

. London: Thames & Hudson, 1969. (The Johns Hopkins University Press; Expanded edition, 1997.)


Buchanan, David. Taste, Memory: Forgotten Foods, Lost Flavors, and Why They Matter. Chelsea Green, 2012.


Caldwell, Andrew. Their Last Suppers: Legends of History and Their Final Meals. Kansas City, MO: Andrews McMeel, 2010.


Caldicott, Chris and Carolyn. The Spice Routes. London: Francis Lincoln (reprinted by Soma), 2001.


ChristopherColumbus-HisGastronomicPersona

-- Luccio Sorré




Clarkson, Janet. Food History Almanac. Lanham, MD: Altamira Press, 2013.


Coe, Sophie D., and Michael D. Coe. The True History of Chocolate, Third Edition. London: Thames & Hudson, 2013 [1996].


Craughwell, Thomas J. Thomas Jefferson's Creme Brulee: How a Founding Father and His Slave James Hemings Introduced French Cuisine to America. Quirk Books, 2012


Culinary History Collection -- Special Collections' Digitized Manuscripts, University Libraries, Virginia Tech


de Vries, Arnould.

Primitive Man and His Food

. Chiccago: Chandler, 1952. [1900]


Denker, Joel. The World on a Plate: A Tour through the History of America's Ethnic Cuisine. Boulder, CO: Westview, 2003.


Fernandez-Armesto, Felipe.

Food: A History

. NY: The Free Press, 2001.

[Republished as

Near a Thousand Tables: A History of Food

.

]


Fernandez-Armesto, Felipe.

Near a Thousand Tables: A History of Food

. NY: The Free Press, 2002.




Fenton, Alexander, and E. Kisban (Eds.).

Food in Change: Eating Habits from the Middle Ages to the Present Day

. Edinburgh: John Donald, 1986.


Flandrin, Jean-Louis, Massimo Montanari, and Albert Sonnenfeld. Eds. 2000. Food: A Culinary History. Penguin. [Histoire de l'alimentation. 1996. Guis. Laterza 7 Figli, Rome, Bari/Librairie Arthème Fayard.]


The Food Timeline – Lynne Olver, Morris County Library NJ


Food: Transforming the American Table, 1950-2000 -- National Museum of American History, Smithsonian


Freeman, June. The Making of the Modern Kitchen: A Cultural History. Bloomsbury/Berg, 2004.


Freedman, Paul H. Food: the History of Taste. Berkeley, Ca: University of California Press, 2007.


French Farmers Civilised Britain -- Telegraph (03 December 2009)


Goody, Jack. Food and Love: A Cultural History of East and West. London and New York: Verso, 2010 [1998].


Greco, Gina L. and Christine M. Rose (Trans.). The Good Wife's Guide: A Medieval Household Book [Le Ménagier de Paris, 14th Century]. Ithaca, NY: Cornell University Press, 2009.
Haber, Barbara. From Hardtack to Home Fries: An Uncommon History of American Cooks and Meals. New York: The Free Press, 2002.


Haley, Andrew P. Turning the Tables: Restaurants and the Rise of the American Class, 1880-1920. University of North Carolina Press, 2011.


Higman, B. W. How Food Made History. Wiley-Blackwell, 2011.


History of Horticulture, Purdue University


The History of Pie -- Warren & Warren, everythingPIES.com


Jotischky, Andrew. A Hermit's Cookbook: Monks, Food & Fasting in the Middle Ages. Continuum, 2011.


Kiple, Kenneth F. and Kriemhild Coneè Ornelas (Eds.)

The Cambridge World History of Food

(2-Volume Set). Cambridge University Press, 2000.


Kurlansky, Mark. The Big Oyster: History on the Half Shell. NY: Random House, 2007.


Kurlansky, Mark. Cod: A Biography of the Fish That Changed the World. NY: Penguin, 1998.


Kurlansky, Mark. The Food of a Younger Land: A Portrait of American Food--Before the National Highway System, Before Chain Restaurants, and Before Frozen Food, When the Nation's Food Was Seasonal. NY: Riverhead, 2009.


Kurlansky, Mark. Salt: A World History. NY: Penguin, 2003.


Levenstein, Harvey. Revolution at the Table: The Transformation of the American Diet . University of California Press, 2003.


Levenstein, Harvey. Paradox of Plenty: A Social History of Eating in Modern America, Revised Edition . University of California Press, 2003.


Mariani, John F. America Eats Out: An Illustrated History of Restaurants, Taverns, Coffee Shops, Speakeasies, and Other Establishments That Have Fed Us For 350 Years. Morrow, MI: University of Michigan, 1991.


McNeil, Cameron (Ed.). Chocolate in Mesoamerica: A Cultural History of Cacao. Gainesville, FL:University Press of Florida, 2009.


Medieval diet aids healthy eating message -- BBCNews (04 September 2010)


Mennell, Stephen.

All Manners of Food: Eating and Taste in England and France from the Middle Ages to the Present

. University of Illinois Press, 1995..


Milton, Giles. Nathaniel's Nutmeg: Or, the True and Incredible Adventures of the Spice Trader Who Change the Course of History. NY: Penguin, 2000.
[Have you ever wondered why the English use the word "biscuit" instead of the Dutch word "cookie" (koekje)?]


Mintz, Sidney W. Sweetness and Power: The Place of Sugar in Modern History. NY: Penguin, 1986.


Mintz, Sidney W. Tasting Food, Tasting Freedom: Excursions into Eating, Power, and the Past. Boston: Beacon, 1996.


Nabhan, Gary Paul. Where Our Food Comes From: Retracing Nikolay Vavilov's Quest to End Famine. Island, 2011.


Native American Ancestors' Diet Part of Study and Challenge -- ScienceDaily (23 October 2012)


Near-Intact Roman Ship Holds Jars of Food -- DiscoveryNews (08 August 2012)


Nelson's Navy dull diet is revealed -- Past Horizons (25 March 2012)


Newman, Lucile F. (Ed.).

Hunger in History: Food Shortage, Proverty, and Deprivation

. Wiley-Blackwell, 1995.


Parasecoli, Fabio, and Peter Scholliers (Eds.). A Cultural HIstory of Food, Vols. 1-6. Bloomsbury/Berg, 2012.


Penn archaeologist recreates ancient brews -- Philadelphia Inquirer (13 October 2009)


Plants of the Bible

-- Dr. Lytton John Musselman, Old Dominion University




Pollan, Michael. The Omnivore's Dilemma: A Natural History of Four Meals. NY: Penguin, 2007.


Porterfield, James D. Dining by Rail: The History and the Recipes of America's Golden Age of Railroad Cuisine. New York: St. Martin's Press, 1993.


Revel, Jean-Francois. Culture and Cuisine: A Journey Through the History of Food. London: Doubbleday, 1972. [Da Capo, 1984]


Rose, Sarah. For All the Tea in China: How England Stole the World's Favorite Drink and Changed History. NY: Viking, 2010.


Roufs, Timothy G. American Indian Oral History Collection, American Indian Oral History Collection, Vol. II, No. 21 -- Traditional Foods. (Paul Buffalo, et al. audiotape. Paul Buffalo discusses wild rice.) Dr. Joseph H. Cash, General Editor. New York: Clearwater Publishing Company, 1981. [UM DULUTH Library Multimedia PC 1203; see also microfiche collection]


Salman, Redcliffe. The History and Social Influence of the Potato. Cambridge, England: Cambridge University Press, 1985 [1949].


Sambrook, Pamela and Peter C. D. Brears (Eds.).

The Country House Kitchen 1650-1900: Skills and Equipment for Food Provisioning

. Far Thrupp, Gloucester, England: Sutton: National Trust, 1997.


Sewell, Ernestine, and Joyce Gibson Roach. Eats: A Folk History of Texas Foods. Fort Worth: Texas Christian University Press, 1989.


Simoons, Frederick J. Eat not this flesh: food avoidances from prehistory to the present, 2nd Ed. Madison, WI: University of Wisconsin Press, 1994.


Smith, Andrew F. Eating History: Thirty Turning Points in the Making of American Cuisine. Columbia University Press, 2011.


Smith, R. E. F., and David Christian.

Bread and Salt: A Social and Economic History of Food and Drink in Russia

. Cambridge University Press, 2008.


Soyer, Alexis. Culinary Campaign: Being Historical Reminiscences of the Late War : with the Plain Art of Cookery for Military and Civil Institutions, the Army, Navy, Public, etc., etc. Southover, 1995. [Nabu, 2011] [1856]


Spang, Rebecca L. The Invention of the Restaurant: Paris and Modern Gastronomic Culture. Harvard University Press, 2011.


Standage, Tom. An Edible History of Humanity. NY: Walker, 2009.


Standage, Tom. A History of the World in 6 Glasses. NY: Walker, 2005.


Sting in the Tail of Farming Revolution [an interview with Dr Spencer Wells, re Pandora's Seed: The Unforeseen Cost of Civilization (NY: Random House, 2010) -- BBC News (07 June 2010)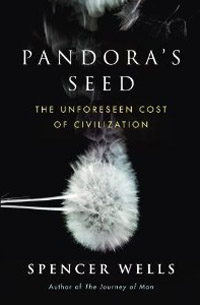 Sutton, David E. Remembrance of Repasts: An Anthropology of Food and Memory. Bloomsbury/Berg, 2001.


Tannahill, Reay. 1988. Food in History, Revised Edition. NY: Three Rivers Press.


Tse, Helen. Sweet Mandarin: The Courageous True Story of Three Generations of Chinese Women and Their Journey from East to West. St. Martin's. 2008.


Top Food Was Olives in Time of the Ancient Mariner -- Reuters (12 August 2010)


Toussaint-Samat, Maguelonne. A History of Food. Chichester, UK: John Wiley & Sons/Blackwell 2009.


Tracking the True Tale of Turkeys -- EurekAlert (11 June 2010)


Vileisis, Ann. Kitchen Literacy: How We Lost Knowledge of Where Food Comes from and Why We Need to Get It Back. Island, 2010.


Visser, Margaret. Much Depends on Dinner: The Extraordinary History and Mythology, Allure and Obsessions, Perils and Taboos of an Ordinary Meal. NY: Grove, 2010.


Wilkins, John. M. and Shaun Hill. Food in the Ancient World. Wiley-Blackwell, 2006.


Williams, Jacqueline. Wagon Wheel Kitchens: Food on the Oregon Traili. Lawrence: University Press of Kansas, 1993.


Williams, Susan.

Food in the United States, 1820s-1890

. Westport, CT: Greenwood, 2006.


Wilson, C. Anne.

Food for the Community: Special Diets for Special Groups

. Edinburgh University Press, 1993.


Zapata, Ana Guadalupe Valenzuela, and Gary Paul Nabhan. Tequila: A Natural and Cultural History. Tucson, AZ: University of Arizona Press, 2004.