The "Agricultural Revolution"
eventually follows the
"Hunter-Gathering or Foraging" stage.
It's important to keep track of the
various historic Food Revolutions. . . .
Speaking of food and revolutions, Marie-Antoinette did not say, "Let them eat cake" or even, as it would have been the case "Qu'ils mangent de la brioche" (or at least there is no evidence that she ever said that, and there is credible circumstantial evidence that she didn't—for e.g., she was still thirteen years old when the phrase appeared in literature, and even then "[Let them eat cake] was said 100 years before her by Marie-Thérèse, the wife of Louis XIV. It was a callous and ignorant statement and she, Marie Antoinette, was neither. . . ."—Lady Antonia Fraser (biographer), 2002. "Cake eaters" and those who are interested in famous cake eaters might find <http://en.wikipedia.org/wiki/Let_them_eat_cake> interesting. It's short cake.
From the historical/pre-historical perspective, the commonly discussed revolutions in food matters are . . .
Invention of Cooking
Cf., Fernández-Armesto, Felipe. Near a Thousand Tables: A History of Food. NY: The Free Press, 2003.


The Cognitive Revolution

Cf., Harari, Yuval Noah. Sapiens: A Brief History of Humankind. London: Vintage Books, 2011.
But from the point of view of areas like Anthropology of Food you need to add to those the revolutions those discussed by Felipe Fernández-Armesto in Near a Thousand Tables: A History of Food (NY: The Free Press, 2003). . . . Fernández-Armesto's work is among the most innovative in social science food literature in recent years (personal opinion) and it has been translated into 26 languages (fact).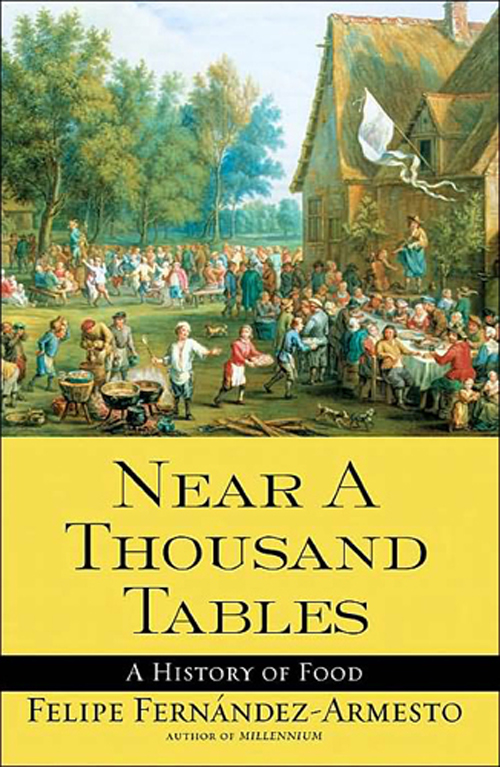 Invention of Cooking

Discovery that Food is More Than Sustenance

The "Herding Revolution"

Snail Farming

Use of Food as a Means and Index of Social Differentiation

Long-Range Exchange of Culture

Ecological Revolution of last 500 years

Industrial Revolution of the 19th and 20th Centuries

Fernández-Armesto's work Near a Thousand Tables (2003) is discussed in the slide deck "Social and Political Consequences of the Agricultural Revolution" (.pptx)